Truly House of Beauty Episode 9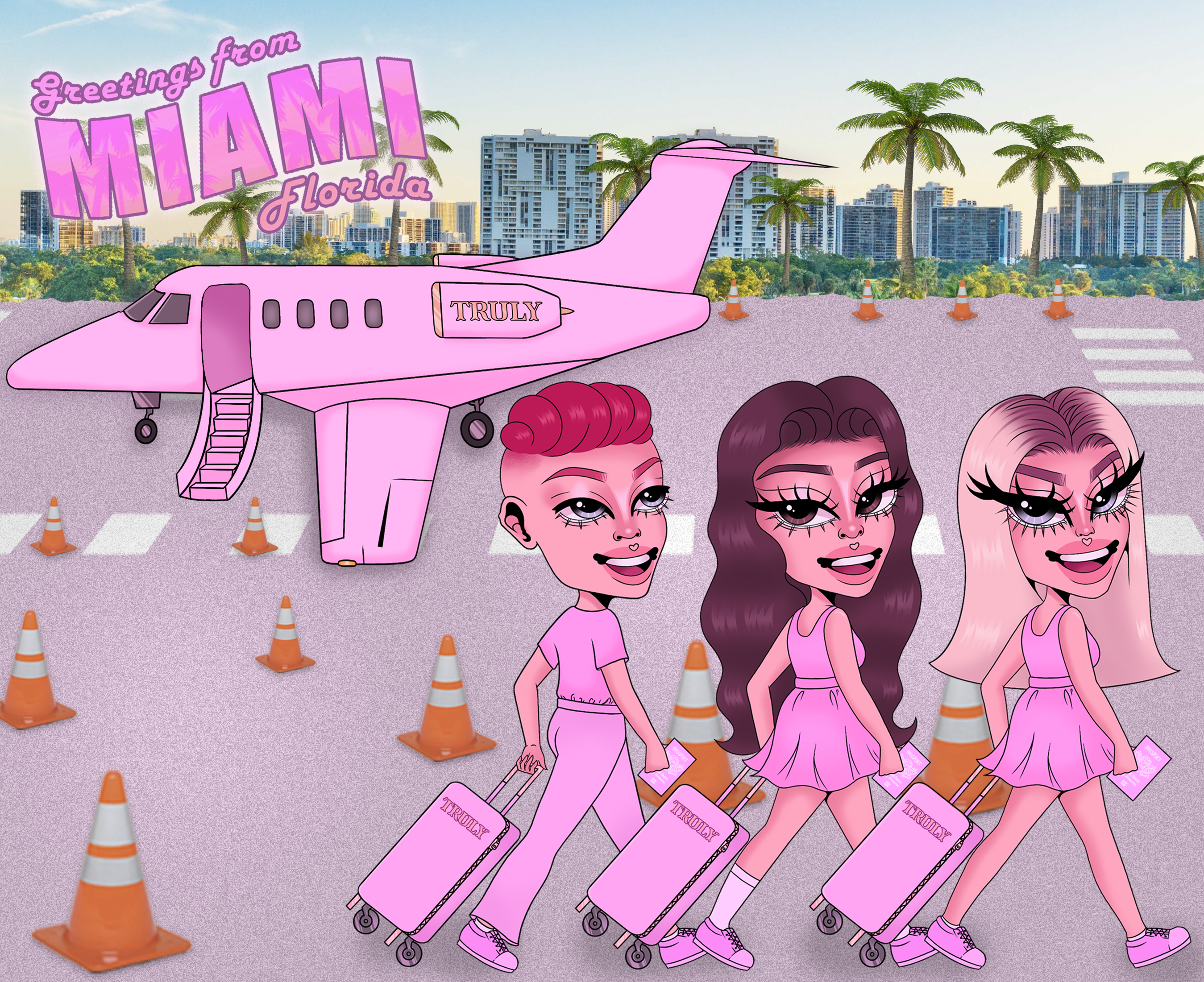 Excuse me while I wipe the vacation from my eyes, it's a new episode of the Truly House of Beauty: Miami Edition! Last time we learned all about the magical creation of Unicorn Fruit Eau De Parfum--did you love that nibble of fantasy?! Well strap yourself in baby, we are going for another wild ride (except this one is hairless!) in the Truly House of Beauty. 
The Truly babes were giddy with excitement--it was time for their annual trip to the Magic City aka Miami! Tyler, Zara, and Chloe were all geared up for this trip--it was gonna be a hot and hairless weekend! Why so hairless, you ask? Well, Zara recently crafted a new batch of shaving products specifically for this trip. She wanted the theme to be "Summer Thottie" so she created super bright, super pink, super lit products. Like any shave routine, she knew the Babes needed a good scrub so she created a pink sugar based scrub called Smooth Legend. There was also a shave butter that was filled with delicious ingredients such as coconut and grape, (which are her fav fruit's EVER!) so naturally she named it Happy Hairless. Lastly, she always loved feeling super glossy post-shave so she made an after shave oil called Glazed Donut--mainly for the punny name but also for the intoxicating sweet scent. With all of these cutesy shave products in hand, it was the perfect excuse to travel to the 305 to catch some hot east coast sun and hit up some four-on-floor clubs. "Yo I can just hear the music in my ears, feel the sand in my toes, and taste my mojito in hand already!" shouts Tyler as he walks up to the hanger to board the Truly Jet, a $14.5 million hot pink super jet with an interior dripping in diamonds + 24K gold accents. "Ahh, feels good to be a jet setting babe again!" shouts an eager Chloe who is already taking a gregarious amount of selfies. "Pose with me, betch!" says Zara as she jumps to Chloe's left side, which prompts Tyler to jump to her right. "Say 'I'm in Miami b*tches!'" squeals Chloe. All three say the infamous lyric in unison as they plop their freshly-bleached bootyholes onto their overpriced, luxury seats. The plane zips away, and the three friends take a much needed champagne induced nap up until they land in the magical 305! 
Moments later, the Truly Jet zips down the Miami private airport runway. With soft techno beats already being heard from the cityscape, the three friends begin dancing with excitement as they strut through the airport. Since the Truly Babes are constantly on brand, they are picked up in a hot pink music blasting limousine and swiftly transferred from the airport to their freshly leased hot pink penthouse located right in the heart of South Beach. "Let's beach it!" squeals Zara. The three friends get decked out in their beach attire, strutting their extra-SPF'ed bodies down to the shore. "Show some skin Miami! We won't be hairy, don't worry! I am bringing my new secret shave set out on the town!!" shouts Zara out her penthouse window. The Truly babes never seem to leave their bathroom-counter at home, as Zara places her new shave products in the world's cutest pink and purple hearted fuzzy bag. They stretch their gorgeous glowing bodies across some beach chairs, and start to give themself a quick lil' shave on the shore while soaking up the sun. 


In the distance, a lone Amanda Cerny kicks the sand with sorrows. A popular influencer--Amanda spends her time dancing about the streets of Miami with her doggos. However, she ran into some troubles this morning. It was a busy day creating content, and in the morning she was so rushed that she was unable to complete her shave routine! Her legs were SO hairy that her dogs refused to go to the beach with her! "Sorry Amanda, we just can't be seen with you in this state! We have an image to uphold" said the floppy-eared dogs in unison (what, you didn't know that dogs from Florida can speak English?!). With tears filling her brown eyes, she sprinted away in despair and decided to go to the beach as a fem version of Chewbaca….ALONE. She sees the Truly babes behind her, glistening like smooth glazed donuts, and lets out an envious sigh as she plays with the hair on her legs.


Zara sees a lonely girl in the distance, with brown prickly hairs poking through her legs, staring at them. "What is that girl's problem?! Is she tryna fight?!" says a sassy two-margaritas-deep Chloe. "Awww, I think she looks sad!" Tyler replies. "Guys...I think that is Amanda Cerny!", squeals Zara. Chloe pulls out her phone and opens Instagram for a live comparison--"OMG it totally is! But why is she alone...and WHY is she so hairy?!" Zara gives her a quick glance, her body language clearly indicating that Chloe is being rude. "Well listen, if she's hairy...I have JUST the thing." Zara says with a wink. She skips over to Amanda and taps on her shoulder. "Hey babe, I see that you look pretty down...what's going on?" asks Zara. Amanda lets out an emotional weep and explains everything to Zara-- all about her busy morning, her dogs ditching her, and how she just feels so unhappy & hairy. Zara hands her the pink fuzzy bag, full of her new shave products. "Don't worry babe, you can become a Smooth Legend in just a few strokes!" says Zara. Amanda looks in awe as she unzips the pink fuzzy bag and sees the three amazing products. "A scrub, a shave butter, after shave oil, AND this stunning razor?!" she shouts. With no time to waste, she starts her routine in the nearest outdoor shower. The Smooth Legend Pre Shave Scrub is a pink dream, filling the air with scents of grape and berries. The Happy Hairless Shave Butter is unlike anything she's ever touched, giving her legs the closest shave ever. She shakes the water off her skin post shave and covers her legs in the Glazed Donut After Shave Oil which smells just vanilla bean and gives her legs a sparkly glow. She turns to the Truly babes and squeals "THANK YOU! I am the smoothest legend on the planet!" The Truly babes leap into the air with giddy glee, jumping up and down with excitement as they once again saved the skincare-day. 
That's it for this week's episode, babes. Be sure to follow us on Instagram for more updates, more stories, and more skincare obsessions!
Share
---