8 Multipurpose Truly Beauty Products You Need RN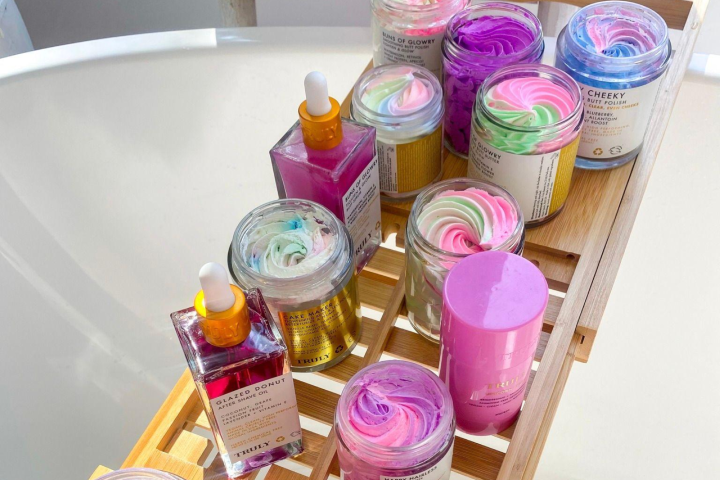 Whether you're strapped for cash, streamlining your skincare arsenal, or wondering how to get the most out of your Truly essentials, multipurpose beauty products make things much more convenient -- and cost-effective.
Lucky for you, we have plenty of multipurpose hair and skincare products that offer benefits beyond the product label description. 
Here are our favorite multipurpose products you need in your life right now. 


#1: Unicorn Fruit Whipped Body Butter
Our bestselling Unicorn Fruit Body Butter first found fame on TikTok, and it's truly a treasure for your skin. 
A buttery, fluffy, deeply conditioning multi-colored body moisturizer packed with a blend of skin-repairing ingredients such as acai, vegetable collagen, matcha, and rose and a base of shea butter, these ingredients work together to firm, hydrate, smooth, and plump out the top layer of skin.
Where to Use: You can use this buttery lotion on your skin, nails, cuticles, and even the ends of your hair to make split ends less visible. No shaving cream on hand? No worries! UF provides the perfect slippery base to ensure an effortless razor glide. 
#2: Blueberry Kush Hemp Facial Oil
An illuminating face oil made up of 300mg hemp, vegan collagen, and 1,000 blueberries per bottle to plump the skin, protect it from blue light exposure, and deeply nourish. Whether you've got dry skin, oily skin, or aging skin, this daily facial oil works for all skin types. Packed with antioxidants, it's effective at fading fine lines and wrinkles, diminishing discoloration, and clearing up blemishes. It's also super hydrating.
What's more, the formula contains alpha and beta hydroxy acids, chemical exfoliants that buff away dead skin cells, unclog pores, and reveal a brighter, fresher complexion. 
Where to Use: You can use this hydrating formulation on your face, neck, body, and cuticles. Thanks to its brightening effects, you can even use it as an eye cream to minimize dark circles and creases. It's incredibly versatile. Just remember to finish with a generous layer of sunscreen SPF 30 since the acids can leave you vulnerable to burning and irritation. 
#3: 24k Gold Black Soap Impurity Cleanser
24k Gold Black Soap Cleanser combines African black soap, 24k gold, charcoal, and salicylic acid to wash away dirt, oil, and makeup while dissolving dead skin cells for a clearer, brighter complexion. This unique, high performing facial cleanser both hydrates and deeply cleanses for smooth, blemish-free skin. 
Where to Use: You can use this exfoliating cleanser on both your face and body to slough away dead skin cells, ward off breakouts, and improve your skin tone. Got sensitive skin? Try adding a little to your regular face wash for extra gentle exfoliation. 
#4: GLOAT Lip Plumping Oil
A soothing lip oil infused with hyaluronic acid, coconut oil, and aloe to hydrate and nourish lips in need of extra TLC. With this formula, lips are instantly prepped, hydrated, and naturally juicy! The silky oil melts onto lips, creating the perfect priming base for lipstick. Plus, it works on its own as a lip gloss. 
While coconut oil deeply hydrates, aloe soothes irritated lips, and hyaluronic acid helps boost collagen, plumping and moisturizing the lips.
Where to Use: You can use this lip oil anywhere you need extra hydration -- your lips, dry patches, cuticles, and even the ends of your hair. You can also use it to tame flyaways. While we don't recommend using it as your sole hair care formula, this high-quality oil can definitely tame your mane and keep it looking glossy.
#5: Unicorn Hair Repair Mask
Unicorn Hair Repair Mask is packed with keratin amino acids to feed the scalp and stimulate hair growth. Avocado serves as a natural moisturizer, while coconut oil hydrates and adds shine. 
Where to Use: In addition to using a mask, you can also use this hair mask as a conditioner if you're looking for a quick burst of nourishment and hydration. And if your hair needs extra TLC, use it as a leave-in formula or overnight treatment. Your mane will feel heavenly after all that attention.
#6: Vegan Collagen Face Mask
An anti-aging face mask designed to diminish dark spots, fine lines, and sagging. Vegan Collagen Face Mask is formulated with collagen-boosting retinol, brightening vitamin C, and elasticity-restoring plant-based collagen to bring a youthful appearance. 
Our vegan collagen face mask helps minimize the appearance of fine lines and hyperpigmentation while improving overall texture and smoothness. It's the perfect addition to your skincare routine if you're looking for a way to restore youth. 
Where to Use: You can use this face mask on your body too. Remember your face isn't the only place where signs of aging appear. You could also try slathering it over your neck and chest or even over your hands where the skin is especially delicate.
#7: Cooka Concentrate 
A topical concentrate designed to alleviate irritation and prevent ingrown formation on the bikini line. Made with hydrating jojoba seed oil, soothing lavender, and bacteria-banishing tea tree oil, this ingrown serum helps to relieve inflammation and promote an even skin tone.
Full of natural ingredients, it's perfectly safe for sensitive skin types.
Where to Use: Aside from using it to soothe your post-shave bikini line, you can use this concentrate anywhere else hair meets skin. 
#8: Volcanic Rosewater Mist
A calming, balancing, rosewater-infused mist to hydrate and reduce inflammation. It also contains a vitamin C boost for a radiant glow. Plus, it'll leave you smelling fresh and florally.
Where to Use: You can use this on your face or body. We also like to spritz it over our razor before shaving for a super smooth and irritation-free shave. Plus, it works as a makeup remover. Simply spritz it off and wipe off excess product with a pad -- like you would when using a toner.
The Truly Beauty brand offers vegan, cruelty-free, high-performing beauty products at the most reasonable prices. You won't find concealer, mascara, highlighter, or matte foundation here, but you will find a slew of skin and hair products, as well as fun accessories.
Shop Truly on our official website as well as on Amazon, Ulta, and Sephora.
Share
---