Each Truly Team Member & Their Fav Product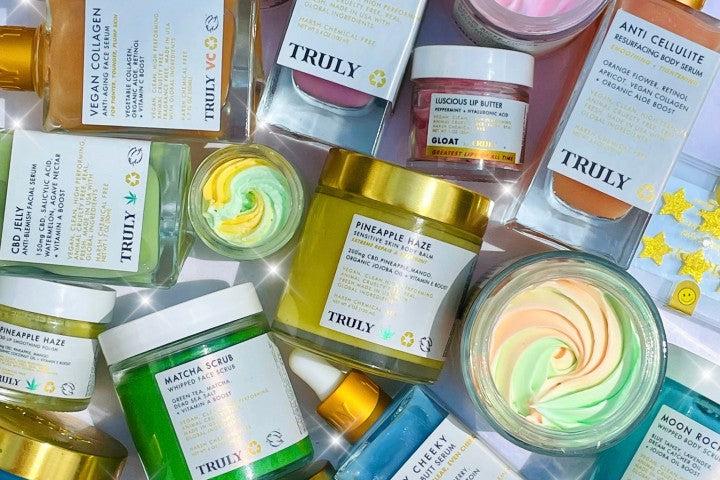 Hey Truly, do you ever use any of your own beauty products?
Absolutely we do!
From our whipped, candy-scented body butters to our boob-targeted serums, illuminating scrubs to magic-making masks, it'd be hard not to snap up these dreamy skincare staples.
Introducing the Truly team and our go-to Truly products…
Tyler: Social
Loves: Mary Jane Glow Mask
"It makes my skin look dewy which is always my main goal."
Mary Jane Glow Mask is an exfoliating, redness-reducing, skin brightener made with CBD, vitamin A, caffeine, and glycolic acid.
While hemp soothes redness, caffeine tightens and brightens, retinol fades fine lines by speeding up cell turnover, and glycolic acid exfoliates away breakouts by dissolving dead skin cells. It's also extremely hydrating and fragrance-free, making it perfect for dry and sensitive skin types.
For an intensive moisturizing and brightening treatment, wear the mask overnight. You'll wake up with a beautiful, dewy glow that lasts all day long.
Menal: Operations
Loves: Matcha Scrub
"It leaves my skin feeling renewed! Especially in those moments when you are feeling a breakout coming, or when I just need a fresh start to the day!"
This natural green tea sugar scrub infuses matcha, dead sea salt, and vitamin A for an invigorating, skin-smoothing scrub all whipped into one beautiful formula. It delivers gentle exfoliation without causing micro-tears on the skin, which makes it ideal for all skin types.
With its high content of soothing ingredients like matcha and green tea, this whipped body scrub reduces inflammation, clears blemishes, and eliminates any irritation. Meanwhile, glycolic acid lends its exfoliating abilities to slough away top layers of the skin, stimulating new collagen growth for brighter, smoother, younger looking skin.
For best results, use this scrub 1-2 times each week for refreshed, renewed skin.
Bean: Creative
Loves: Acai Polish
"I love the whipped consistency and little jojoba beads for gentle/everyday exfoliation."
Did you know Truly is one of the few brands offering skincare designed specifically for the boobs? Yep, that's what makes these products so special.
Acai Polish is a retexturizing boob scrub formulated with acai, dragon fruit, and retinol to brighten, tighten, and moisturize the breast skin. It owes its exfoliating powers to jojoba beads, which gently remove dead skin cells, oil buildup, and grime for clear, soft, and radiant skin.
Retinol is its chief superstar ingredient, offering potent anti-aging powers like fading fine lines, preventing sagging, and evening out discoloration.
In fact, this formula is so gentle you can safely use it every day without worrying about irritation.
Traci: Operations
Loves: Goodnight Moon Chest/Neck Sleep Mask
"My skin is still hydrated when I wake up in the morning!"
If you want to wake up with skin that glows, fall asleep in a hydrating, antioxidant-packed face mask, like Truly's.
Made with high-profile ingredients like hyaluronic acid, collagen, and ginseng, this formula helps improve skin elasticity, smooths the appearance of creases, and delivers visible lift around the face and neck.
Sadly, the décolletage often gets neglected when it comes to skincare. That's why it's one of the first areas of your body to show signs of aging. By giving it more attention in the form of extra hydration and active ingredients, you can ward off dryness, creases, and sagging.
Judee: Project Manager
Loves: Anti-Cellulite Body Mask
"It tightens and smoothens my skin" Ta-ta to my unwanted dimples!"
Truly's Anti-Cellulite Body Mask is a toning lotion that decongests and makes dimpled skin look less obvious. Harnessing the smoothing and tightening powers of retinol and bitter orange, this moisturizer visibly sculpts skin on the thighs, stomach, and hips.
Bitter orange stimulates the mobilization of stored fats, improving the appearance of dimply skin, while retinol smooths and refines the skin's texture for overall enhanced texture and radiance.
Use it daily, morning and night, for optimal results. It's important to keep it up in order to maintain the results – consistency is key.
Jessica: Director of Influencer Partnerships
Loves: CBD Facial Serum
"I love how it makes my skin feel, calms any irritation. And love how my makeup looks over it!"
This acne-fighting serum relies on salicylic acid for treating existing blemishes and clogged pores, and hemp for soothing redness and irritation. It also contains vitamin A to accelerate cell turnover for an even, smooth complexion.
You can apply it morning and night – it works beautifully under makeup and delivers overnight goodness for tackling breakouts and acne-causing bacteria.
And because it's formulated with calming, hydrating watermelon, it won't send sensitive or dry skin out of whack.
For optimal results, use this serum daily and follow up with sunscreen if you're wearing it in the day time.
Elizabeth: Creative
Loves: Blueberry Kush Scrub
"Incredible smell, hydrating exfoliation that doesn't dry you out."
Besides its wonderful, sweet berry scent, Blueberry Kush Scrub uses a gentle sugar base to draw out impurities and boost your natural glow.
While blueberries lend their anti-aging effects, coconut oil and vegan collagen lend their moisturizing abilities. Hemp promises anti-inflammatory properties and blue tansy gives the formula both its calming and decongesting effects, and its electric blue hue.
This scrub is unique in that it clarifies the skin while being soft enough to never irritate the skin.
Use it 2-3 times a week to maintain clear, soft, illuminated skin.
Truly's beauty products aren't just effective at treating a range of skin issues and delivering visible effects. They're also vegan, cruelty-free, eco-friendly, and formulated with clean ingredients that hurt neither your skin nor your health.
Give our products a try, let us know what you think, and once you've tried a few of them, tell us what your fave Truly product is. We look forward to hearing from you!
Yours,
Truly
Share
---