How to Get 10% Off Your Entire Truly Beauty Purchase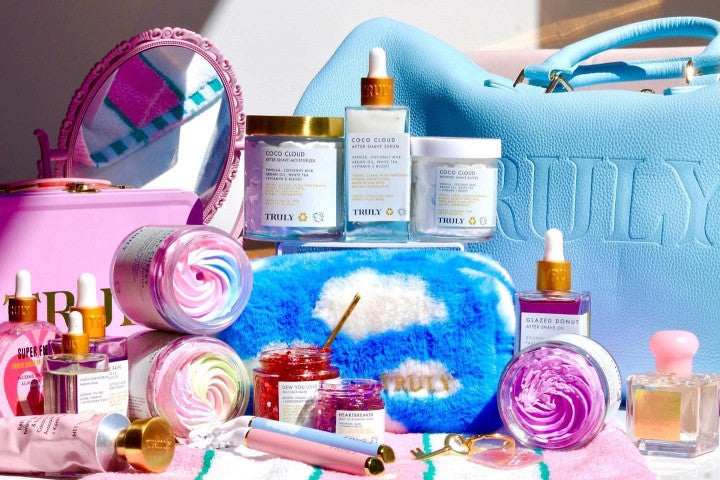 As much as we love giving you guys Truly Beauty coupon codes and free gifts, we've decided to give you a long-lasting gift for all future beauty product purchases: 10% off your entire order.
Put your fave Truly hair, bath & body, and skincare products on auto-ship, and get all your beauty goodies delivered straight to your door.
Want to hear more about this juicy Truly Beauty offer? Scroll down for all the deets, and the best items to add to your shopping cart.
WHY SUBSCRIBE?
Unlike a Truly Beauty promo code or discount code, our subscription service offers 10% off sitewide products. Simply select item, choose your desired frequency (every 30, 60, or 90 days), and we'll drop you reminders a few days before each shipment.
The Perks:
Enjoy 10% off your

entire purchase

when you shop auto-ship orders.
Special access + priority response time from our Priority Customer Experience Team.
No commitment — you can pause or cancel anytime.
This isn't a

limited time

It's a lasting

Truly Beauty deal

on

storewide

products.
❤️ SUBSCRIBE TODAY, GET 10% OFF YOUR NEXT PURCHASE ❤️
SHOP SKINCARE AT TRULYBEAUTY.COM
Browse some of our trending products below, and subscribe to enjoy a continuous flow of your favorites every month, two months, or three months — whatever floats your boat!
Smooth Legend Pre-Shave Scrub
Get your skin squeaky clean and freshly buffed before shaving with this lightweight, sugar-based scrub.
A truly smooth shave cannot be achieved without exfoliation. This pink-hued, grape-scented scrub buffs away dead skin cells, loosens hair follicles, and cleanses away pore-clogging products to reveal fresh, radiant skin. Use before shaving for a smooth and irritation-free shave.
Glazed Donut Shave Oil
TikTok loves it, we love it, & honestly...you're bound to love it too!
Glazed Donut is a cooling, flash-absorbing post-shave serum that replenishes lost moisture while alleviating ingrowns and healing razor bumps. Made with coconut, grape, and lavender to deeply nurture skin while boosting hydration and warding off inflammation, it's your best post-shower buddy for smooth and glowing skin.
Mary Jane Glow Serum
A collagen-boosting serum powered by CBD, retinol, glycolic acid, and caffeine to brighten, tighten, and reduce the appearance of fine lines and wrinkles. In addition to its anti-aging effects, it's also extremely moisturizing.
Whether it's your first purchase, or you've used it multiple times before, Mary Jane Glow Serum is a skincare staple that can treat a slew of skin concerns ranging from acne to aging to dullness and dryness.
24k Gold Black Soap Impurity Cleanser
The ultimate acne-alleviating daily cleanser designed for both the face and body. It's essentially an exfoliant that helps slough away excess oil and dead skin cells to clear pores, address existing blemishes, and prevent the formation of breakouts.
It's huge popular over on TikTok and Instagram thanks to its ability to rid skin of impurities and clear up acne for good.
Ultimate Coco Cloud Shaving Kit
Our NEWEST shaving kit inspired by our OG Coco Cloud Whipped Shave Butter, the set features a line up of shaving essentials including Shave Cream, Post-Shave Serum, Body Butter, Razor + Fuzzy Blue Bag.
Formulated with soothing, ultra-hydrating ingredients like coconut milk, argan oil, and vanilla to tackle all shave-related issues including razor bumps, ingrowns, and hyperpigmentation — for your creamiest, dreamiest shave.
With our 10% off discount on auto ship orders, you save up to $9.20 on every purchase. That's $110.40 in savings every year if you subscribe every 30 days! You won't be able to enjoy the same savings from Truly Beauty discount codes. It's the best discount of them all!
Ultimate Cooka Treatment
A bundle made especially for your bikini line. Never see bumps, burns, or ingrowns again with these shaving goodies at hand. Our Cooka Line hydrates, soothes, shaves and towel dries with our Cooka Oil, Cooka Concentrate, signature razor and Truly bath towel. It's everything you need for a silky shave down there.
Buy our Cooka Duo + shaving accessories together for the greatest value on your smooth shave. 
Blueberry Kush Bundle
Illuminating face and body formulas wrapped up into one beautiful blue bundle. Blueberry Kush detoxifies and illuminates for a clear and glowing complexion. The kit includes a body lotion, body scrub, face oil, and body oil, all formulated with powerhouse ingredients such as antioxidant-rich blueberry, plumping vegan collagen, organic coconut, and exfoliating hydroxy acids.
The total offer includes $22 off when purchased as a bundle instead of products purchased separately. Plus, $12.70 off each order when you subscribe. Those are some big savings, beauty babes!
FAQ
How Do I Subscribe?
Simply select your product, choose when you would like your products to be delivered, and proceed to the checkout page.
What's Your Product Guarantee?
If you're not in love with our product, we offer a 30 day money back guarantee and hassle free returns.
Are Savings Only On My First Order?
Nope! You can enjoy 10% off every subscription order.
Can I Cancel My Subscription?
Sure! You can cancel any time by sending us an email at info@trulybeauty.com or calling us at +1-866-TRULY-01 (+1-866-878-5901). If you just want to pause or skip your next renewal, head to your customer dashboard and change the settings there.
What Other Discounts Do You Offer?
We regularly offer promotional codes as well as Black Friday and Cyber Monday deals and beauty codes. Check back on our online store whenever you can to stay updated on our latest deals. You can also join our Truly Rewards program to earn vouchers that you can cash in for Truly treats.
While you will find Truly products sold by retailers such as Amazon, Sephora, and Ulta.com, please be aware that our subscription offer doesn't apply. It is only valid when purchased via trulybeauty.com.
Share
---