Our New Fave Beauty Oil: Marula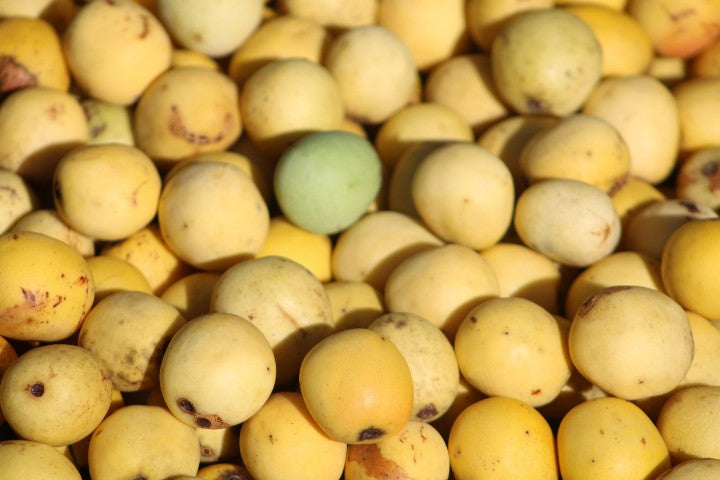 Your beauty fridge and cupboards are probably already stocked with coconut oil, argan oil, and jojoba seed oil. There are so many fabulous beauty oils out there, it can be hard to figure out which one's best. We'd have to say all of them!
Our new favorite skincare oil? Marula oil. This multipurpose product is capable of working magic on your complexion. That's why we just added it to two of our new shaving products!
Here's everything you need to know about marula oil, from what it is, what it can do for your skin, and which Truly products you'll find it in.
WHAT IS MARULA OIL?
Marula oil is a natural oil derived from the marula tree (Sclerocarya birrea) and can come from either the nuts, seeds, or marula fruit. Found in sub-Saharan tropical Africa, it's been used for centuries in Africa as a skincare cure-all.
Whether used unrefined in its pure form or as a key ingredient in a skincare product, marula oil can work wonders for your skin. Lightweight, flash-absorbing, and packed with fatty acids and antioxidants, this exotic African oil is *amazingly* hydrating. 
Plus, it works for all skin types. From dry skin to oily skin and even sensitive skin, this naturally soothing oil never leaves a greasy residue. You can use it either as a facial oil, body oil, or within an existing, moisturizing product.
BENEFITS OF MARULA OIL
There are many reasons to incorporate marula oil into your skincare routine. Here are some of the benefits of this beauty oil.
It's Extremely Hydrating
Marula oil is essentially an emollient, but it also works as an occlusive. In other words, it can both attract moisture from the environment as well as seal it in for long-lasting hydration. Its hydrating superpowers come from its high levels of fatty acids, such as oleic and linoleic acid that soften and nourish the skin.
It will also leave the skin feeling soft to the touch thanks to its powerful moisturizing abilities which diminishes dry, rough skin texture.
 It Reduces Signs of Aging
Packed with fatty acids, omega oils, and vitamin C and E, marula oil is a powerful anti-aging ingredient. It works to repair free radial damage like that from pollution or sun exposure, which lead to premature signs of aging.
According to a 2018 study, marula oil was found to be effective at inhibiting the enzymes that break down both collagen and elastin. In other words, it maintains skin health and youthfulness by warding off fine lines and wrinkles.
It Soothes and Heals
Marula oil is believed to have healing properties, which can be attributed to its anti-inflammatory effects. This makes it a perfect skincare product for soothing irritated skin and combatting redness.
It Balances Oil Production
According to research, marula oil is high in oleic acid which means it can stop skin from producing excess oil. Marula facial oil may be worth introducing into your skincare regimen if you have oily or acne-prone skin. It can counteract dryness without clogging your pores and putting you at risk of breakouts.
It Protects Against UV Exposure
Marula oil boasts strong antioxidant properties, and those antioxidants can help prevent and fight free radicals caused by exposure to UV rays and pollution. In turn, preventing the formation of hyperpigmentation, and fine lines and wrinkles.
It Strengthens and Moisturizes Hair
So we've been focusing on what marula oil can do for the skin. It turns out, it can do a lot for the hair, too. For starters, it can serve as a deeply nourishing hair mask or conditioner for dry, weak strands. Thanks to its powerful moisture retention abilities, marula oil-infused hair products can help restore healthy hair.
Alongside this, marula oil is known to be a frizz-fighter. That's because it seals the cuticle with a silky finish for a smooth, manageable mane.
HOW TO USE MARULA OIL
Like with coconut oil or rosehip oil, you can either use it straight up or blended with other ingredients in a serum, face oil, or lotion. If you're going to use it straight up, be sure to pick pure marula oil, or virgin marula oil, as it typically has a higher concentration of antioxidants than refined versions. 
Alternatively, look for it inside beauty products. It usually crops up in products that hydrate your skin, since it's practically famous for its moisturizing abilities. 
Apply it every day at night or before your sunscreen during the day. 
SHOP MARULA OIL SKINCARE PRODUCTS
Here are our brand new limited edition products featuring marula oil -- our new fave beauty oil, by the way!
No Troubles Bubbles Shave Cream
If you're seeking a super smooth and irritation-free shave, make this Super Smooth Shave Cream your first choice. Formulated with antioxidant-packed blueberry, hydrating hyaluronic acid, and soothing marula oil, this moisture-rich, non-greasy, fast lathering cream secures the silkiest shave -- every. single. time. Use it as part of your regular shaving routine.
Super Fierce Pre-Shave Serum
Prep your skin for shaving with this superstar pre-shave serum. Formulated with nourishing marula oil, anti-inflammatory squalane, and antioxidant-rich watermelon, this pre-shave serum will help hydrate skin, soften hair follicles, and ensure a super smooth razor glide. Your skin will love it!
All our products are clean, cruelty-free, and vegan with absolutely no nasties like parabens. We pride ourselves in delivering the highest-quality, highest-performing products around because your skin deserves only the best.
If you're seeking fresh, hydrated, and healthy skin, marula oil is your go-to ingredient. You'll find it in a range of products, including cleansers, serums, lotions, and oils. And of course our limited edition shaving products!
Alternatively, you can try applying cold-pressed virgin marula oil straight up. Best of all, marula oil is suitable for all skin types, from dry to oily, sensitive to combo. It works for everyone!
The derms deem marula oil safe with limited side effects. Speak to your dermatologist if you have any concerns regarding the safety of applying this ingredient to your skin.
Share
---