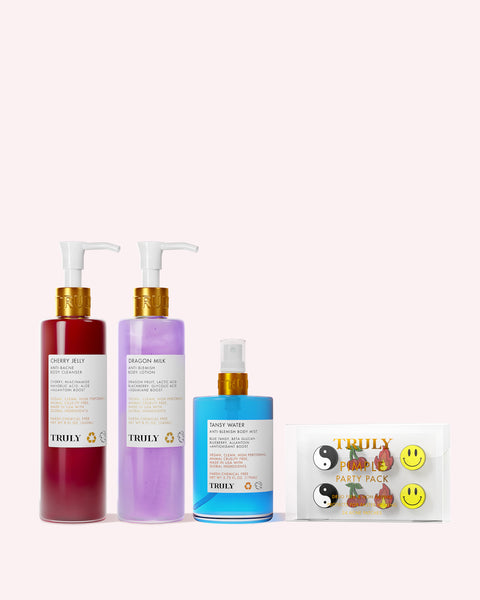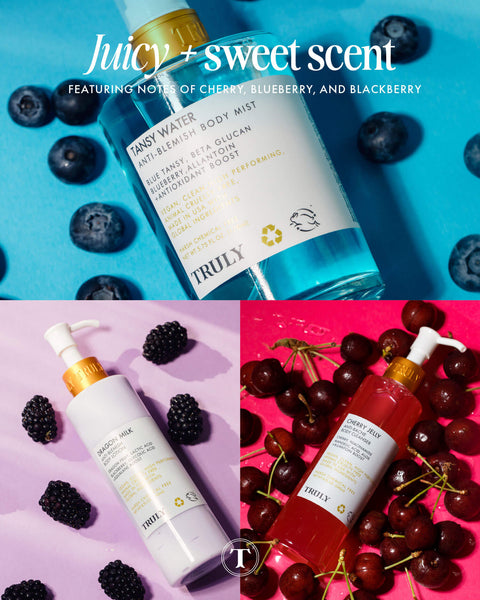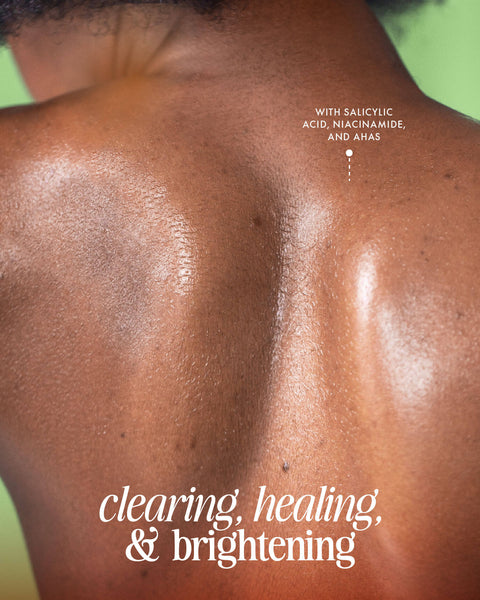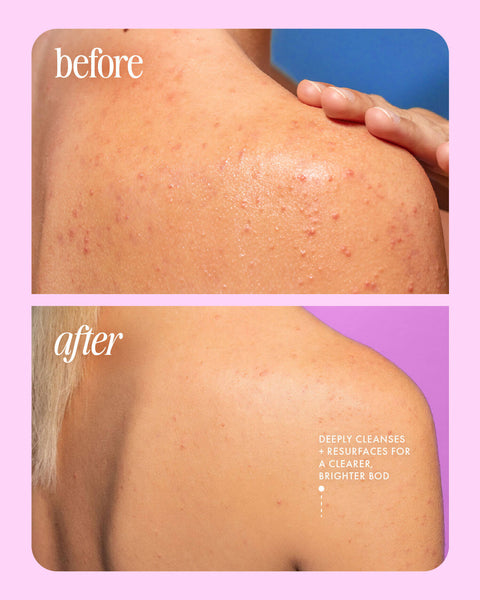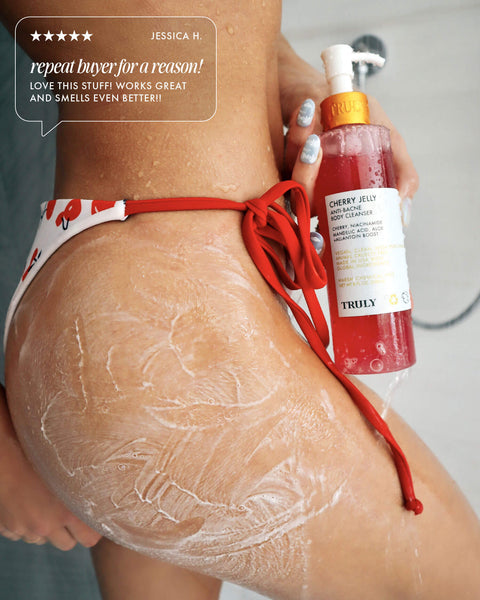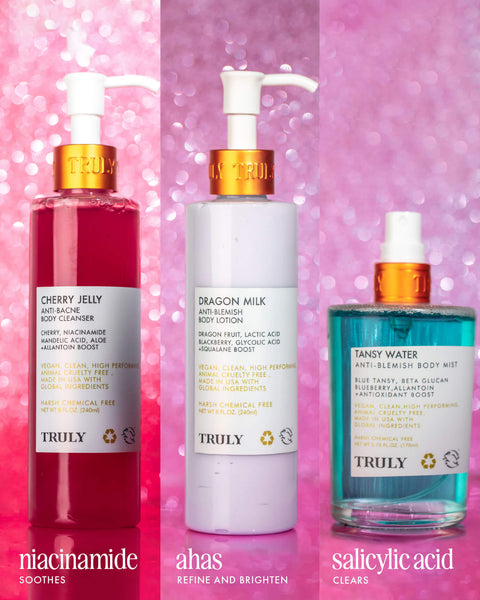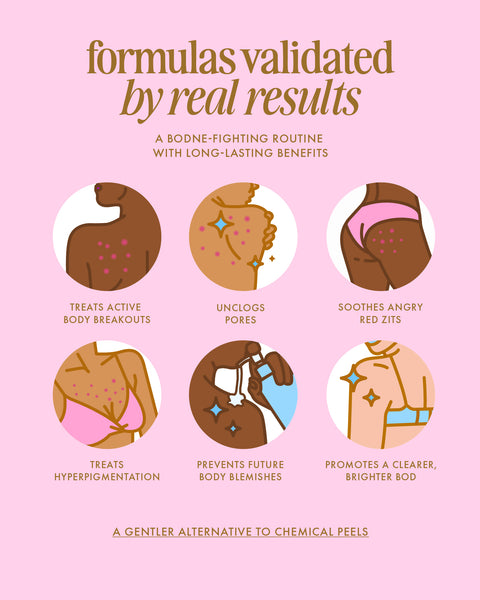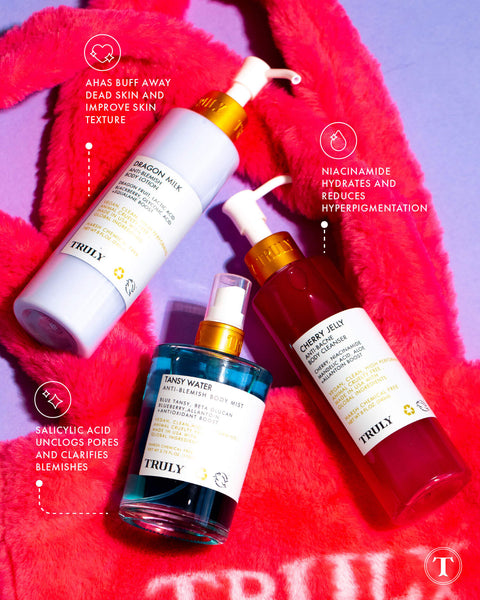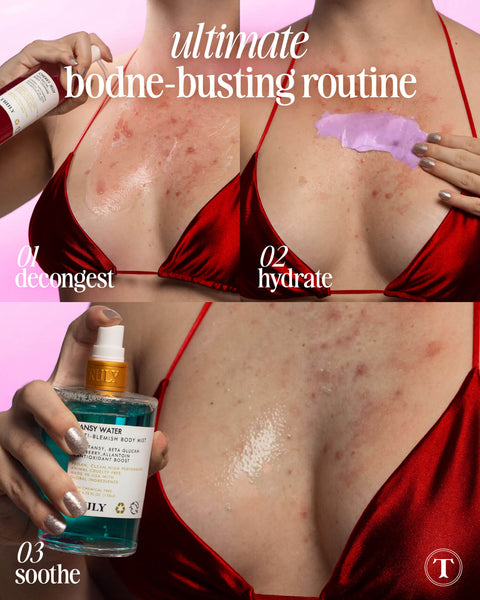 Bodne Bundle
Good to Know:
Anti-Blemish
Moisturizing
Soothing
It's finally here: an all inclusive skincare routine to beat body blemishes for good. Cleanse, mist, moisturize, and spot treat your way through the Bodne Bundle - loaded with bacteria-zapping BHAs, brightening antioxidants, and all natural humectant moisturizers to leave you smooth, hydrated, and bodne-free.
What You'll Get:
❤️ Cherry Jelly Anti Bacne Body Cleanser
❤️ Tansy Water Anti-Blemish Body Mist
❤️ Dragon Milk Anti-Blemish Body Lotion
❤️ Pimple Party Pack
WHAT IT TARGETS:
Body Acne 🧼💥
Bringing out the big guns: active ingredients like salicylic, glycolic, and mandelic acid cut through excess oil, limit sebum production, and unclog pores. A.K.A., nipping bodne in the bud.
Ingrowns 🪒✨
Benzoyl peroxide and lactic acid, while also helping to clear acne, work wonders on ingrowns. The two active ingredients kill bacteria and gently slough off excess dead skin cell buildup, reducing ingrowns.
Dryness + Irritation 🧴💦
Allantoin and blueberry keep the skin hydrated while also clearing it of pollutants and dirt, providing conditioning effects and aiding the skin in holding onto moisture longer.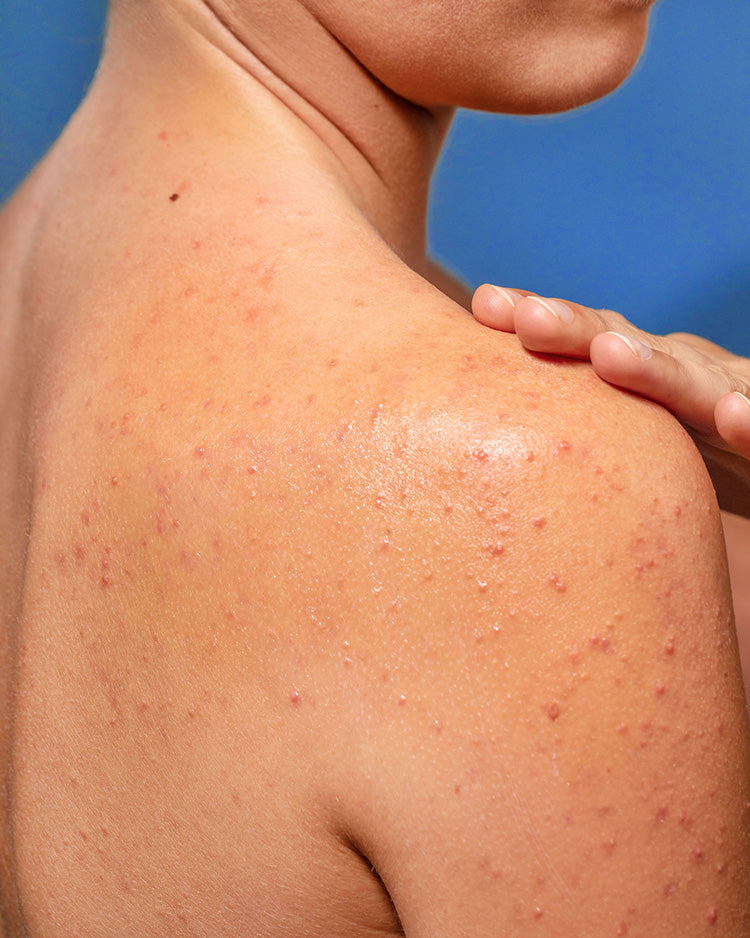 *The model in these images is a paid model demonstrating use and intended results of the products, these are not actual customer images.
HOW TO USE:
Cherry Jelly Cleanser:
Lather this niacinamide-loaded cleanser with water on skin to promote elasticity, soothe redness, unclog pores and limit sebum production.
Tansy Water Body Mist:
Spritz on dry, freshly cleansed skin and watch as soothing blue tansy and clearing salicylic acid work their magic.
Dragon Milk Body Lotion: 
Apply this berry-scented, antioxidant and glycolic acid packed lotion onto clean, acne-prone skin to clear, brighten and lightly buff.
Pimple Party Pack:
Apply pimple patch onto clean, dry, grease-free skin overnight or as needed to drain active zits of sebum and debris with the help of hydrocolloid.