The Scent
We concentrated the satisfyingly sweet, whimsical, and uber feminine fragrance of our bestselling Unicorn Fruit Body Butter into a potent cotton candy scent. Mist during the day or layer over body butter at night for a stronger, seductive side to the sweetness.
Top notes: raspberry, orange, bergamot, and fig leaf
Middle notes: cotton candy, licorice, red berries, strawberry, and lily of the valley
Base notes: caramel, vanilla, musk, tonka bean and sandalwood
Cotton Candy
Wispy, innocent, a splash of sweet in the middle of a summer day.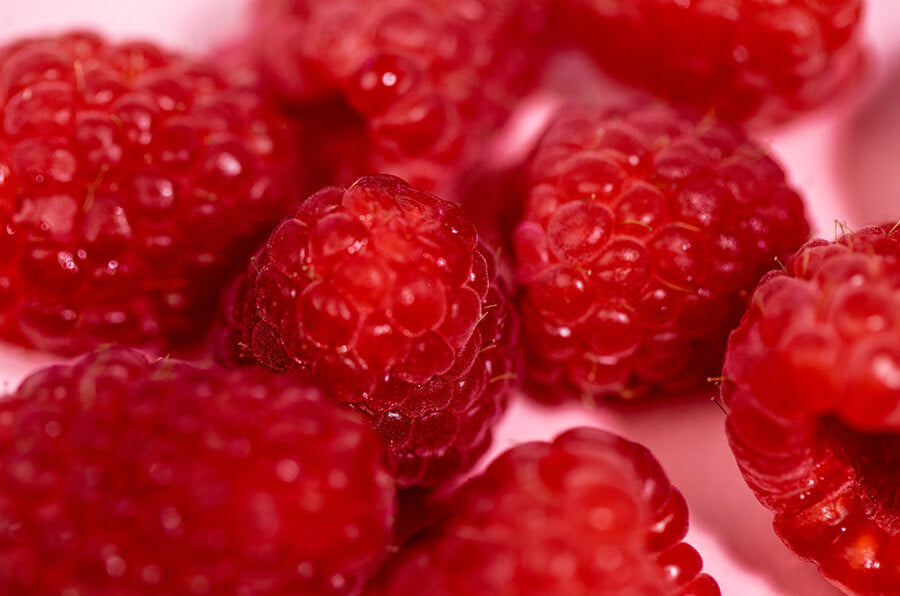 Raspberry
Accords of fresh pressed juiciness with a subtle rose facet.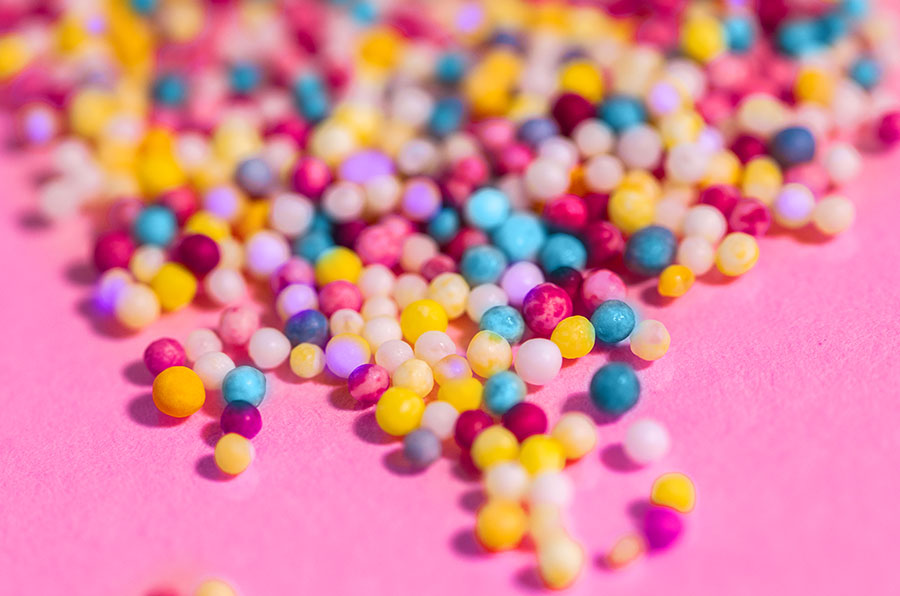 Vanilla
Sweet, cozy, fresh-baked cookies on the counter.
Bundle Breakdown:
Unicorn Fruit Eau De Parfum✨🍭
Spritz sparingly and dab onto pulse points - just like our Unicorn Fruit Body Butter, a little goes a long way! For a more powerful and long lasting scent, layer the perfume over Unicorn Fruit Body Butter.
Unicorn Fruit Polish 🍬🧼
Massage a palmful of body polish into the skin while bathing. Work into a lather, let sit for a minute or two for more intense hydration. Rinse off.
Unicorn Fruit Body Butter🧈🦄
Swipe on freshly cleansed skin and massage in circles until fully absorbed. Suitable for dry skin on the feet, knees, elbows, cuticles - you name it. A little goes a long way!
Unicorn Fruit Lip Balm🧁👄
Massage a pea-sized amount of product onto a parched pout for instant hydration. Slight tingles are normal as peppermint naturally plumps. Reapply as often as desired.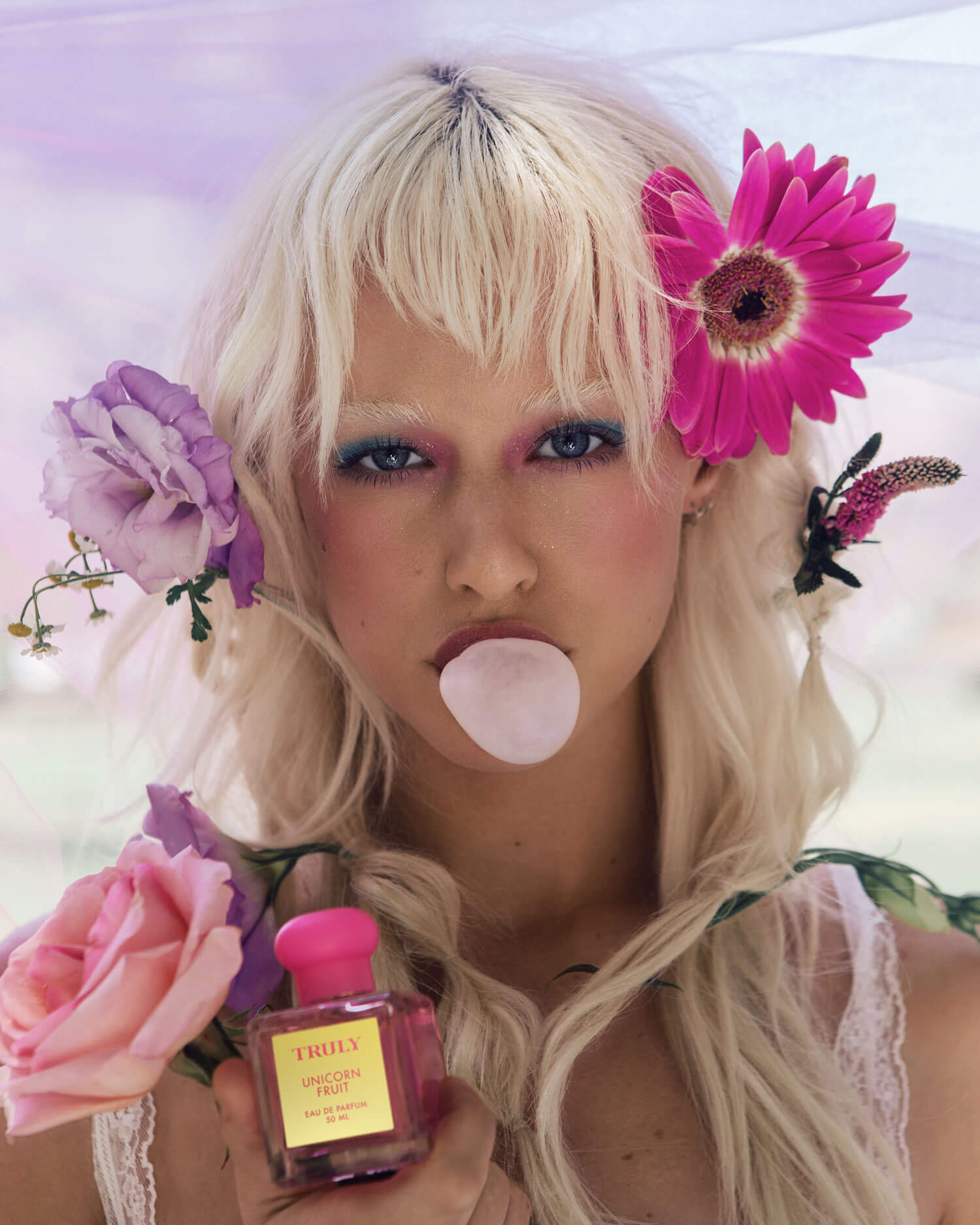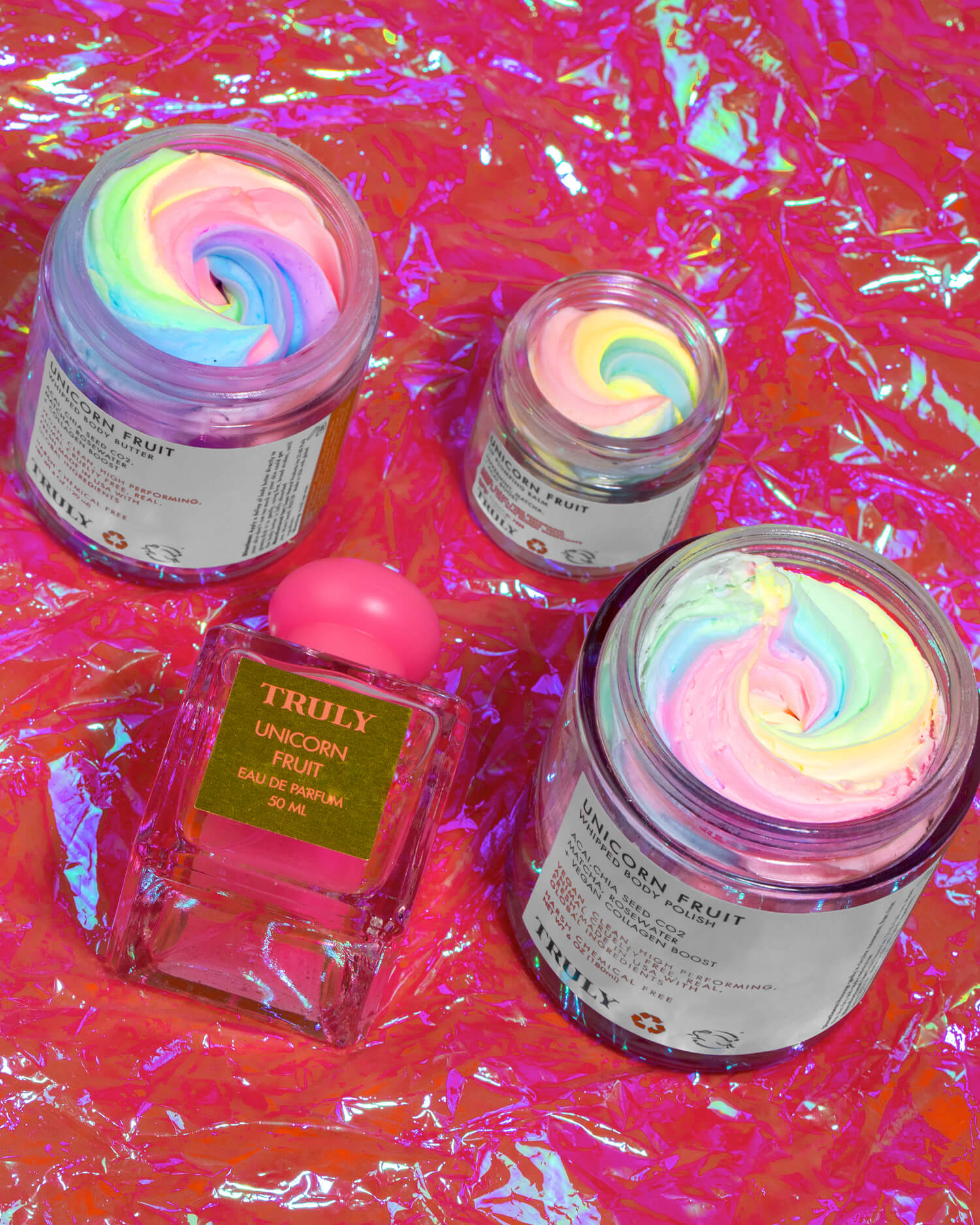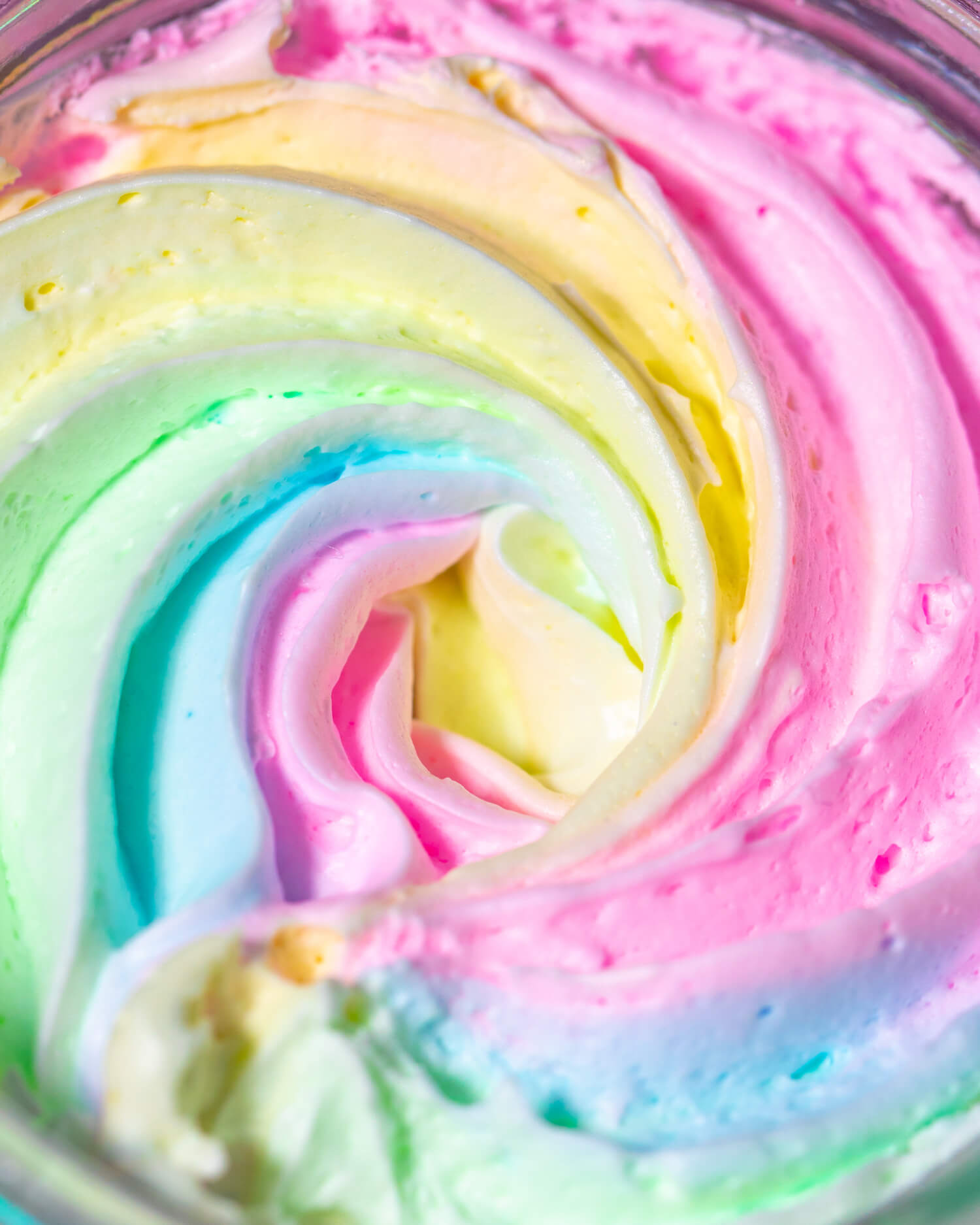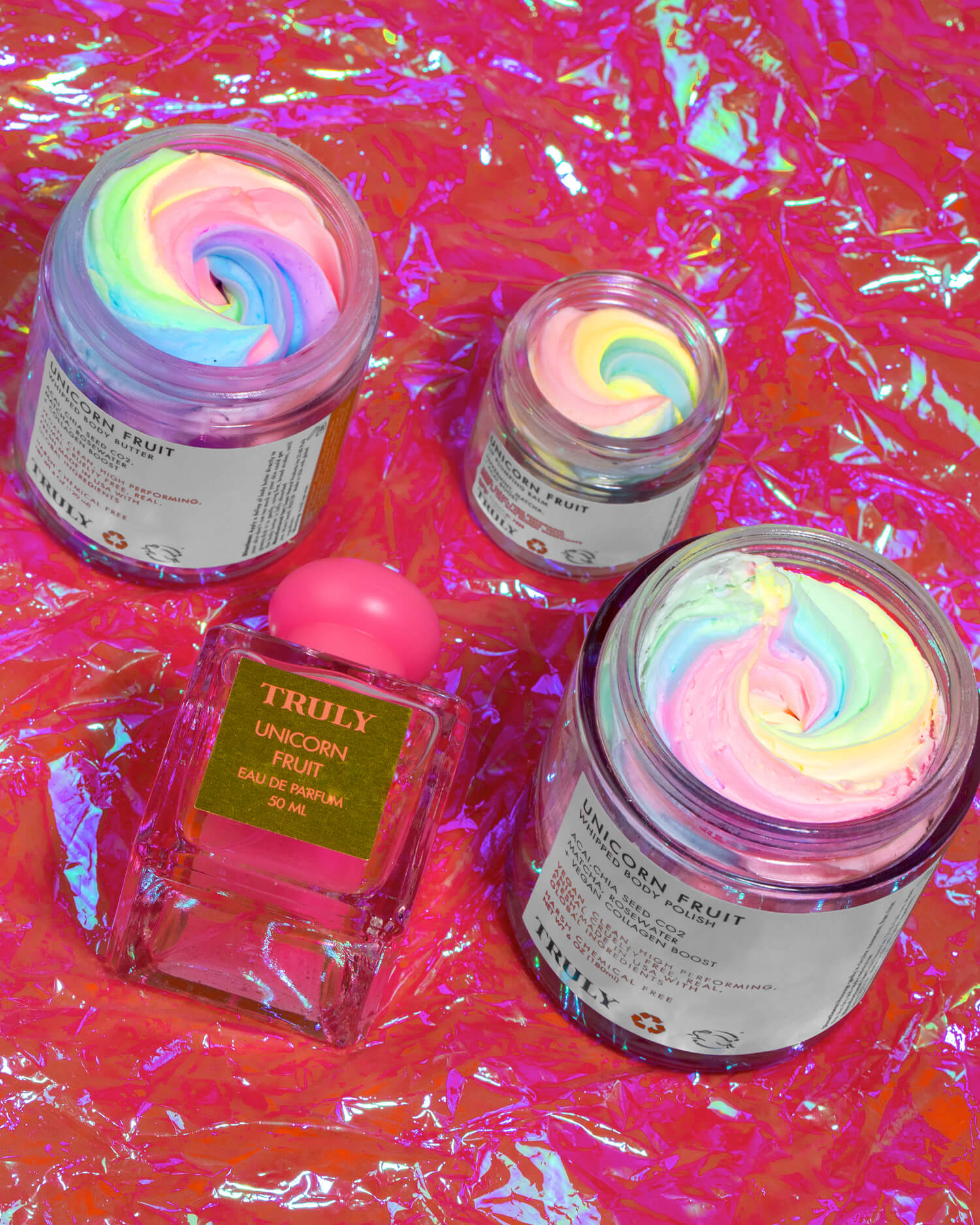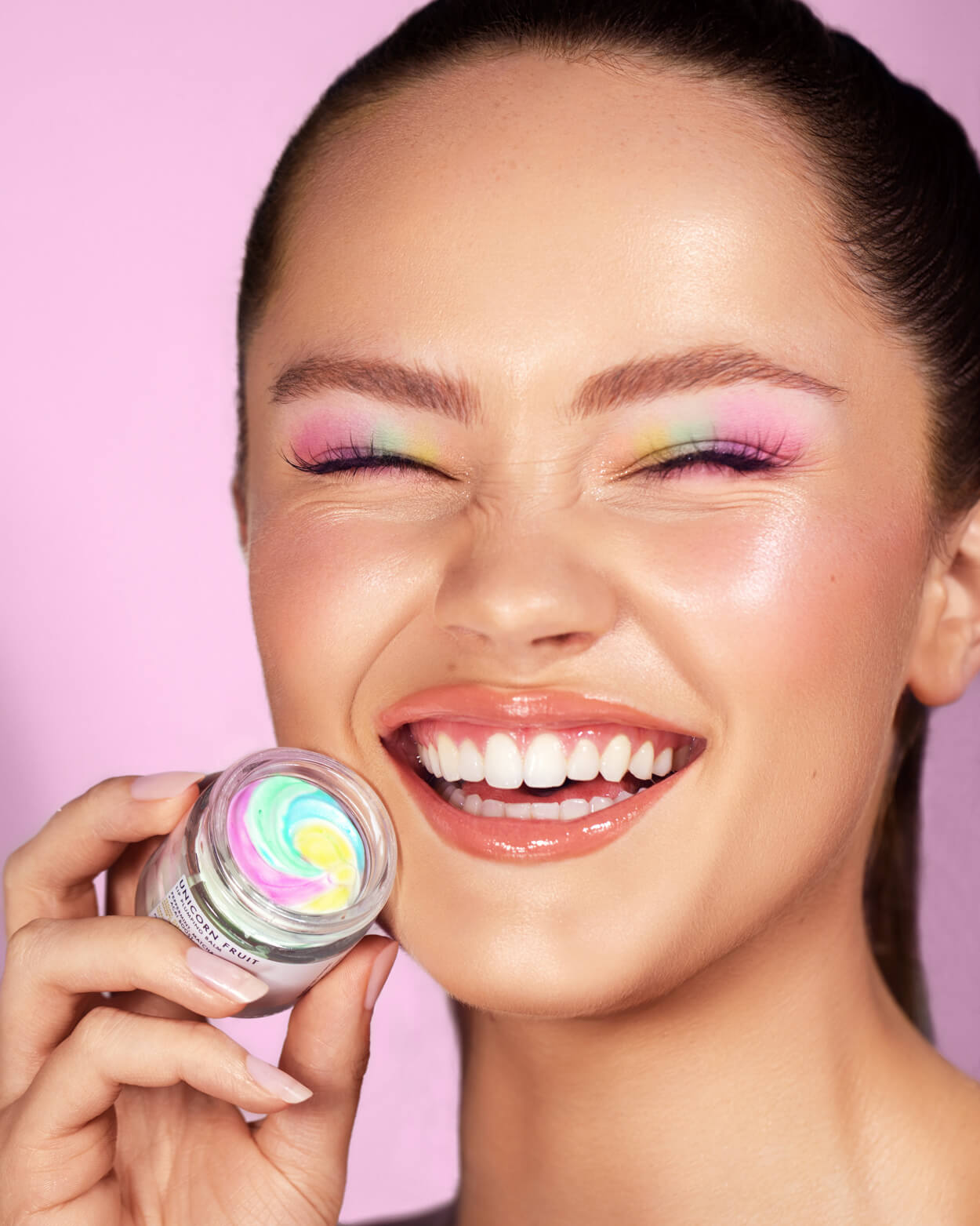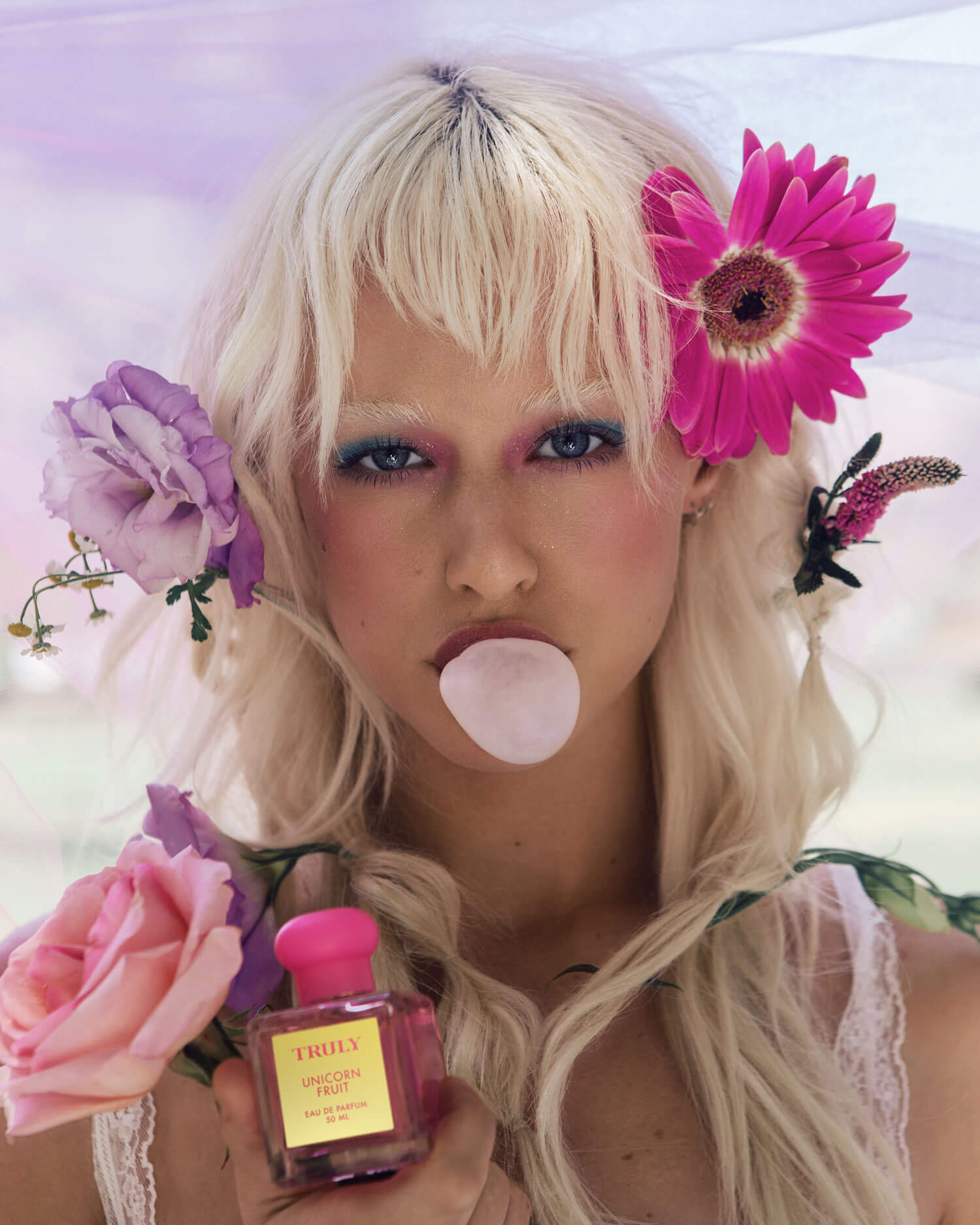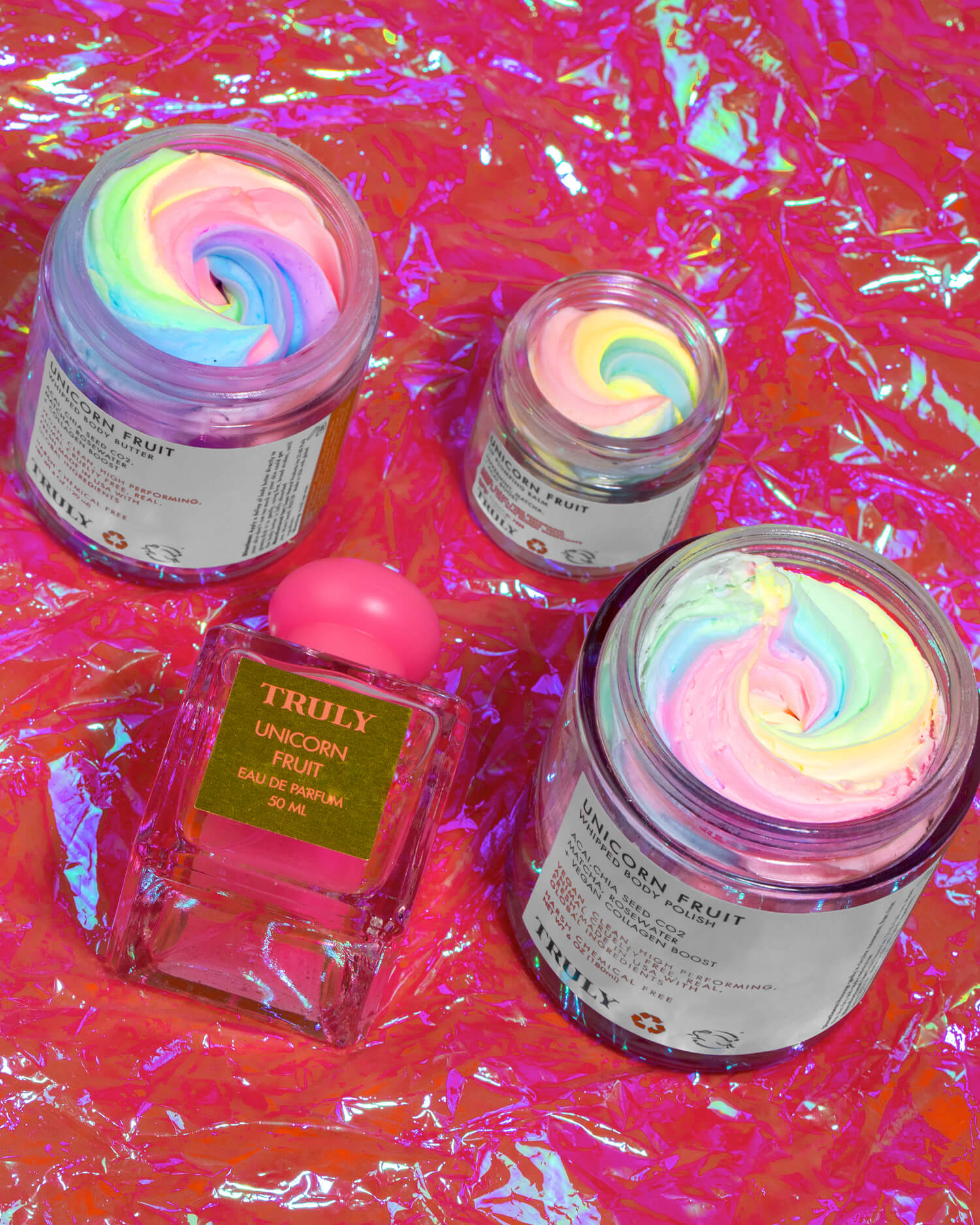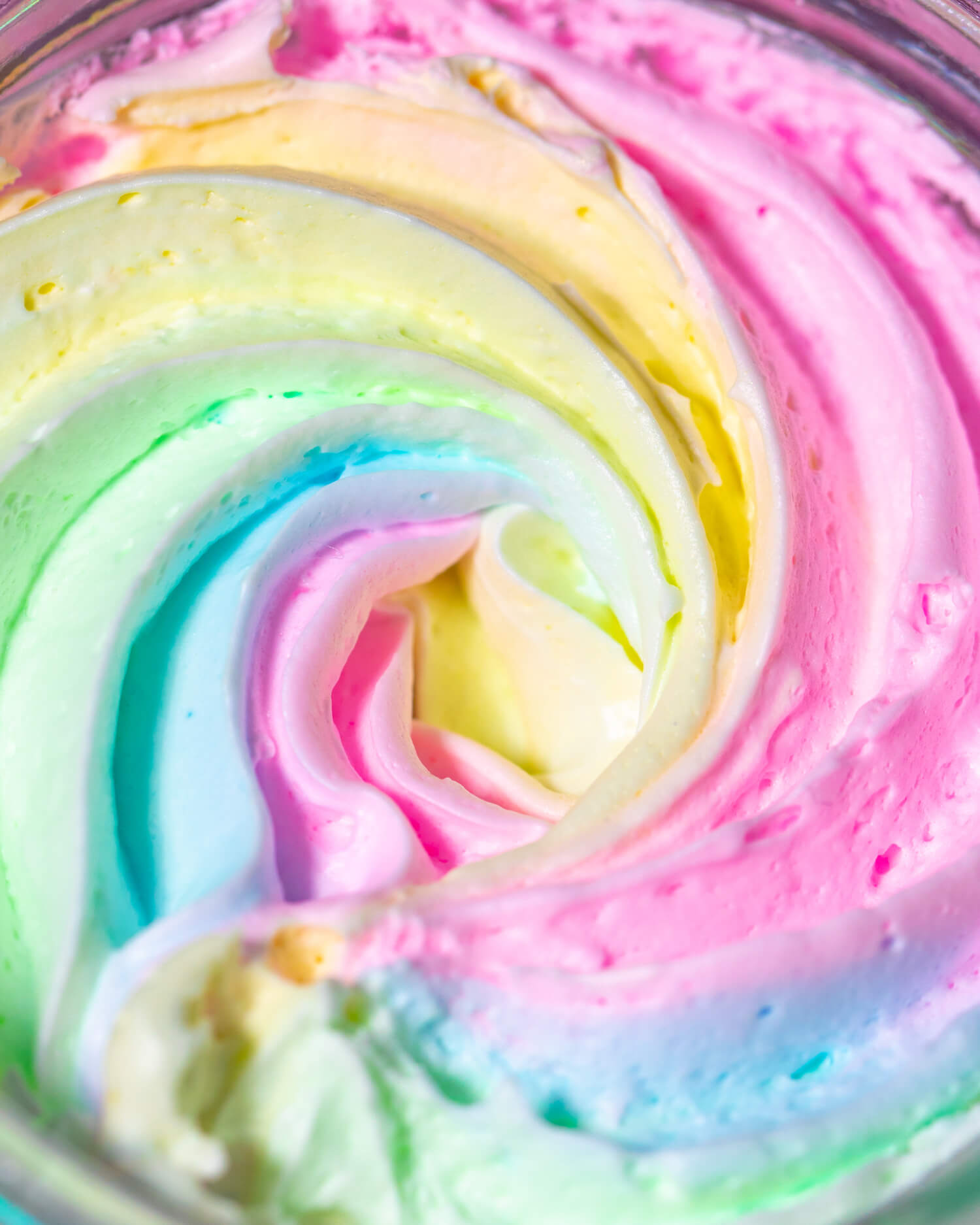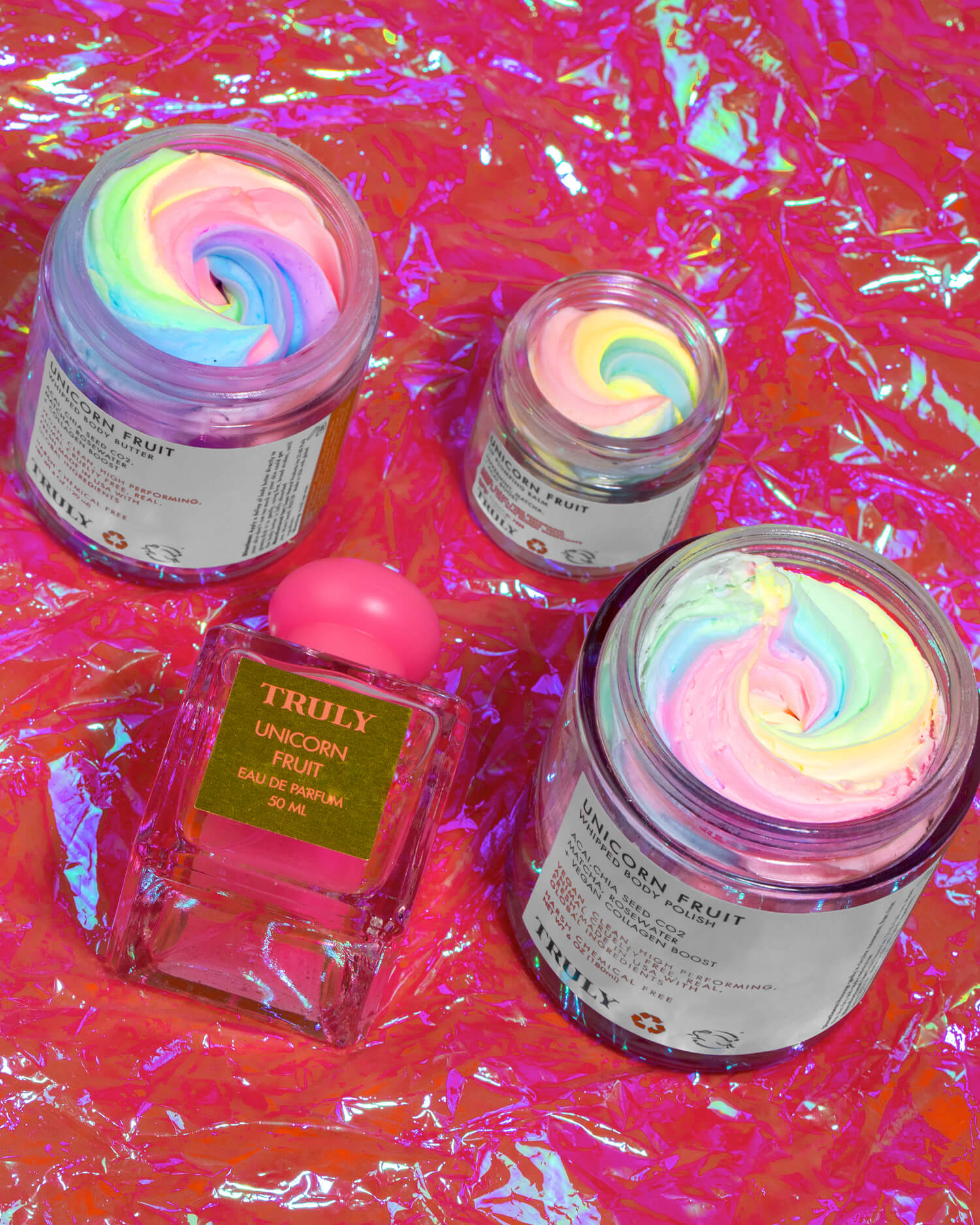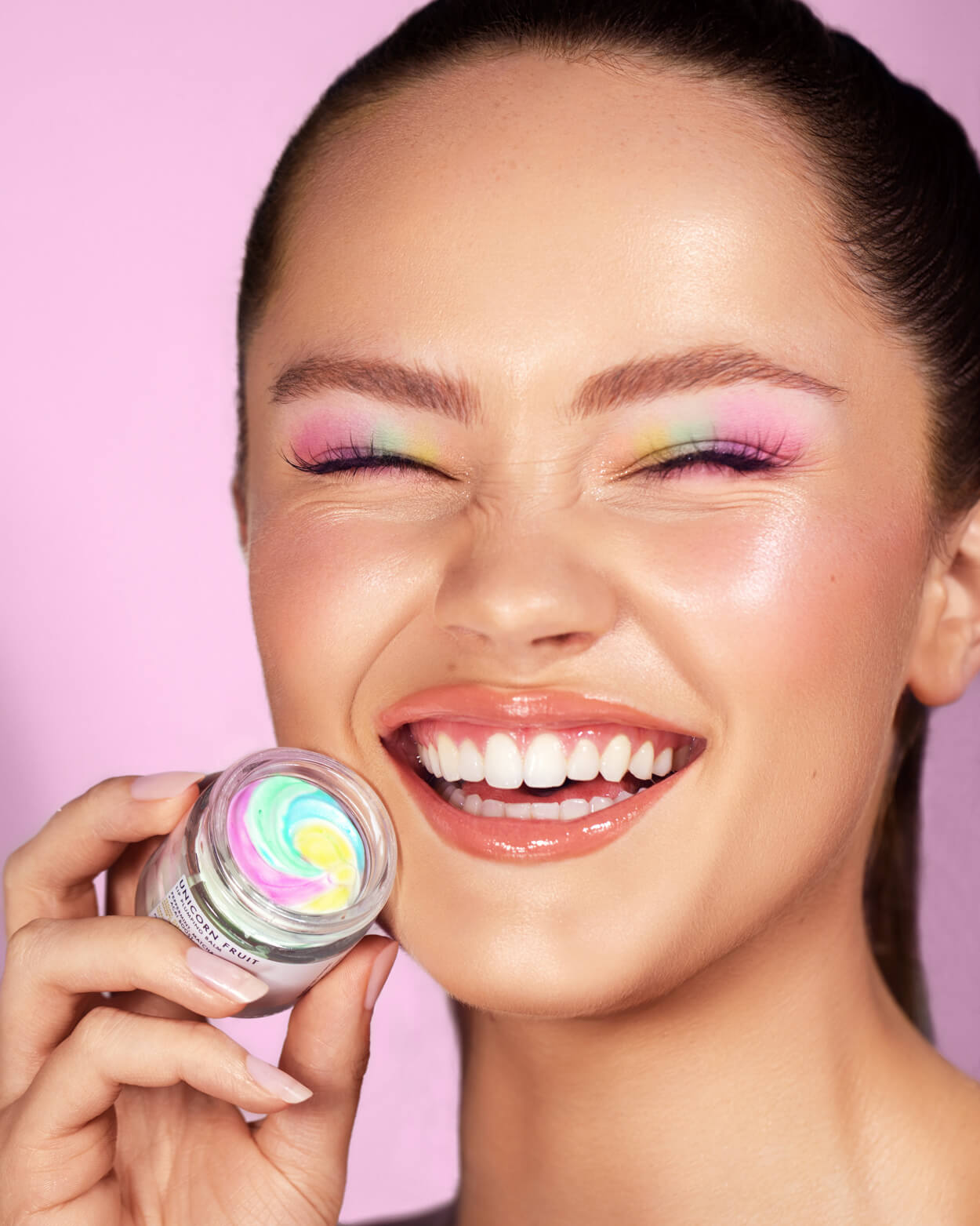 WHAT ARE PEOPLE SAYING ABOUT UNICORN PARTY KIT
Unicorn Fruit Eau De Parfum
I got to try the Unicorn Fruit Eau De Perfume and WOW I just love the scent! It smells just like the Unicorn Fruit Whipped Body Butter—sweet, candy, and refreshing! I sprayed this all over and the scent lasted alllll day! I'm obsessed!
Sam. |

Verified Buyer
Unicorn Party Kit
I think this is my overall favorite product from truly. First, it looks so amazing. Cute rainbow swirl, and then the smell! Omg it's like a cotton candy cloud. The texture of fluffy and smooth, I really love it!
Heather. |

Verified Buyer
Unicorn Party Kit
Holy cow, this product is a life changer!! I loved the Unicorn fruit body butter so when I seen the polish I already knew I HAD to have it, but I didn't think it was possible to be this obsessed! The way it makes my skin look, feel, & smell is spectacular & I will never live without this product again! My favorite!!
Michelle |

Verified Buyer
Limited Stock 🔥
Love it or Return it