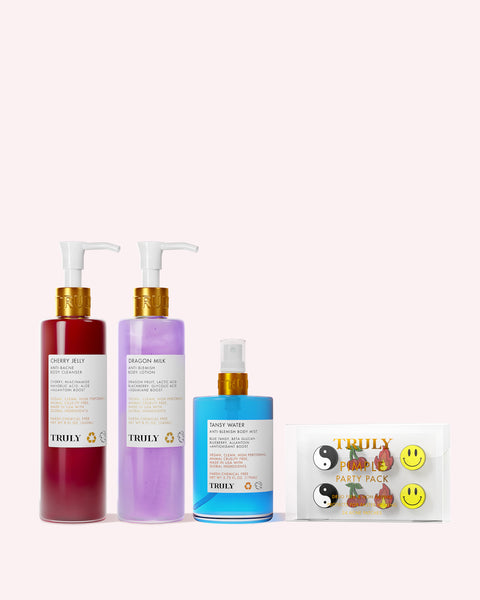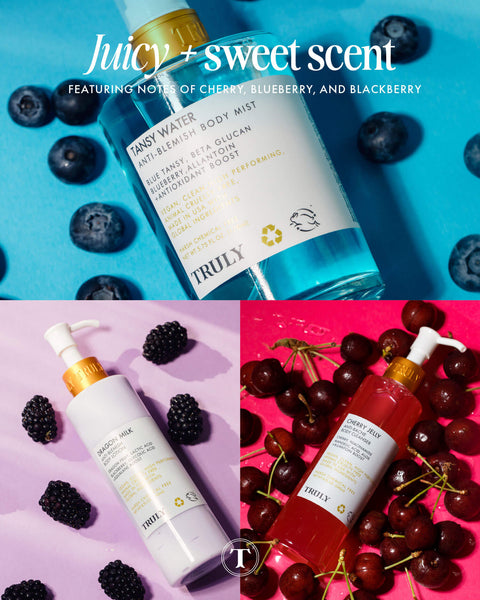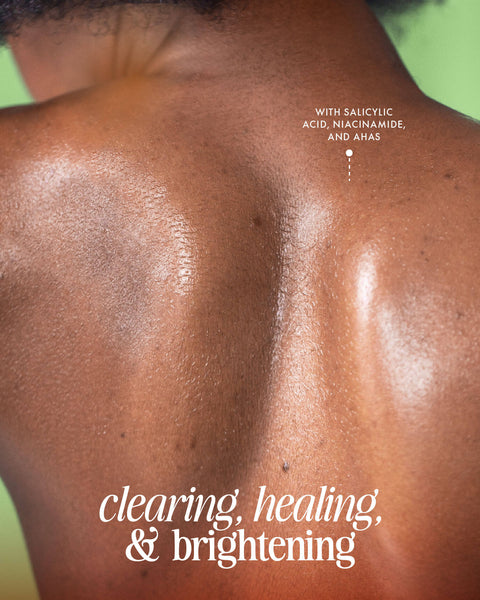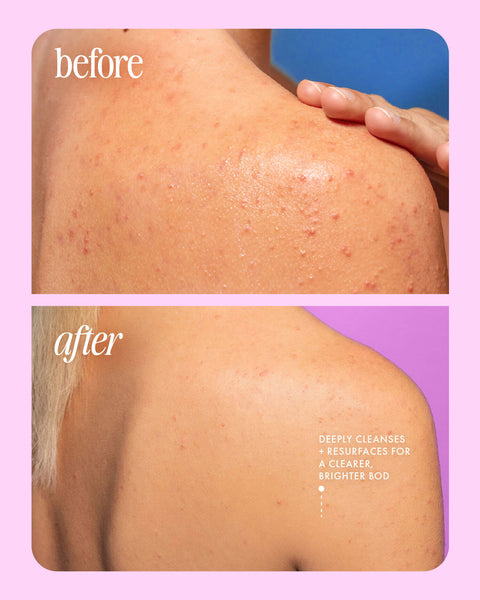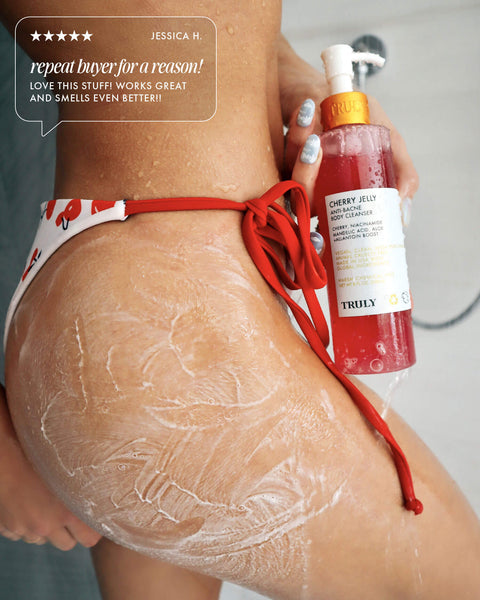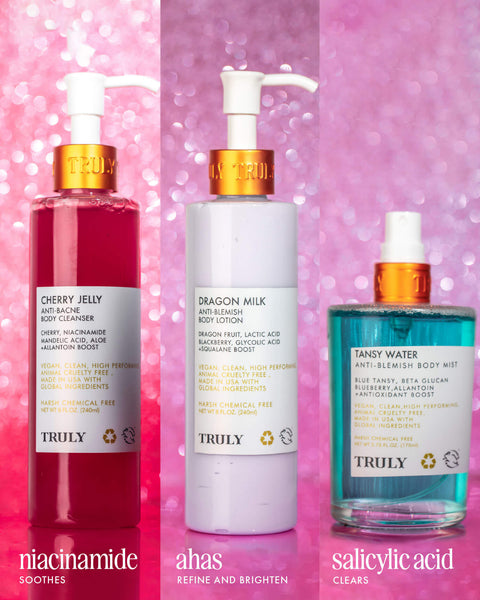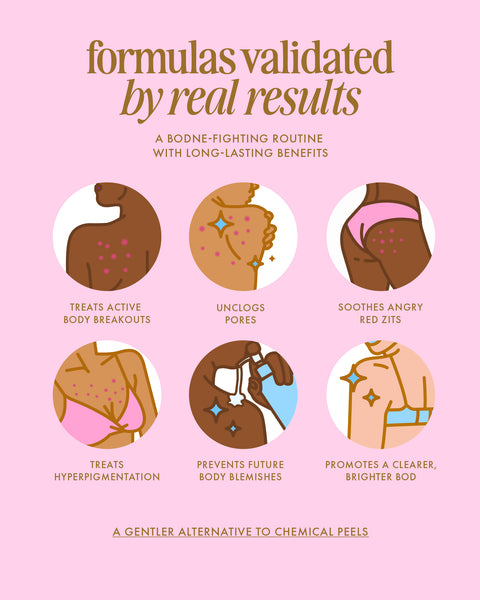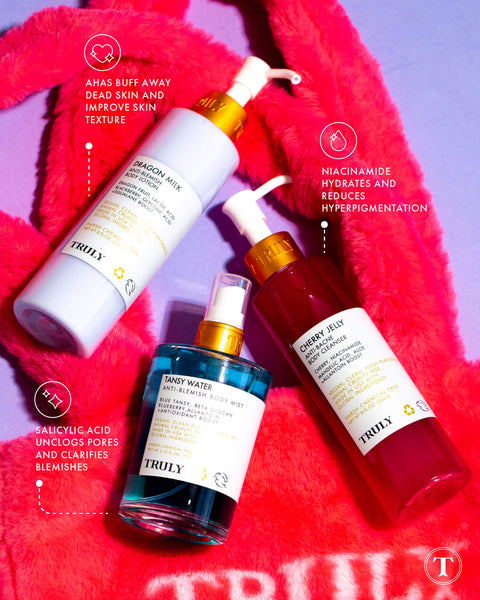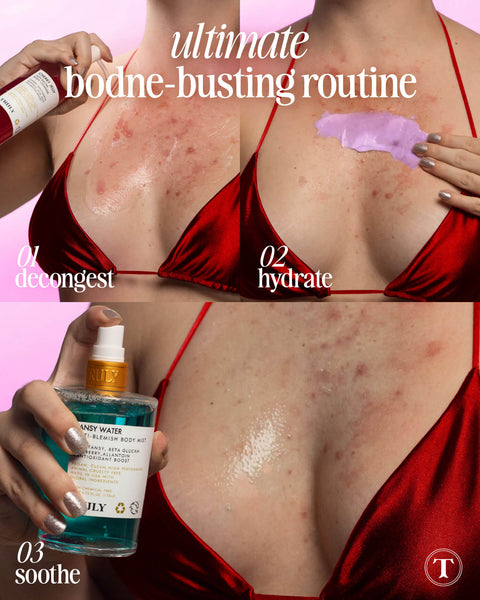 Bodne Routine
>Good to Know
Anti-Blemish
Moisturizing
Soothing
The all inclusive body blemish kit. A step by step routine designed to cleanse, mist, moisturize and spot treat your way to a blemish free bod.
Why it's Special
Cherry Jelly Cleanser, Tansy Water Mist, Dragon Milk Lotion, and our Pimple Party Pack work in tandem to minimize the appearance of active breakouts while healing acne aftermath, dryness and scarring.
Active ingredients like glycolic, mandelic, and salicylic acid work together in the Bodne Bundle to minimize redness and excess sebum production while blackberry, blue tansy, and allantoin smooth + shine.
Key Ingredients:
Mandelic Acid
Salicylic Acid
Blue Tansy
Hydrocolloid
Full Ingredients:
Ingredients - Cherry Jelly
Ingredients - Dragon Milk
Ingredients - Tansy Water
Ingredients - Pimple Party Pack
How to Use
Cherry Jelly: Apply onto wet skin and form a lather to thoroughly cleanse. Rinse and pat dry.
Dragon Milk: Apply onto dry skin and work into acne-prone areas of the body.
Tansy Water: Spritz generously over freshly cleansed and dried problem areas of the body. Let dry.
Pimple Party Pack: Apply pimple patch onto dry, freshly cleansed skin. Leave on for 4+ hours, or overnight for best results.
Stay updated on our HOTTEST deals, captivating content, and more!