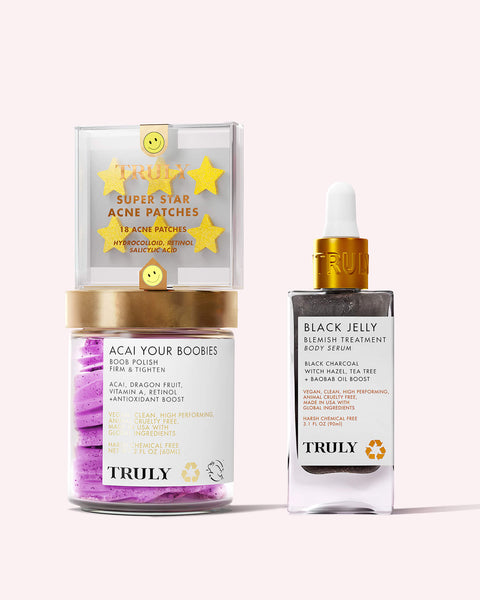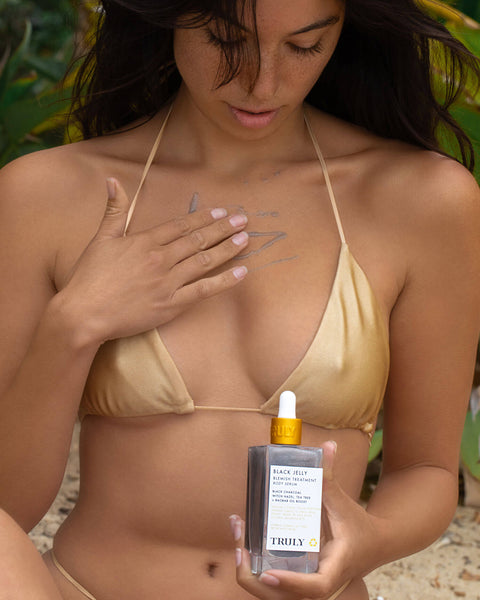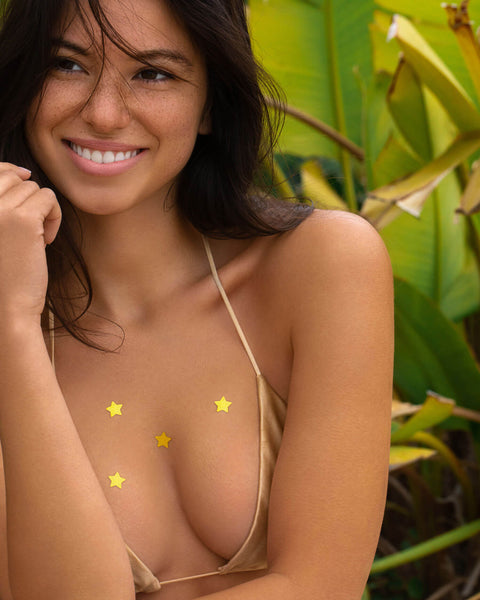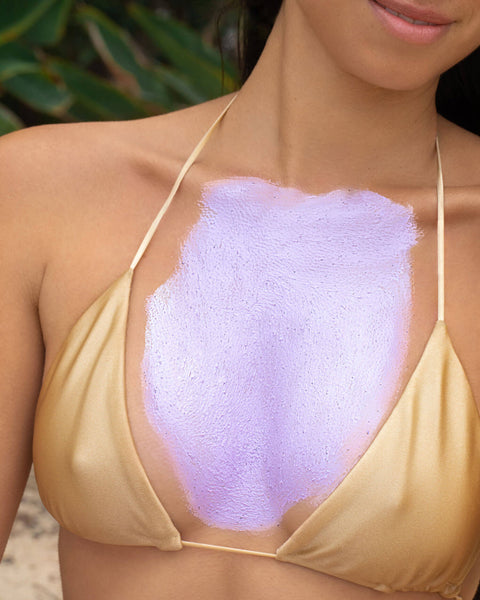 Boobne Routine
>Good to Know:
Anti-Blemish
Resurfacing
Hydrating
The cleansing, exfoliating, and hydrating blemish treatment trifecta your boobs deserve.
Why it's Special
Frequently hailed as an anti aging super ingredient, retinol can actually be key in fighting acne: retinoids unclog dead cells from pores, actively preventing sebum buildup that can lead to breakouts.
Hydrocolloid absorbs and drains sebum, puss, and toxins from under the skin. This acne-fighting ingredient in our patches helps to prevent picking, scarring, and accelerates the healing of breakouts.
Packed with vitamins A, B, C and E, acai extract is brimming with antiinflammatory and antioxidant properties that are perfect for soothing redness and irritation brought on by acne.
Key Ingredients:
Salicylic Acid
Retinol
Black Charcoal
Full Ingredients:
Acai Your Boobies Polish
Black Jelly Blemish Treatment Body Serum
Super Star Patches
How to Use
Acai Your Boobies Polish: In the shower or bath, take a small amount of Acai Your Boobies, mix with water to get a nice lather. Rub on your chest in circular motions and rinse.Pro-Tip: Use product as a mask before your shower. Mix a small amount of Acai Your Boobies and water together and apply on your chest. Let sit for 5-10 minutes and then rinse.
Black Jelly Blemish Treatment Body Serum: After showering and cleansing area, apply 4-5 drops to blemish prone areas. Rub in until fully absorbed before applying other products.
Super Star Patches: Begin with freshly cleansed, dry skin, free from any oils or creams. Place the dot, tacky side down, onto the blemish. Leave on for a minimum of six hours, or overnight. Gently remove the dot and repeat until your blemish has disappeared. Always follow with a broad-spectrum SPF and limit prolonged sun exposure.
*Results can vary by user, continued use for an extended period of time provides the best chance of seeing results. Even the slightest improvement or minimal change in appearance or feel should be considered a positive result - The key ingredients are natural extracts and should not be compared to results rendered by surgical or medical procedures. Benefits are based on positive customer feedback, testimonials, positive before & after results & ingredient benefit profiles - results are not guaranteed.
Stay updated on our HOTTEST deals, captivating content, and more!