Does it REALLY Work? Answering Your Q's On Truly's Boobie-Lifting Skincare Trio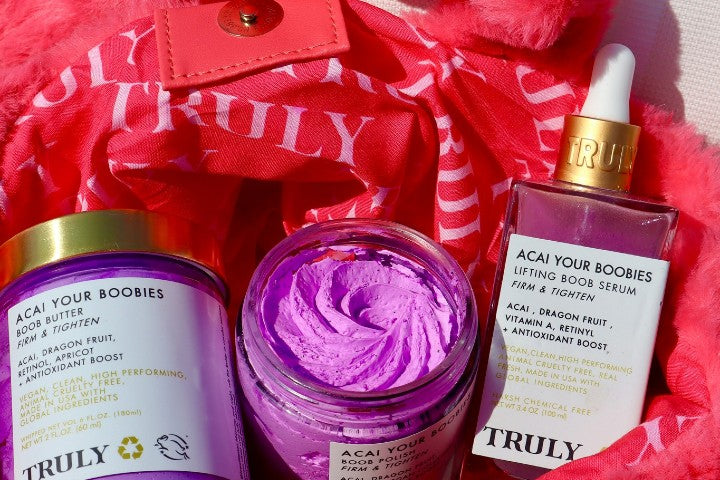 OMG...tighter, firmer, lifted boobs really are achievable in just 3 steps.
A new clinical study shows just how effective Truly Beauty's Boobie-Lifting Skincare Trio really is. 
Whether you're currently or considering using our Boob Skincare Bundle, you probably want to know when (or even if) you're going to see visible firming and tightening results, right?
Well, now we have scientifically-backed proof that our Acai Your Boobies Kit really works!
All the questions you ever had about our Boob Polish, Boob Butter, and Boob Serum are answered right here.
HOW LONG DOES IT TAKE TO SEE RESULTS?
We recently did a clinical trial on our Acai Your Boobies Kit to give our customers some solid evidence on the effectiveness of these skincare products.
A total of 30 female subjects aged between 20-59 years old used this entire line 1-2 times each day for a period of 4 weeks. The study was evaluated by a certified dermatologist and a clinician team in May.
It was clear from the positive results seen that this kit does indeed deliver verified smoothing and lifting effects within 4 weeks with consistent daily use. 
DOES THE BOOB KIT REALLY FIRM AND LIFT YOUR BREASTS?
It might be hard to believe that a body care product can really perk up your lady lumps. We get that. Especially if it's your first time, you may need a little more convincing that it's a solid investment. We get that too.
That's one of the reasons we took our boob beauty products for clinical analysis: to provide you with proof of a high ROI for your boobs.
After 4 weeks of use, most subjects agreed that their breast and butt skin felt firmer, tighter, and lifted. 
So to answer your question, yes, it really does firm and lift your breasts.
WHAT ELSE IS THIS BOOB KIT PROVEN TO DO?
We're not gonna be humble here - the results from the study really were amazing!
Within 4 weeks of daily use, subjects saw an 8.2% reduction in uneven skin tone on the breasts and 10.6% on the butt. 
The reduction in texture was 15.4% on the boobs and 20.0% on the butt.
So in addition to lifting and tightening, Acai Your Boobies can improve skin tone and texture, and possibly even fade fine lines and stretch marks. 
With consistent use, every user should see an overall improvement in how their skin looks on their breasts and booty. 
WHY DOES THE BOOBIE KIT WORK SO WELL?
We'd have to say that's down to a few key ingredients that make up this formula.
Each product in the kit contains acai, retinol, vitamin A, dragon fruit, apricot, glycerin, and an antioxidant boost.
Retinol is a vitamin a derivative proven to amplify collagen production (reducing and preventing fine lines) and accelerate skin cell turnover (brightening skin tone and treating discoloration).
Acai berries are loaded with antioxidant properties, making them superheroes at fighting free radicals and delaying signs of aging. 
These fruit extracts and active ingredients all work together to smooth, tighten, firm, and brighten the skin on your boobs for a youthful, perky chest.
WHAT ARE PEOPLE SAYING ABOUT TRULY'S ACAI YOUR BOOBIES KIT?
If you like to keep your finger on the pulse when it comes to new beauty products, you've probably already seen people ranting and raving about the kit over on TikTok.
Yep, it went viral a few months back.
Here are a few testimonials pulled from our site.
One reviewer wrote, "I find the ⭐️self care time I'm spending on myself rewarding in many ways, I have breast tissue fibroids and the massage with this product helps with the pain and discomfort! At the same time I'm tightening my skin and my stretch marks are diminishing! THE SMELL OF THIS IS HEAVENLY  I have bought the butter and polish multiple times!! The serum lasts a long time."
"I'm in love with this product. Don't think I can live without it now! Lifted and firmed my breast dramatically and also helped with my mom belly and stretch marks," wrote another.
Someone else gushed, "Great product for lifting and firming! Love the color and the fact that it is vegan!"
So yeah, the feedback is pretty positive overall.
HOW TO USE THE BOOB-LIFTING TRIO FOR MAXIMUM EFFECTS
To get the most out of these products, make sure you're using them correctly. Let us show you how.
This one's essentially an exfoliator or scrub used to get rid of dead skin cells and retexturize the skin on your boobs.
For best results, apply it in the shower or bath when your skin is still wet. Take a scoop of the scrub, mix it with water to get a nice lather, then rub it on your chest in circular motions for 1-2 minutes. Rinse with cool water.
Pro-Tip: Use it as a mask before your bath or shower. Simply apply a small amount to your chest, let it sit for 5-10 minutes, and then rinse.
This one's basically a moisturizer for your boobs to hydrate, treat stretch marks, fine lines, and breakouts, and perk up your pair.
For optimal results, apply 4-5 drops to the chest area after showering. Massage it in until fully absorbed.
This one's like a lotion or body butter, only it's designed especially for your breasts. It's one of the best products in the kit to moisturize, tighten, and resurface boob skin.
For maximum results, apply a quarter sized amount of boob butter all over your chest and breasts 1x per day after your bath or shower. Leave it to sink in before wearing clothes. 
WHAT OTHER PRODUCTS CAN YOU PAIR WITH?
For starters, we'd suggest bagging yourself our Buns of Glowry Kit. It's a great pick me-up for your butt to get it looking firmer and feeling smoother.
Another good product for a boost of intense hydration: Truly's Unicorn Fruit CBD Body Butter made with acai, matcha, and collagen for hydrated, glowing, de-stressed skin.
One product you absolutely shouldn't forget: sunscreen. Keep those babies protected from the sun and prevent premature aging!
So you see, you really don't need Botox or plastic surgery to experience visible lift and tightness. 
Give this Boob Kit 4 weeks and trust us, you'll be calling it "my favorite product" in no time!
Share
---