How to Get Rid of Shoulder Acne -- FAST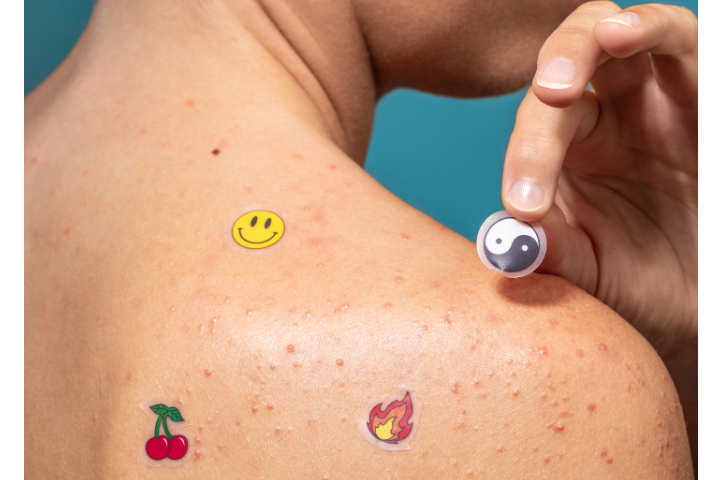 If blackheads, whiteheads, pustules or papules are appearing on your shoulders, you might be wondering what you can do to get rid of them. Like back acne — or any type of acne for that matter — shoulder acne can be a frustrating skin concern that doesn't go away with your daily body wash and moisturizer.
Fortunately, there are ways to clear shoulder breakouts and prevent them from forming in the first place. Here's everything you need to know about shoulder acne, and what you can do to get rid of it this summer.
WHAT CAUSES SHOULDER ACNE?
Here are a few reasons why pimples are popping up on your shoulders.
Hormones
With hormone fluctuations comes an increase in sebum production, causing pores to become clogged and breakouts to occur. It's one of the most common causes of body acne.
Tight Clothing
Restrictive clothing rubs against the skin and traps sweat and heat on your skin, which can cause a type of acne known as acne mechanica. Even tight bras can rub against the skin — causing shoulder blemishes. Stick to looser, breathable clothing and better fitted bras.
Sweaty Clothing
Sweat, dirt, and bacteria accumulates in sweaty clothing, so sitting around in your sweaty clothing for too long is practically a recipe for shoulder acne. It's always important to wash your clothes after a workout to keep your skin clear and fresh.
Not Showering After Workouts
Failing to shower after a workout lets sweat, dirt, and bacteria sit on the skin, clogging pores and leaving you prone to breakouts. After working out, hop in the shower within 10-15 minutes to rinse off the swear and prevent your pores from becoming clogged.
HOW TO TREAT ACNE ON SHOULDERS
Here are some of the best shoulder acne treatments — that you can also use for bacne, boobne, and buttne.
Exfoliate
"It is crucial to gently remove the buildup of skin cells on your shoulders by exfoliating when you shower," says board-certified dermatologist Dr. Elizabeth Houshmand.
Look for body washes that contain alpha hydroxy acids (AHAs) to slough away the buildup of oil, dead skin cells, and grime from your skin's surface.
We recommend Truly's Hemp Jelly Toning Solution, an exfoliating toner made with glycolic acid, aloe, tea tree oil, and Hemp to buff away dead skin, unclog pores, and soothe inflamed breakouts.
Use an Acne-Fighting Cleanser
To maintain clear skin on your shoulders — and tackle active blemishes — you should be using an acne-fighting cleanser at least once a day.
Benzoyl peroxide and salicylic acid are the ingredients to look for. You'll find them in everything from face washes to spot treatments and serums. Benzoyl peroxide is an antiseptic that kills C. acnes bacteria on both the skin and inside hair follicles. Salicylic acid is a beta-hydroxy acid (BHA) with antibacterial and anti-inflammatory properties. It exfoliates away dirt, oil, and dead skin while reducing sebum production and inflammation.
We recommend Truly's Cherry Jelly Body Cleanser, an anti-acne cleanser formulated with salicylic acid, mandelic acid, and niacinamide to clear away breakouts, quell hyperpigmentation, and reduce redness.
Try a Blemish Clearing Body Mist
Body sprays are a great way for keeping your shoulders clear — on the go. Try Truly's Tansy Water — it's formulated with salicylic acid, beta glucan, and blue tansy to mist away zits, hydrate skin, and soothe redness.
The great thing about this skincare product is that you can use it anywhere. Plus, since the shoulders are a hard to reach area, it makes tackling the zone a piece of cake! It's a must-have for acne-prone skin!
Swap Heavy Creams for Lightweight Serums
Rich lotions and creams might be good for dry skin, but for oily and acne-prone skin? Not so much! That's because most of these products are comedogenic — meaning they clog pores. While it's still important to moisturize when you have shoulder acne, dermatologists recommend using something more lightweight like a hydrating serum.
Try Truly's Hemp Oil Facial Serum. Its key ingredient — retinol — helps to speed cell turnover, keeping pores clear and breakouts at bay. While hemp hydrates skin and soothes irritation. Use it on your body or facial acne to stay clear all over!
Patch Up Your Pimples
Got angry red zits living on your shoulders? Heal them fast and prevent acne scars by popping on a pimple patch. Acne patches are one of the best topical treatments for active zits. Plus, they stop you from picking.
We recommend Truly's Pimple Party Pack, a pack of 24 harsh-chemical-free 12mm patches to tackle larger body blemishes. Unfortunately, they won't work for cystic acne since they don't penetrate that deep. However, they're perfect for clearing up whiteheads and pustules.
Correct Discoloration
If shoulder acne has left you with marks and scars, reach for Truly's Jelly Booster Pigment Treatment Potion. This discoloration correcting serum features pomegranate extract and vitamin B12 to stimulate collagen production, spur skin cell regeneration, and minimize the appearance of hyperpigmentation and acne scars. While it's made for the body, you can use it on your face too!
Invest in an Oil-Free Sunscreen
Wearing SPF won't get rid of shoulder acne, but it will protect your skin from the sun's harmful UV rays. Since it's a daily essential, invest in an oil-free, non-comedogenic sunscreen that won't clog your pores. Besides preventing fine lines and wrinkles, wearing SPF daily will stop the formation of dark spots and discoloration — and even prevent skin cancer.
Shoulder acne can be a frustrating skin condition, but it's definitely possible to cure with a few over-the-counter skincare products. We suggest incorporating these tips and products into your skincare routine for the following four weeks to see a noticeable difference in the appearance of your skin.
f
If you're experiencing cysts or nodules, you may require prescription medication such as retinoids, Isotretinoin, or oral antibiotics. Visit your dermatologist for professional advice.
Share
---