How to Grow (and Groom!) a Full Lady Bush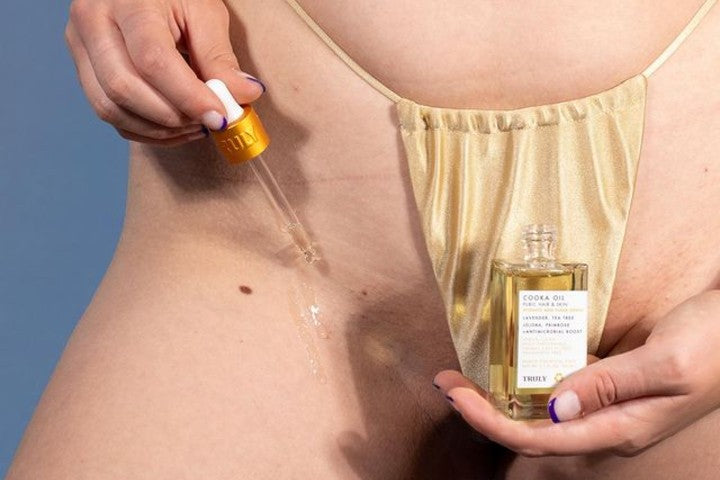 The bush is back.
From what we're hearing on social media and the general web, a growing number of women are tossing their razors and cancelling their waxing appointments in favor of complete and utter pube embracement. Is it time for you to do the same?
Look, we're not gonna go all preachy on you and tell you what you should and shouldn't do. If a smooth bikini line's your thing, go for it! Keep doing what you're doing. But if you're interested in trying something new, how about swapping out waxing sessions for a full bush?
Intrigued? Here's how to grow and groom a full lady bush -- and the skincare products you'll need to do it!
WHY THE FULL BUSH IS IN FASHION RN
According to New York City–based holistic ob-gyn Dr. Eden Fromberg, it's all down to self-expression and women feeling a lot less tied down by conventional beauty standards (like a baby-smooth bikini line).
"Women are becoming increasingly aware that our bodies are a lot more than the visual or sexual playthings that past cultural norms implied," she says. "We want to express our diversity and power, live our preferences, and feel comfortable in our own bodies without judgement." Sounds good to us!
In recent years, we've also seen Hollywood stars like Emma Watson and Ashley Graham speaking out about embracing the full bush -- like it's some kind of wellness practice.  
Are you interested in going au natural yourself? If it's your first time bailing on bikini waxes in favor of a full lady bush, let us show you how to care for the area with just a few simple tricks, tools, and products.
Stop Doing Any Form of Hair Removal
If you're serious about growing out your pubic hair, keep your hair removal tools at a distance and let nature do its thing.
"It's like a haircut — you just have to get through the grow-out phase," says Jodi Shays of Queen Bee Salon & Spa. "There's the frustration of not being able to put your hair in a ponytail, but you have to [remember] that one day, you will get there." 
You can of course speed up the process by taking hair-stimulating vitamins.
 
Use a Trimmer to Keep Things Neat
The growing out phase (much like heavy layers or cropped bangs) can look a little ... unkempt. However, you can keep it more contained by trimming the nether regions. 
"Use scissors manually for more detailed work. Make sure you have dedicated bikini area scissors, and be sure to wipe them down after each use," says Lillian Tung, co-founder of Fur (AKA, Fur Oil founder).
Just be careful when moving around the labia and vulva -- you certainly don't want any injuries there! Take as much time as you need.
Cleanse Gently -- and Frequently 
"When you grow out your pubic hair, a healthy cleansing regimen is important as you may have more issues with sweating and hair can trap odour and bacteria," says Bea Feliu-Espada, founder of feminine-care brand The Honey Pot.  
She recommends using a gentle pH-balanced feminine wash free of parabens, sulfates, and artificial fragrance.
Soothe Any Existing Irritation
Did you know that razor burn can make the hair growth process particularly painful if you don't treat it before body hair appears in abundance?
"If the skin was chafed after shaving, the hair will grow out onto sensitive skin," explains Shays, which is why she recommends reaching for soothing potions with ingredients like aloe vera, oatmeal, tea tree oil, and lavender. 
To promote healthy hair growth in the pubic area, try dabbing on some of Truly's Cooka Concentrate Ingrown Hair Serum. It's made with a blend of soothing lavender, tea tree, jojoba, primrose, and antimicrobials to help relieve and prevent ingrown formation in areas prone to irritation. It's a pubic hair grooming essential!
Exfoliate the Area
Another effective way to treat and prevent ingrown hairs is with regular exfoliation.
Exfoliating cleans the skin of dirt, oil, and dead skin, thus preventing the formation of ingrowns. It's often overlooked, but this pubic hair grooming habit is a must to keep the area healthy and ingrown-free.
Truly's Pre-Shave Smooth Legend Scrub infuses coconut with grape, passion fruit, and lavender on a base of a sugar to buff away dead skin cells, loosen hair follicles, and promote bright, glowing skin.
Condition the Hair
Conditioning isn't just for the hair on your head. To keep your pubes and the skin around them soft, smooth, and growing strong, invest in a nourishing pube oil or cream made with natural, hydrating ingredients. 
Try Truly's Cooka Oil -- designed especially for the pubic hair and bikini line. The formula relies on lavender and tea tree for its soothing abilities, and jojoba oil and primrose oil for its hair-softening effects. Use it anywhere hair meets skin for a noticeably softer texture.
You can also use this after a full Brazilian wax, sugaring session, or laser hair removal. It offers intense relief and hydration. And you don't just need to use it on the bikini area. Growing out the hair on your armpits? Feel free to slather it on there too!
Wear Cotton Undies
The great thing about pubic hair is that it protects your skin against chafing from uncomfortable fabrics. Still, Ob-Gyns and dermatologists nevertheless recommend airing it out after a long day or sweaty workouts. 
To keep your lady parts extra happy, stay away from moisture-retaining synthetic fabrics. Wear organic cotton underwear instead.
For a long time, women have viewed pubic hair removal as a necessity like brushing one's teeth. Thankfully, we're now seeing drastic change in the women's' body hair landscape. And that's thanks to confident women standing up and airing their pubic hair preferences. 
So if you're tired of slathering on the shaving cream, DIY landing strips, or hair removal cream, why not take a break from hair removal practices and opt for a full bush instead? Loads of women are doing it!
Share
---