Barbie™ x Truly: Introducing the 2nd Collection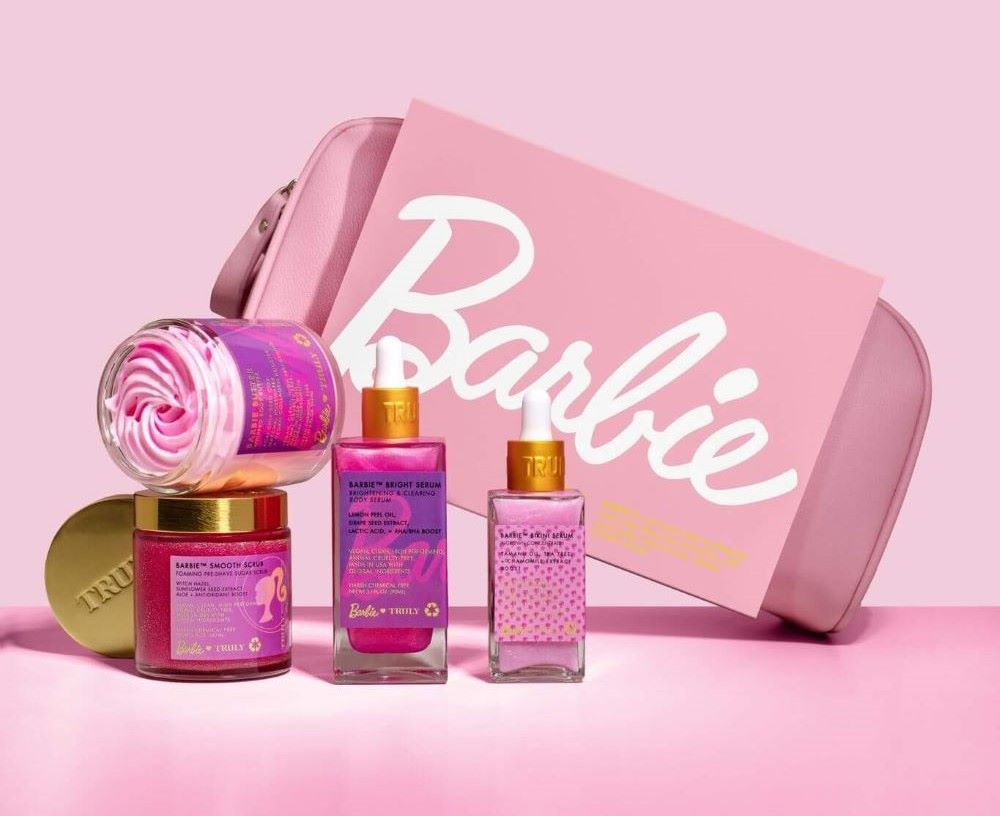 The Barbie™ x Truly collab is here!
Truly teamed up with the global icon once again to bring you a vegan, cruelty-free, and high performance Barbie™ body care set designed to empower, inspire confidence and tackle common skin concerns in a fun, playful and effective way.
You first experienced the Truly Barbie™ magic last year with the release of our limited edition Barbie Dream Duo — featuring the well-loved Barbie™ Body Butter and Mini Pink Purse. This year's collection brings you four brand new formulas to treat all your summer body concerns — body acne, ingrowns, razor burn, and body odor.
Our collaboration is a testament to our shared values of body positivity, self-love, empowerment, inclusivity, and kindness. The Barbie™ line features bold and vibrant colors that capture the adventurous spirit of Barbie while preserving Truly's commitment to clean, ethical, and high-performance body care.
Match Made in Malibu: Barbie™ x Truly Dream Bundle
Unleash your fearless side with the Truly Barbie™ Dream Bundle, a 5-piece set developed to treat body acne, ingrowns, discoloration, and body odor all while inspiring confidence and delivering a unique to you sparkle. It's this year's summer must-have!
What's included:
Barbie™ Smooth Scrub
Barbie™ Bikini Serum
Barbie™ Bright Serum
Barbie™ Butter
Vegan Leather Pink Vanity Case
This gorgeous set gives you the chance to check in with yourself, enjoy a little pampering and self-care, and get your Barbie™ shine on for summer!
Sleek All Summer: Barbie™ Smooth Scrub
First up in the Barbie™ beauty care collection: Barbie™ Smooth Scrub, a foaming pre shave sugar scrub that gets skin fresh and sleek for all those sunny days ahead!
This pink and fluffy exfoliant gently buffs away the buildup of dead skin cells, impurities, and body odor while loosening hair follicles to prep for a silky shave without nicks, razor burn, and ingrowns. Alongside this, it leaves skin visibly luminous after the very first use.
Its key ingredients include witch hazel, sunflower seed extract, and aloe. Between their anti-inflammatory properties and moisturizing abilities, these active ingredients help to keep skin smooth, supple, and irritation-free. Perfect for shaving and self-tanning prep.
Ingrown-Free Bikini Line: Barbie™ Bikini Serum
Having spent a whole lot of days down at the beach with her besties, Barbie™ knows a thing or two about getting her bikini line sleek and bump-free for summer.
Stop those painful bumps from stealing your fun this season with the Barbie™ Bikini Serum. Pink, silky, and flash-absorbing, this formula features a unique blend of tamanu oil, tea tree, and chamomile extract to soothe existing ingrowns and razor burn — and prevent more from forming.
Together, the antibacterial, antiseptic, and anti-inflammatory activity of these actives ensure you feel smooth, comfortable, and ready to hit the beach (or pool!) fearlessly.
Bodne-Free: Barbie™ Bright Serum
Tackle body acne and dullness the Barbie™ way with this brightening and clearing body serum. Formulated with purifying lemon peel oil and resurfacing hydroxy acids, the Barbie™ Bright Serum reveals clearer, fresher, and brighter skin — and an even more fabulous you! It's also enriched with grape seed extract that's packed with antioxidants to manifest smoother, firmer skin.
This Truly Beauty Barbie skin care potion is the secret to unlocking your Cali babe confidence and shine. And it's a fun and effective way to treat blemishes popping up on your back, chest, and butt.
Silky and Plump: Barbie™ Butter
Barbie™'s no. #1 secret for smooth, glossy skin? Moisturizer! Daily hydration is essential for supporting skin barrier function and maintaining skin's softness. With the Barbie™ Whipped Body Butter, you'll get plenty of it!
A lush pink swirl of matcha, acai berries, and vegan collagen booster, this luxurious body moisturizer will leave skin plump and dreamy soft – like your fav Malibu babe.
It also boasts anti-aging benefits thanks to acai's high antioxidant content and vegan collagen booster's ability to support natural collagen production, translating to supple, line-free skin.
The Cutest Accessory: Pink Vanity Case
The Truly Barbie™ skincare set comes complete with a stylish Pink Vanity Case.
Store or haul your full Barbie™ collection in this gorgeous pink cosmetics bag. It's made from 100% vegan leather and features a double zipper enclosure. Plus, it's excellent for keeping your daily skin care routine organized!
How to Use the Barbie™ x Truly Dream Bundle
Step 1: Exfoliate with Barbie™ Smooth Scrub
Mix a scoop of Truly Barbie™ scrub with a few drops of warm water and massage into the skin to work up a lather. Rinse off.
Step 2: Treat Ingrowns with Barbie™ Bikini Serum
Using a few drops of Truly Barbie™ bikini serum, pat into your bikini area to soothe redness and ingrowns. Hack: Refrigerate before use for more intense cooling effects.
Step 3: Shine with Barbie™ Bright Serum
Apply a few drops of Truly Barbie™ body serum onto clean, dry skin and massage into skin. For best results, use daily.
Step 4: Hydrate with Barbie™ Butter
Spread a dollop of Truly Barbie™ Body Butter all over your body for smooth, sparkly hydration. For best results, use daily after showering or bathing.
Tips: you can also apply a small amount to your lips, cuticles, ends of hair, and as a replacement for shaving cream.
Subscribe & Save 10%
Stay sleek and shining all summer long, and beyond! Put the Barbie™ Dream Bundle on auto-ship and we'll deliver it straight to your door each month so you never run out again.
Subscribe now, and you'll save 10% on every order. There's no commitment — you can pause or cancel anytime.
Share
---