Your Hands Need a Skincare Routine too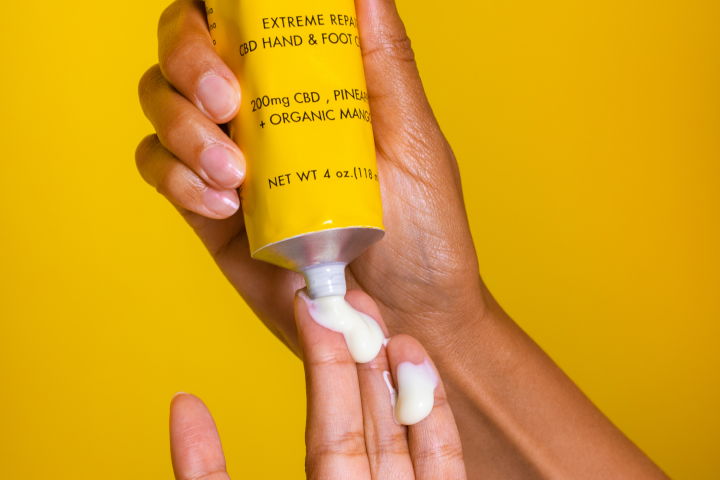 When you envision a skincare routine, you automatically think "face." Rarely does anyone consider the hands when they think about skincare. 
Reality check: you need a hand care routine, ASAP.
When you look at the facts, your hands endure a lot on any given day -- multiple washes, exposure to sun and pollution, and extra irritants from things like cleaning products. So why aren't we taking the time to pamper them? 
If you've been neglecting your hands, it's time to start showing them a little more TLC. Here's how!  
WHY DO YOUR HANDS NEED A SKINCARE ROUTINE?
According to dermatopathologist Gretchen Frieling, the hands are especially vulnerable because the skin is so thin. 
"We forget that we need to exfoliate our hands and moisturize them just as we would our face," she says. "Hands also tend to be dryer than our faces because they have fewer sebaceous glands, which produce sebum, an oily substance that helps protect the skin by keeping it lubricated and waterproof."  
Alongside this, hands aren't protected by clothing or, for the most part, sunscreen. That leaves them susceptible to the sun's UV rays which can trigger signs of aging in the form of fine lines, dark spots, and dryness. 
The good news is, you don't have to fork out on a whole new set of skincare products to start taking better care of your paws. In fact, you can use some of the same products for your hands as on the face. Similarly, you can also use the same SPF you apply daily to your face -- on your hands.
A SKINCARE ROUTINE FOR YOUR HANDS
Wear Sunscreen Every Day
We bet you've heard this one before, but it's a classic skincare secret that pays off in the long run. Whether sunny or cloudy, applying a daily broad spectrum sunscreen of at least SPF 30 is essential in keeping your paws protected and youthful. 
You'll also find hand creams formulated with SPF. However, they are usually formulated with lower SPFs, which may make them less protective. If you're only going out to walk the dog, you'll be fine with SPF 15, but if you plan on spending more than an hour outdoors, stick to SPF 30 or over for maximum protection. 
Believe it or not, your hands are just as likely to suffer the effects of UV exposure -- sunburn, sun damage, skin aging -- as your face. That's why daily sun protection is crucial.
Moisturize
In addition to using a daily sunscreen, you should also be using a daily hand lotion.
Apply one every morning and night that contains nourishing ingredients like ceramides, hyaluronic acid, coconut oil, and pineapple.
Truly's Pineapple Haze Extreme Repair Hand Cream delivers intense hydration to severely dry skin, while improving overall softness and texture. Made with a blend of hydrating oils, hemp, and pineapple extract, this hand lotion delivers exfoliation and hydration for baby soft hands. 
Apply after hand washing or showering in hot water to curb dry hands and promote hydrated, healthy skin. For best results, use daily -- morning and night.
Feel Free to Use Your Face Cream
Prefer a minimalistic skincare routine? Use the same daily moisturizer you use on your face on your hands, too!
Truly's Cream Skin Face Cream is a perfect example of a face moisturizer that doubles up as a hand lotion. It's formulated with hyaluronic acid and sea kelp to bring moisture to skin and seal it in for hours of hydration.
Since the skin on your face is also quite delicate, your regular facial skincare products work rather well on your hands. 
Use a Gentle Exfoliant
Occasional hand exfoliation helps keep your paws soft and supple. That's because exfoliating helps slough off dead skin cells, allowing other products like your creams and serums to absorb better. Plus, it will give your skin a nice, natural glow.
Try Truly's Moon Rocks Scrub, a sugar scrub made with a nourishing base of 100% organic coconut oil, protective vitamin E, and brightening lavender to buff and brighten dull, dry skin.
Only apply the exfoliator to the back of your hands. For best results, exfoliate your hands once every week. You can extend this to once every couple of weeks if you have sensitive skin.
Introduce a Hand Mask 
Show your hands some love tonight by slathering your paws with a hydrating, resurfacing hand mask. 
If you can't get hold of a good hand mask, you can also try using a formula designed for the face, like Truly's Starface Jelly Sleep Mask. It's AHA-powered and made with a blend of vitamin C and retinol for glowing skin that looks plumped and renewed. 
While glycolic acid exfoliates skin for smoother texture, retinol boosts collagen production and cell turnover to help fade fine lines and improve skin tone. As for vitamin C, this antioxidant helps brighten skin and lends an extra layer of protection from UV rays.
Together, these ingredients deliver a powerful anti-aging formula. 
Use a Repairing Cream  
If you are experiencing chronic hand dryness, bring in a repairing skin salve to help relieve dry, irritated skin. 
Truly's Pineapple Haze All Purpose Skin Salve is our top pick for addressing dry skin -- wherever it is. This multipurpose balm relies on a blend of skin-soothing hemp, hydrating jojoba oil, and exfoliating pineapple to treat very dry patches of skin, relieve irritated skin, cracked heels, and more! For best results, apply a thin layer to hands whenever they feel particularly dry. 
Generally speaking, the same rules that apply to your face apply to the rest of your body, including your hands: exfoliate, hydrate, protect. All of these things combined should help curb concerns like fine lines and sun spots, and help fade any existing issues.
If you think you are suffering from a chronic skin condition such as eczema or psoriasis, visit your derm for professional guidance. Your dermatologist will be able to prescribe the right medication for your condition.
In the meantime, start washing your hands in warm water rather than hot water to prevent your skin from drying out. 
Share
---