5 Avocado Face Mask Recipes For Every Skin Type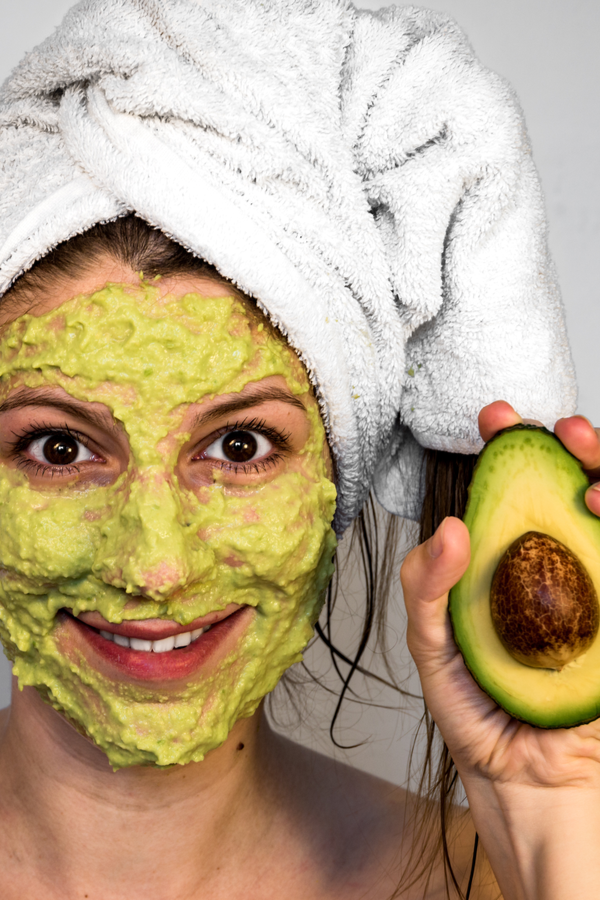 Avocado is a beautiful, creamy, indulgent fruit that continues to land in our salads and smoothies. Just as avocado can nourish your body from the inside, this superfood is just as favorable for the outside - i.e. your skin, hair, and nails. 
Rich in vitamins and antioxidants, avocado can be eaten or applied externally in order to reap its benefits. Applying an avocado face mask, for example, is an excellent way to nourish and enrich your skin and the best part is, it's 100% natural. 
Hydrating, soothing and softening, the benefits of avocado applied externally are extensive. In fact, there are different types of DIY avocado masks you can make to suit your own specific skin type. Whether you have dry skin, acne-prone skin or oily skin, scroll down to give our diy face masks a try. 
HOW CAN AVOCADO FACE MASK HELP YOUR SKIN?
Avocados really are amazing for the skin. They're packed with various nutrients that address different skin issues and are an excellent natural addition to your skin care routine. 
First up, avocados contain naturals oils that can deeply hydrate and soften skin. This not only eases dry skin, but reduces fine lines and wrinkles. Next up, they're rich in antioxidants such as vitamin c and vitamin e. This can help protect skin cells from free radical damage, a powerful anti-aging aid. Combined with its lutein content, a carotenoid that stimulates skin elasticity, avocado is an excellent fruit to promote youthful skin. And to top it all off, avocados also contain oleic acid and chlorophyll which help reduce irritation, inflammation and redness.
As delicious as avocado is sliced over your salad or eaten from the skin with a drizzle of lemon juice and sprinkling of salt, it is also a natural skin care superstar that grants a smooth and glowing complexion.
AVOCADO FACE MASK RECIPES
Who doesn't love face masks? They're an opportunity for some much-appreciated me-time. An opportunity for a self-care session that helps relax and soothe your mind, while simultaneously making your skin look super dewy and glowing. Sure, packet face masks are really nice and convenient, but DIY face masks are much more fun. Plus, they're completely natural, so you know exactly what you're putting on your face. 
Here are some easy homemade avocado masks you can make that require just a few simple ingredients. And you'll find exactly the right one for your skin type below.
Avocado and Olive Oil Face Mask
Perfect for: Dry skin
The Greeks and Egyptians have been slathering their faces with these ingredients for centuries and clearly they were onto something, because the avocado and olive oil duo works wonders for the skin. Olive oil contains natural lipids which are very similar to the skin's sebum. This makes it highly powerful in balancing oil production and hydrating the skin. Together with avocado's enriching oils, you have yourself a moisturizing diy face mask.
What you'll need:
1 avocado
2 tablespoons of olive oil
How to:
1. Mash the avocado into a paste.
2. Combine it with the olive oil.
3. Apply to your face and leave it on for 15-20 minutes.
4. Rinse off with water.
Avocado and Honey Face Mask
Perfect for: Acne-prone skin  
Avocado is rich in vitamin a, fatty acids and antioxidants that nourish and hydrate skin. Honey contains antibacterial properties that help heal pimples and prevent future breakouts. It can also fade scars and hyperpigmentation. 
What you'll need:
1 ripe avocado
1 tablespoon honey 
How to:
1. Mash the avocado into a smooth paste.
2. Add honey and mix well.
3. Apply to face and leave on for 20 minutes.
4. Rinse off with water and pat dry.
Avocado and Egg White Face Mask
Perfect for: Oily skin 
Avocado is packed with thiamine, niacin, folate and riboflavin - all of which help to tighten the skin. Egg whites balance the skin's oil production and shrink enlarged pores. 
What you'll need:
1 avocado
1 egg white 
How to:
1. Mash the avocado.
2. Separate the egg white from the egg yolk.
3. Combine the two ingredients together.
4. Apply to face and let it sit for 15 minutes.
5. Rinse off with warm water. 
Avocado and Coconut Oil Face Mask
Perfect for: Combination skin
If you didn't already know, coconut oil is an amazing skin care ingredient that deeply moisturizes the skin and reduces inflammation. Combined with avocado, it's an effective face mask for combination skin. 
What you'll need:
1 avocado
1 tablespoon coconut oil 
How to:
1. Mash the avocado.
2. Add coconut oil and mix together.
3. Apply to face and let it sit for 15 minutes. 
4. Rinse off with cold water. 
Avocado and Oat Face Mask
Perfect for: Normal skin 
If you're blessed with normal skin, that basically means you can try any of these homemade avocado face masks. Still, this oatmeal mask can definitely perk up your skin and get it looking all nice and glowy. Raw oats are an excellent exfoliator to slough away dead skin cells, dirt, grime and oil. Along with avocado, the two help to cleanse, nourish and protect your skin. Meanwhile, the natural yogurt helps to soothe and calm any irritation in the skin. 
What you'll need:
1/2 avocado 
1 tablespoon oatmeal
1 teaspoon of natural yogurt 
Here's how:
1. Mash the avocado.
2. Mix it with the yogurt and oatmeal.
3. Let it sit for 20 minutes.
4. Rinse off with warm water and follow up with a moisturizer. 
These natural avocado face masks are really easy and affordable to make. In fact, you'll probably have most of the ingredients needed sitting in your kitchen cupboards anyway. 
Natural beauty products you can make from home are just the best for your skin. What's more, it's way more fun to make DIY masks from scratch than just using store-bought ones - you just need to make time for yourself! For best results, apply your chosen mask 1-2 times per week. 
Meanwhile, get on the phone and start planning a plush pampering party with your besties for some major TLC time! 
Share
---