Truly's Way to Reuse, Reduce, Recycle Skincare Products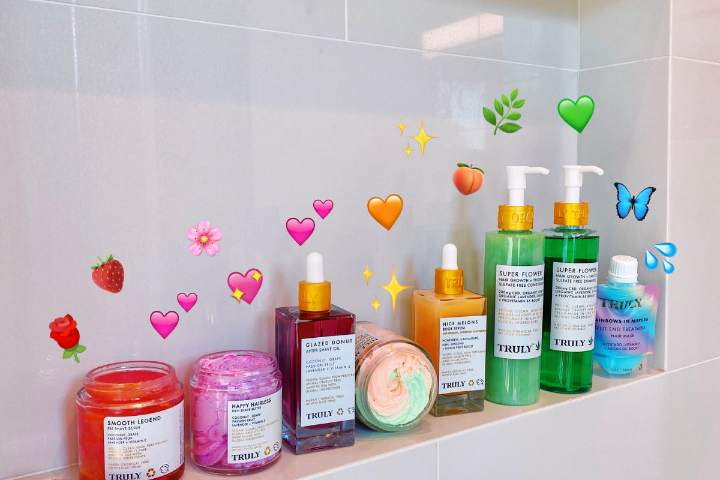 At Truly, we care about the planet, its fellow human beings, and our furry friends that reside on it. And we make our skincare products with those ethics always and forever in our mind.
That's why all our beauty products are 100% vegan, cruelty-free, and clean!
Unfortunately, the beauty industry isn't that beautiful. In fact, it's pretty disgusting when you look at the facts...
Annually, the beauty industry produces over 120 billion units of product packaging globally. When it comes to beauty packaging, way too much of it gets thrown away after just one use, ending up on landfills and sometimes even the natural environment.
We do things differently here!
Truly is committed to creating change in the industry, and we're already showing that commitment through our sustainable packaging, clean beauty products, and recyclable personal care products.
Are you just as serious about zero waste as we are? Try putting your Truly empties to good use - with reuse!
TRULY BEAUTY'S COMMITMENT TO SUSTAINABLE BEAUTY
Truly's range of skincare, hair care, and body care products focus on health, sustainability, and performance.
When you buy a cleanser, body wash, conditioner, or moisturizer from our online store, you're investing in sustainably sourced, non-toxic, vegan created products packaged in recyclable materials that are healthy for you and for the planet.
We discover the top beauty trends and remedies from around the world to create clean, cruelty-free formulations that perform just as well as conventional beauty products without you needing to compromise on the luxurious experience.
When it comes to beauty, you shouldn't have to settle. Our team of experts is committed to creating vegan & clean formulations that deliver visible results without harming the environment or your health.
Even in our personal lives, we're dedicated to following a planet-friendly lifestyle, using recycled materials as often as we can, avoiding single-use plastic at all costs, and opting for green retailers if and when possible.
RE-USE OUR GLASS JARS IN 5 WONDERFUL WAYS
Thanks to our recyclable packaging, you can buy as many Truly skin and body care products as you like without feeling a shred of guilt. Instead of using plastic bottles like most beauty brands, our lotions and potions come in eco-friendly, refillable glass packaging so you can easily recycle them or reuse them. 
Here's how we're reusing our glass jars. And you can too!
Bathroom Cotton Pad Jar
Keep your cotton pads in one nice, neat place - instead of scattered everywhere!
Simply place a stack of cotton pads inside the jar, and refill when needed. Easy!
Toiletry Jar
Lip balms, miniatures, dental floss...you can fill your toiletry jar with anything you like. It's especially useful for those little bits and bobs that don't seem to have a set place in your home. Besides being really convenient, you won't have to worry about misplaced cosmetics again. You'll know exactly where to find them - inside your little toiletry jar.
You could even create a collection of toiletry jars - each one containing a designated self-care product or segment. For example, one jar could hold your shower caps, another your cotton swabs, and another your lip products. Get as creative as you like! 
Want to fill your jar with Truly products? Some small-ish products to fill it with could be our GLOAT: Greatest Lips of All Time Kit, Super Star Acne Patches, or Pineapple Haze All Purpose Skin Salve.
Succulent Pot 
The wonderful thing about sustainability is that it saves you tons of money. Instead of buying new things, you can repurpose your old things and create something personalized. Like your own pretty planter.
Take your empty and washed out Truly jar and repurpose it for something that will last a lifetime. Layer the bottom of the jar with gravel, followed by enough potting soil to fill up half your jar, then plant your flowers. 
Decorate your new planter by painting the outside of it, adding decorative stones, or wrapping it in rope for a rustic touch. 
Just make sure you choose a plant that doesn't need drainage holes. Some good options include the Snake Plant, Croton, Pineapple Plant, Lucky Bamboo, Oleander, Spider Plant, and Aloe Vera, to name a few.
A Candle Holder 
Decorate your Truly empties with paint, glitter, or bows, and fill them with candles for beautiful, DIY decorations. You could even give them as a gift with a tag tied around the neck.
Have fun with it, get creative, and if you like, invite some friends over to do it with you. Recycling can actually be really fun. You just need to experiment and give it your best.
SkincareApplicator Storage
Do your makeup brushes and skincare sponges seem to drift around your bathroom cabinets and inside your cosmetic bags? You're not alone! That happens to us too. Thus, the birth of the DIY upcycling skincare applicator jar!
Fill it with your makeup brushes, jade rollers, and sponges, and you'll never displace them again. It'll make your beauty routine far more fun - and way more time-friendly.
WHAT ELSE CAN YOU DO TO SUPPORT & PRACTICE SUSTAINABLE BEAUTY?
The single most effective thing you can do? Stick to sustainable, vegan, and cruelty-free beauty brands. These are the ones that take your health and the planet's health into account when producing new products. They're the ones you're going to want to stand by.
Even if it's not Truly, make sure you shop with awareness. For instance, the next time you pick up a tube of mascara, eyeshadow palette, deodorant, or bottle of hairspray, research the brand behind it. Are they practicing eco-friendly methods? Using vegan ingredients? Is the packaging plastic or glass? 
The more you support ethical, eco-friendly beauty brands, the greater your step towards a cleaner, greener planet. Be sure to spread the word, too!
At Truly, we try our best to produce and package our skincare products in the most sustainable, planet-friendly ways possible.
We also reuse, reduce, and recycle whenever possible to support a healthy planet and a prosperous future for the next generations.
You can do the same by putting your empties to good use and inspiring others to do the same!
Share
---