8 Ways to Make Your Grown Out Roots Look Intentional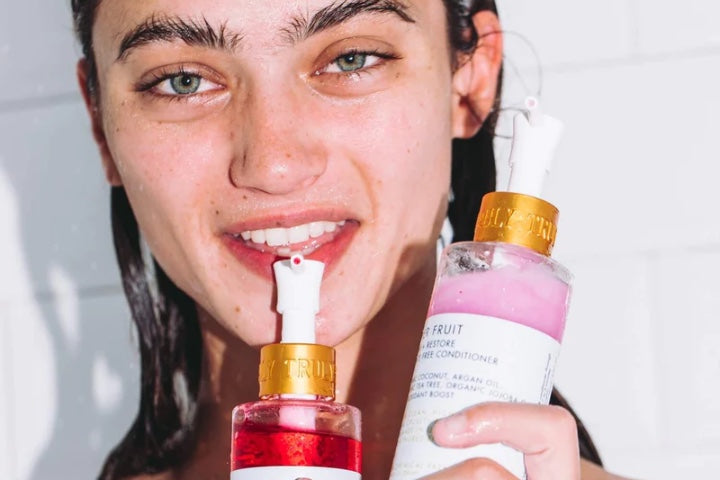 Whether you're trying to grow out your natural hair color or haven't had the time (or money!) to get your roots retouched at the salon, you don't need to let your grown out roots get you down. Embrace them instead!
In recent years, chunky roots have emerged as a hair trend spotted on everyone from Miley Cyrus to Margot Robbie, Ciara and Kim Kardashian.
Looking for ways to make regrowth look natural — or intentional, even? Here are some tips, tricks, and super hot hairstyles for hiding grown out roots without needing an appointment with your colorist.
#1: Add Some Texture and Volume
Textured hair (aka, wavy, curly, or coily hair) is great for concealing your dark roots. Texture adds volume, making grown out roots appear less visible. If you have naturally textured hair, embrace it! Apply a hydrating conditioner and leave it on to reduce frizz, then let your hair air dry so that your natural texture comes through.
If you have fine or straight hair, reach for a volumizing mousse and hairdryer to pump up the volume. You can also try adding in waves using a curling iron or even a hair straighter — bending the hair in different directions to create natural waves.
#2: Try a Deep Side Part
When it comes to making grown out roots look chic, you want to avoid sleek, center-parted styles, which only emphasize the demarcation line. Instead, do a deep side part to give the appearance of fuller hair while lessening the color contrast. Alternatively, part your hair in a zig-zag style which will help blend new growth into your hair color.
Switching up your parting is a quick and easy trick for disguising grown out roots. In fact, it can even give you that "I paid-for-this" look by mimicking a shadow root — a coloring technique that people actually pay for.
#3: Tone Your Tresses
Is your bleached blonde hair starting to look brassy? Reach for a bottle of purple shampoo and tone those tresses! Dark roots look way better with cool, ashy strands. You can keep your platinum blonde mane looking fresh by using a purple shampoo once or twice a week. The purple pigment counteracts orange and yellow tones in the hair, leaving you with a cooler, whiter hair color. Anyone who bleaches their hair should be using one to tone at home. You can also try using a professional toner, but purple shampoo is much more convenient.
If you're trying to avoid a root touch-up, don't let your hair turn brassy. The blend of grown out roots and brassy hair looks more like you've abandoned your hair, whereas dark roots and ashy lengths look more intentional — and way more chic.
#4: Rock a Topknot
Updos like topknots are a great way to hide roots. If you have long hair, pull your hair up into a ponytail and wrap, leaving a few inches on the ends, and use that hair to create a faux fringe. Gently pull down a few strands of hair at the sides to cover roots and get that effortlessly chic topknot you've seen all the celebs rocking. Set in place with hairspray.
In addition to being super easy and ultra-chic, the topknot is a heatless hairstyle that's perfect for restoring brittle strands back to full health. You can also accessorize with headbands, clips, and scarves, depending on the look you're going for. Be as creative as you like!
#5: Keep Your Hair Healthy
If you want to make grown out roots look glam and effortless, your hair needs to be in great condition. Unfortunately, dry, damaged strands steal that look of expense you're aiming for, making hair look neglected rather than cared for. To keep hair strong, healthy, and shiny, follow a hair care routine that includes a hydrating shampoo, conditioner, and hair mask.
We love Truly's Super Fruit Repair + Restore Shampoo and Conditioner for keeping hair clean, smooth, and shiny. And Truly's Unicorn Hair Repair Mask for leaving hair silky, bouncy, and split end free.

#6: Get Braiding
Not everyone can master the perfect braid at home. However, it's a great hairstyle for making grown out roots look intentional.
According to John Vial, a global influencer for Revlon Professional, you want to keep plaits loose rather than tight to make the color contrast less visible.
"Part the hair in two, like school bunches," suggests Vial. "Braid them, and then stretch the braids apart so they are softer and distressed. Pin one over the hairline at the front and then one behind it. Finish up by pushing them in the wrong direction with your palm to help soften."
#7: Spritz Your Roots with Dry Shampoo
Another way to make grown out roots appear natural-looking is by misting your roots with dry shampoo. Besides making your roots look less greasy, it lightens them ever so slightly to seamlessly blend roots.
"It's a great way to help hide darker roots as the white powder will often lighten your hair," says Harry Josh, celebrity hairstylist and colorist. "Plus it will prolong your blowout!"
#8: Work a Pixie Cut
This one might sound kind of dramatic, but pixie cuts are one of the best hairstyles for making grown out roots look super chic and intentional. Speak to your stylist to see if this haircut will work for you. It's also super low-maintenance — and perfect for busy babes like yourself!
Your In-Salon Options
If none of these are doing it for you, book an appointment with your hairdresser or colorist for a consultation. There are many different options for blending grown out roots with blonde hair. Some of these include ombre, balayage, and lowlights. Those looking to change their color completely (i.e. from blonde to dark brown) should always leave the hair dyeing to a professional to prevent your hair from turning a funky color.
Grown out roots don't need to look super grungy. With a few styling hacks and hair products, you can make your grown out roots look intentional — and majorly chic!
Share
---