How to "Tantour" Your Face + Body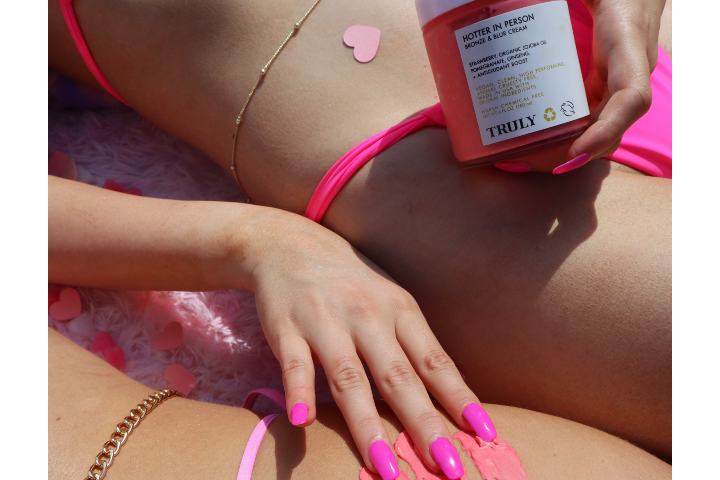 Another super hot beauty trend circulating on TikTok — "tantouring!"
Tantouring is a process that involves tanning and contouring your skin. In other words: using your regular self-tanner and applying it as you would your contour product. Besides giving you a gorgeous sun-kissed tan, tantouring helps to define areas of your face and body, such as your cheekbones, jawline, and breasts — or anywhere you want to sculpt! Plus, it lasts much longer than your regular bronzer or highlighter.
If you're interested in "tantouring" yourself, here's everything you need to know about the process below. It's actually much easier than you think!
#1: Cleanse + Exfoliate
First off, you'll need to prep your skin — just like you do when you normally apply self-tanning lotion or mousse. Start by using a gentle cleanser to remove your makeup and any surface grime. Then, using a scrub or exfoliating cleanser, buff away the buildup of oil, dirt, and dead skin cells to prepare your skin for smooth and easy self-tanning application.
You can both cleanse and exfoliate with our 24k Gold Black Soap Impurity Cleanser. It's made with black soap, 24k gold, salicylic acid, and charcoal to swipe away dirt, oil, and dead skin while helping to fade dark spots and discoloration.
#2: Moisturize a Week Prior to Self-Tanning
Fake tan works best on skin that's well hydrated.
"If you don't already do so, moisturise daily in the week prior to self-tanning," says beauty entrepreneur Leighton Denny. "This will replenish any lost moisture and keep the skin supple and soft." He recommends avoiding using moisturizer on the day of tanning as it can stop the tanning ingredient from developing on the skin.
His favorite pre-tan moisturiser contains coconut oil and vitamin E, which help to hydrate skin and provide the best tanning base for even application.
We recommend Truly's Body Star Perfecting Cream, a daily lotion enriched with coconut oil, prickly pear, and cactus flower to leave you with smooth and supple skin.
#3: Apply an All-Over Tan
Next, apply a self-tanning product that's lighter than the product you're going to use to contour. The pros recommend a tanning serum, which naturally bronzes while adding extra moisture to skin.
Our fave tanning cream? Hotter in Person Bronze + Blur Cream. It's made with hydrating jojoba oil, naturally bronzing DHA, and brightening strawberry to boost radiance and develop a subtle, gradual tan on all skin types sans UV exposure. Plus, it's gentle enough for sensitive skin.
#4: Choose Your Tool
There are a few different ways you can apply tanner to your face and body. Whether you're using a tanning mousse or lotion, one of the best ways to tantour is with a Beautyblender.
"I apply a number-three pattern to each side profile, starting from the temples, then going under the cheekbone and wrapping around under the jawline," says New York City-based, board-certified dermatologist Mona Gohara.
Alternatively, try using a makeup brush, dipping the larger end into your tanner, and using the same number-three pattern technique to contour.
You can also tantour using your fingers. However, it's not the best way to achieve an accurate end result. But if you have nothing else, you can definitely give it a try to add more definition to your face and body.
Avoid using a mitt, which is too large to effectively tantour your skin. However, you can use it to apply your base tan.
#5: Use a Darker Tan to Tantour
Using your chosen tool, apply the self-tanner to areas you want to enhance. Sweep under your cheekbones, on the sides of your nose, across the jawline, and around the forehead — avoiding the hairline! You can also apply to areas of your body, too, such as your collarbone, chest, and legs if you're looking for added definition.
According to Denny, you can even perk up your peach using the power of tantouring.
"To enhance your behind, start at the top outer corner of your hip and sweep your tanning mitt underneath your bottom, following its natural curves," he explains.
#6: Leave it to Develop + Rinse
If you want an ultra deep contour, leave the formula on for 2-3 hours before rinsing thoroughly. Want something a touch more natural looking? Let it sit on the skin for 1-2 hours before rinsing. Depending on the product, you may need to wait longer. Read the instructions before beginning the process.
It's definitely a good idea to practice with your technique in order to get the hang of it, and discover how deep you like your contour. Don't worry if you make mistakes. Simply use a self-tanner remover, and you'll be able to re-do your tantour the next day.
HOW LONG DOES A TANTOUR LAST?
Tantouring your face doesn't last as long as a traditional body self-tan will. Since the face is always exposed, your fake tan probably won't last long. According to the experts, face tanning will last only about three days, whereas your body's self-tan can last up to 10 days.
To maintain your tantour, you'll need to re-apply the product every three days and gently exfoliate in between.
HOW TO MAKE YOUR TAN LAST LONGER
To get the most out of your self-tan or spray tan, it's important follow a gentle skincare routine with only a few skincare products, such as cleanser, moisturizer, and SPF. Avoid using skin-buffing scrubs, retinol products, and masks while you're rocking your tantour! Use a daily moisturiser infused with hyaluronic acid to lock in colour, diminish dry skin, and naturally enhance skin tone.
Who doesn't love a beauty hack? Tantouring is one of the latest TikTok beauty hacks everybody's been trying at home. Heck, we've even seen some celebs trying it! And makeup artists love it too — obviously!
If you're looking for a way to define your cheekbones, jawline, chest, butt, or legs, you should definitely include tantouring in your makeup routine.
Share
---