20 Different Ways to Use Truly's Unicorn Fruit Body Butter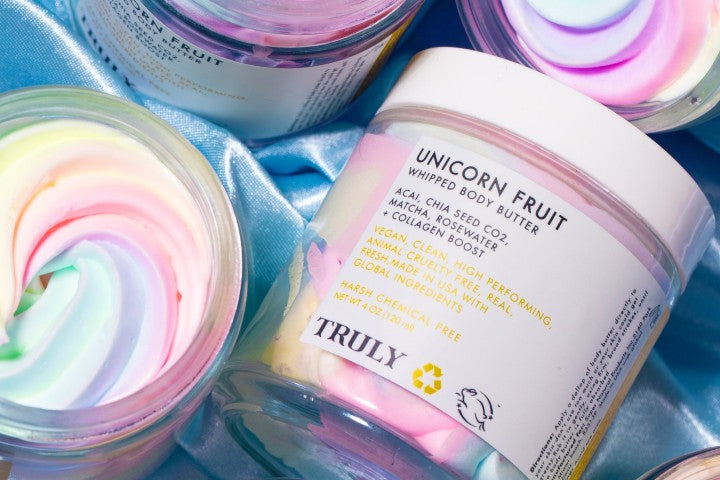 To date, Truly Unicorn Fruit Body Butter is one of our bestselling beauty products.
While it's always been a Truly fam favorite, its popularity skyrocketed when it earned itself over 63,000 hearts on TikTok from people who can't get enough of this rainbow swirl of pastel hues that kinda resembles an ice-cream cone.
The formula combines plant-based butters such as shea butter, mango, and kakum with moisturizing oils like coconut oil, sweet almond oil, and jojoba seed oil to hydrate, soothe, and plump the skin.  
It's also packed with superfood ingredients including antioxidant-rich açai berries, elasticity-restoring vegetable collagen, pH-balancing rose water, and redness-reducing matcha powder.
We know all of what this whipped body butter can do. Do you?
Here are 20 fun and effective ways to use Truly Beauty Unicorn Fruit Whipped Body Butter.
As a Post-Shower Lotion to Seal in Moisture
Did you know that the best time to moisturize is directly after taking a shower -- while your skin's still a little damp? Keep a tub of multi-colored butter in your bathroom so you can slather it on after bathing or showering. It'll seal in moisture for hours of dewy hydration.
As an Intense Treatment for Dry Skin
Thanks to its base of shea butter which is loaded with fatty acids and vitamin E, Unicorn Fruit provides intense hydration to dry, itchy skin. It also contains CBD to soothe inflammation for happy, healthy skin. Apply it anytime your skin's feeling tight and dry.
As a Cuticle Softener
Treat yourself to a little at-home mani, and nourish your cuticles with this luxe skincare formula. It's a quick and easy way to transform dry cuticles and prevent them from peeling. You can also dab a little on before pushing back cuticles to simplify the process.
As a Cracked Heel Treatment
While you're at it, indulge in a DIY pedicure too. When you're done smoothing, shaping, and scrubbing, smother your heels in this acai-formulated cream for super-smooth tootsies. 
As a Makeup Remover
No makeup wipes on hand? No worries. Just apply a dime-sized amount of Unicorn Butter to a tissue or cotton pad, close your eyes, and gently rub away your makeup. Repeat the process if residue remains.
As a Hand Moisturizer
Since they're the most exposed body part and the quickest to age, your hands need the most TLC. If you don't fancy splurging on fancy hand creams, just reach for your pot of Unicorn Fruit Butter. Simply massage the butter between your hands for ultra-soft, princess paws.
As a NourishingShaving Cream
You don't always need to use shave butter when putting razor to skin. Our body butter is a great alternative, as it provides the skin with a protective barrier and promotes a close, smooth shave. It also contains aloe to prevent irritation and razor burn.
As a Post-Sun Exposure Body Lotion
As much as we love bathing in the sun, UV rays are monstrous to the skin. That's why it's crucial to invest in post-sun exposure skincare by slathering your body in a formula infused with essential oils and vitamins -- to heal, repair, and promote recovery. Make Truly Unicorn Butter your first choice. 
As a Lip Balm
Displaced your lip balm? Dab a little butter on there instead. Rich in cocoa butter, chia, and coconut oil, Unicorn fruit can relieve dry lips for a smooth, plumped pout. It also works well under lipstick. 
As a Massage Lotion
Keep a tub of this hydrating body butter in your bedroom whenever you feel like treating bae to a massage. It glides on smoothly without leaving behind a greasy residue. Plus, it smells divine! 
As a HydratingHair Treatment 
Brittle tresses? Split ends? Comb through Truly's Unicorn Butter to instantly revive dry, damaged hair. With its ingredient list of nutrients and fatty acids, this formula is fantastic for nourishing the hair and promoting smoothness.
As a Flyaway Tamer
Tame frizz and flyaways by dabbing a little butter over your mane. You can also put a small amount of it on an old toothbrush for application. 
As a Stretch Marks Cream
Loaded with antioxidants and essential fatty acids, this formula can help firm, smooth, and plump the top layer of skin. 
As a Natural Deodorant
Unicorn Fruit Body Butter is famous for its candy-like scent. Make the most of its fab fragrance by using it as a natural deo. Apply a thin layer around your neck, under your arms, and on your wrists for head-to-toe fruitiness. 
As an Emergency Face Cream
While we don't typically recommend applying products meant for the body on the face, the occasional rule breaking is fine. Avoid if you're prone to blemishes.
As a Primer for Makeup
Even though its pretty rich, Unicorn Fruit Butter offers a smooth base for makeup application if you can't put your finger on your actual primer. 
As a Fragrance Extender 
Want to make your perfume last as long as possible? Layer your perfume over the butter so that it sticks better and your skin can lock in the scent. For best results, use in conjunction with Truly's Brand-New Unicorn Fruit Eau De Parfum.
As a Neck and Décolletage Moisturizer
Another area of the body that requires a fair bit of attention. Prevent premature aging in the area by applying a daily smothering of butter.
As an Exfoliator
Yep, you can also make your own body scrub out of our Fruit Body Butter. Simply mix it with a teaspoon of sugar and massage into the skin for a revitalizing scrub. It's suitable for all skin types, including sensitive skin. 
As a Boobie& Butt Butter
We were one of the first to develop boob and butt skincare formulas, like our Acai Your Boobies Boob Polish and Buns of Glowry Smoothing Butt Polish. Follow up with Truly's Unicorn Fruit Body Butter if you have nothing else around for instant smoothness.
Besides being suuuuuuper universal, all our products (including UFBB), are vegan, cruelty-free, and made with clean ingredients. You can purchase it on our store, Amazon, or over on Ulta.
Share
---