Firm up Your Boobies with Truly's 3-Step Boob Lifting System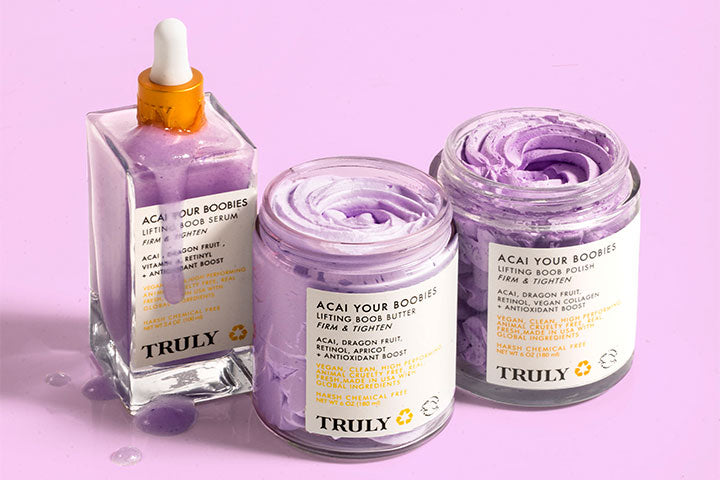 Acai isn't just for breakfast. Used topically, it can also prevent early signs of aging, promote skin regeneration, and eliminate stretch marks. Rich in antioxidants and essential fatty acids, the acai berry helps the body repair damaged skin and cells to deliver a more youthful appearance.
According to a report from the National Institutes for Health (NIH), acai is abundant in vitamins and minerals, and can protect the skin from environmental aggressors to keep the skin looking firm and tight.
Research shows that acai berry can reverse oxidative stress on the skin and diminish scars, stretch marks, dry skin, and crow's feet. But it's not just your face that faces the brunt end of aging – so do other parts of your body, including your breasts. Fortunately, Truly offers a 3-step system to lift and tighten your twins so that they look forever in their 20s.
ACAI YOUR BOOBIES LIFTING BOOB POLISH FIRM & TIGHTEN
Your breasts require just as much care and attention as your face to keep them looking their best. They might not be visible all day like your face, but that doesn't mean you want to look down to sagging, wrinkled breasts.
Prevent that from happening by investing in a boob-lifting skincare routine like Truly's.
The first step starts with the Acai Your Boobies Lifting Boob Polish.
Formulated with retinol and acai, it's designed to smooth skin and nips, while lifting your breasts and reducing the appearance of fine lines and stretch marks.
HOW TO USE:
In the shower, scrub the product on your chest area in circular motions. Spend at least 60 seconds doing this, before rinsing well. You can also apply it before showering and leave it on for 5-10 minutes before rinsing off with warm water. Use enough to cover the full region of your chest.
ACAI YOUR BOOBIES LIFTING BOOB SERUM
The next step in the breast lifting process: Acai serum.
With an antioxidant-bursting blend of acai, retinol, dragon fruit, and apricot, this 100% vegan serum can soften, firm up, and smooth out blemishes such as stretch marks.
Retinol is equally as effective in boosting collagen and preventing fine lines as acai. It can also speed cell turnover to even out discoloration, as well as unclog pores to reduce acne.
HOW TO USE:
After showering, massage 3-4 drops of this serum into your chest area. For best results, use in conjunction with the other Acai Boobies products.
ACAI YOUR BOOBIES LIFTING BOOB BUTTER
Last but not least: the Lifting Boob Butter.
It contains all the skin-firming and softening ingredients of the rest of the line. To lock in all the goodness from Truly's Acai polish and butter, finish up with a slathering of Boob Butter to keep your breasts ultra-smooth, lifted, and luscious all day long.
HOW TO USE:
Apply a generous amount of butter to the breasts and nipples after showering or bathing. Leave it to sink into the skin before wearing clothes.
For best results, use Truly's 3-step boob-firming system on a regular basis.
Share
---