Retinol Products to Add to Your Routine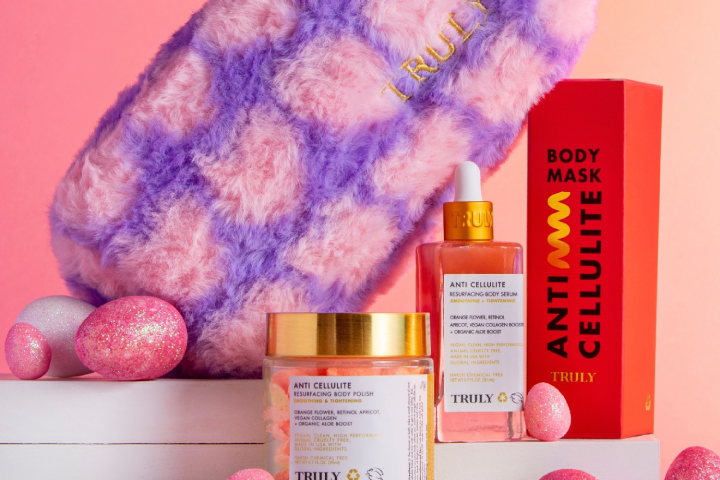 Retinol is the answer to a slew of skin concerns -- acne, fine lines and wrinkles, dark spots, drooping, and dullness. You name it, retinol can probably help.
The transformative ingredient, otherwise known as pure vitamin A, can be found in a number of skincare products ranging from cleansers to serums to face masks and moisturizers. 
Here are some of the best retinol products to add to your skincare routine. 
Purple Rain Glow Serum
An age-defying serum formulated with retinol, glycolic acid, and antioxidants to target visible signs of aging while giving you a healthy, glowing complexion without any greasy residue.
While retinol speeds cell turnover rate which plumps out fine lines, glycolic acid dissolves dead skin cells and layers of the skin, decreasing dark spots and discoloration. It's the ultimate anti-aging serum for a smooth and glossy complexion.
Super Star Pimple Patches
Retinol is generally known as an anti-aging ingredient, but it can also be helpful in treating and preventing breakouts.
These Super Star Pimple Patches are flecked with retinol and salicylic acid to buff away sebum and dead skin while preventing scarring and hyperpigmentation.
Hydrocolloid is the key active ingredient, which works by draining fluid from freshly popped zits, allowing the zit to diminish in size and color.
If you're looking for an effective acne treatment to target active breakouts, this is the best formula for doing so. Plus, they look super stylish.
Boobie Bundle
A beauty routine for your boobs, our Boobie Bundle features a lineup of firming boob care products -- a polish, serum, and butter -- to tighten, tone, and clarify your cleavage. 
Enriched with tightening retinol and brightening antioxidants, these three products help to smooth textured boobs, calm flare-ups, and firm sagging skin. And they're clinically proven to do so -- in just four weeks of daily use. 
Retinol also battles boobne by boosting collagen production and speeding cellular turnover, which minimizes the appearance of pores. The formula's also made with antioxidant-packed acai berry to increase the skin's moisture retention for clear, radiant cleavage.
From exfoliation to hydration and treatment, this bundle offers everything you need for perky, blemish-free boobs.
Anti-Cellulite Bundle
Almost all women experience cellulite and uneven skin texture. Minimize its appearance by upgrading your skincare regimen with these cellulite-fading superstars. 
Our citrusy, cellulite-targeting mask and serum duo is loaded with retinol, bitter orange, vegan collagen, and apricot to mobilize stored fats, fight inflammation, and ultimately produce smoother, plumper skin.
While retinol increases cell proliferation within the skin, in turn plumping out dimples, the vitamin C found in bitter orange is a potent antioxidant that helps to neutralize free radicals and repair damaged skin cells. 
These two topical cellulite treatments can also help improve skin tone, pigmentation, and dryness. 
Mary Jane Glow Face Mask
This exfoliating, retinoid-powered face mask brightens, smooths, and tightens skin. Whatever your skin type, you can benefit from using this face mask at least once a week to keep your complexion clear and glowing. 
Formulated with hemp to reduce redness, caffeine to tighten and brighten, and vitamin A to speed up cell turnover, this glow-enhancing formula promises to firm and brighten while replenishing essential hydration. Plus, it can help banish blemishes.
It also contains alpha hydroxy acid (AHA) glycolic to resurface the skin and reduce the appearance of discoloration. 
Booty Bundle
A skincare routine -- for your buns!
Buns Of Glowry features a polish, butter, and serum made with plumping wheat protein, hydrating watermelon, and tightening retinol to increase firmness of the skin, while minimizing the appearance of cellulite. 
You've got an exfoliator, lotion, and serum in this bundle so you can buff, treat, and moisturize your way to a smooth and glowing derriere.
All of these products are clinically proven to work in four weeks of daily use. 
Tips for Using Retinol in Your Skincare Routine
To get the most out of your retinol serums, creams, and masks, follow these tips.
Always Finish with a Layer of Sunscreen
This derivative of vitamin A can leave skin extra sensitive to sun exposure. Thus, it's a good idea to always finish your routine with a generous layer of SPF to protect your skin from sun damage and daily pollution. What's more, retinol breaks down when exposed to UV rays, so wearing sunscreen ensures its work its very best.
Pair it with Hydrating Products
Retinol is great for targeting acne, creases, discoloration, and all the rest, but it's not known for hydrating the skin. Provide your skin with the moisture and nourishment in needs by pairing your retinol products with eye creams and night creams infused with hyaluronic acid, glycerin, or ceramides. 
Start Slow
The secret to getting the most out of retinol is not going overboard. Start with a low concentration of pure retinol, and only ever use a pea-sized amount when applying. This way, you can use retinol with peace of mind that you won't suffer side effects. Especially if you have sensitive skin, all forms of retinol can be irritating. For that reason, it's wise to start slow.
Ask Your Dermatologist
If you have severely sensitive skin or a condition such as eczema, consult with your dermatologist before using over-the-counter retinol products. Even the best retinol creams can be harmful if your skin simply can't tolerate the ingredient. 
Don't Be Fooled By the Brands
You don't need to choose big brands like L'Oreal, Murad, Skinceuticals, Cerave, or Olay to enjoy the benefits of retinol. Whatever product you choose, just make sure you're using something high in pure retinol that's paraben- and fragrance-free. 
Pair it With Other Hardworking Ingredients
Retinol works well with many other ingredients, including niacinamide, hyaluronic acid, peptides, and glycolic acid. Look for products that blend retinol with other effective ingredients so you can enjoy extra benefits.
You will find all the Truly products available on our official website, as well as on Amazon, Ulta, and Sephora. We have plenty of retinol skincare products in stock! 
Share
---