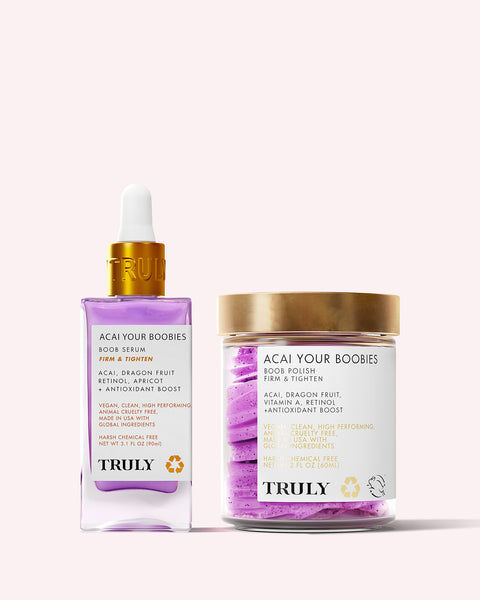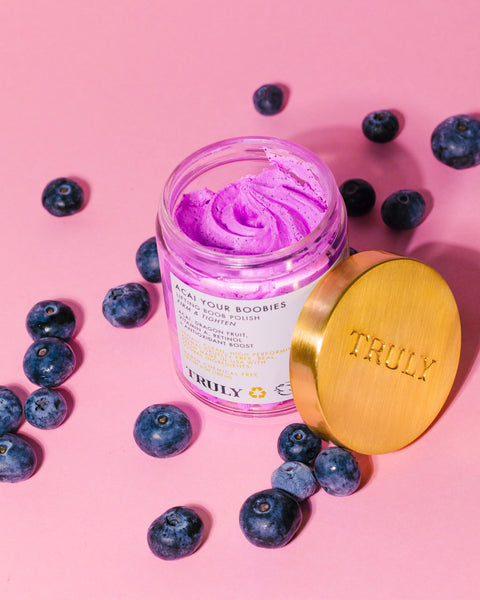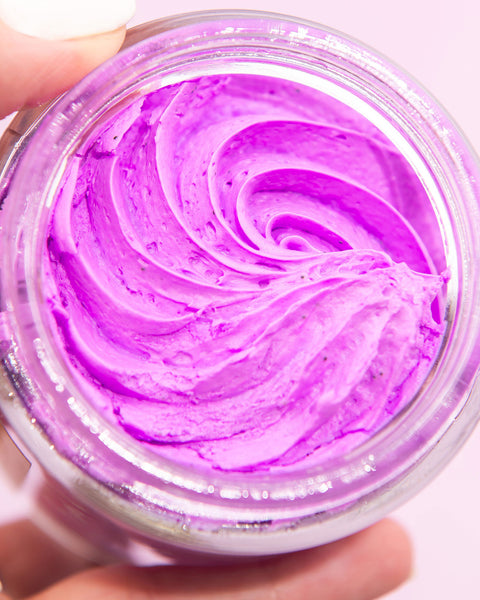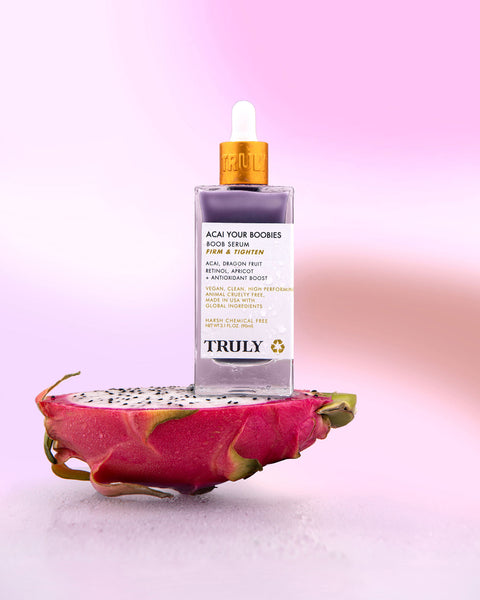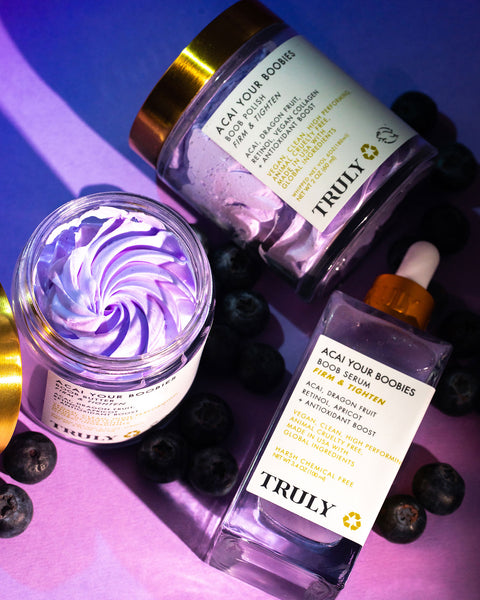 For Your Boobs Routine
>Good to Know:
Resurfacing
Brightening
Tightening
Moisturizing
Restore your tightest twins with this boob firming duo. For Your Boobs Routine features a boob polish + serum – clinically proven to improve skin tone, texture, and firmness. Powered by antioxidants and elasticity-replenishing retinol, this duo works like an 'invisible bra', giving your breasts a more lifted and defined appearance. It also helps with fine lines, stretch marks, and discoloration.
What You'll Get:
💜Acai Your Boobies Polish
💜Acai Your Boobies Serum
What Makes this Bundle SO Good?
Acai Your Boobies Polish + Serum are formulated with retinol and acai berries to increase collagen production, restore elasticity, spur cell regeneration, and lock in moisture. What this means for you: smoother, firmer boobs with less visible fine lines, stretch marks, and discoloration.
*According to our clinical studies, both formulas have been proven to work in four weeks of daily use.
Full Ingredients:
Acai Your Boobies Polish:
Acai Your Boobies Serum:
How to Use
Acai Your Boobies Polish: In the shower or bath, take a palmful of polish and mix with a little water to create a lather. Massage into your boobs using circular motions, and rinse. Pro-tip: Use as a mask prior to showering for extra firming power! Apply, leave on for 10 minutes, and then rinse.
Acai Your Boobies Serum: After showering, apply a couple of drops of serum to your breasts. Massage it in until fully absorbed before getting dressed.
What it Targets
Sagging
This elasticity-restoring duo makes your pair look extra perky!
Fine Lines + Stretch Marks
Collagen-boosting retinol manifests your smoothest bust.
Blemishes + Discoloration
Antioxidants brighten, protect, and keep skin clear.
Subscribe & Save 10%
Get this boob-lifting duo delivered straight to your door each month, and never run out again! Subscribe now, and you'll save 10% on every order.
No commitment ☑️ Pause or cancel anytime ☑️ Save every time you order ☑️
Stay updated on our HOTTEST deals, captivating content, and more!