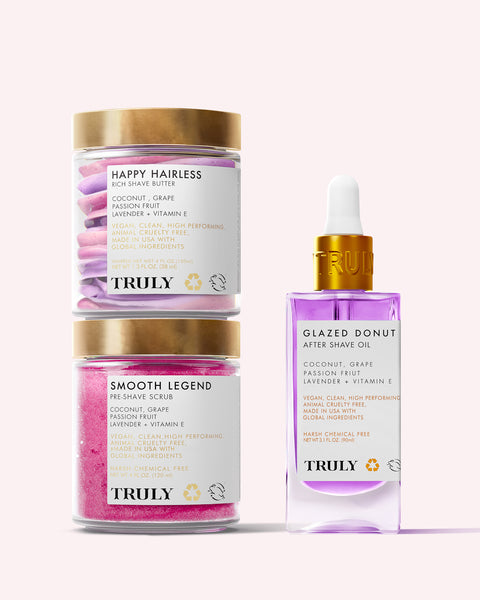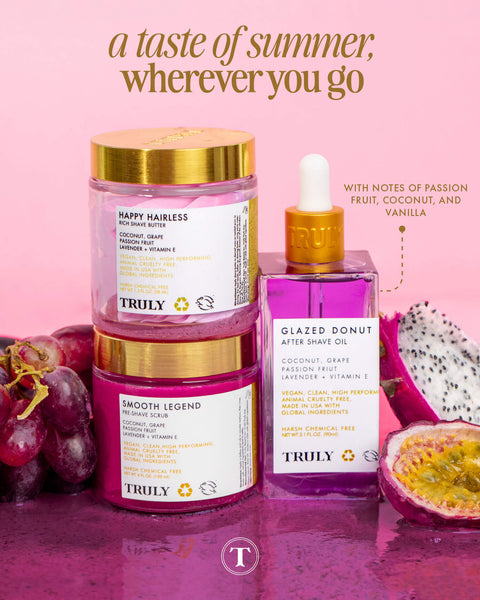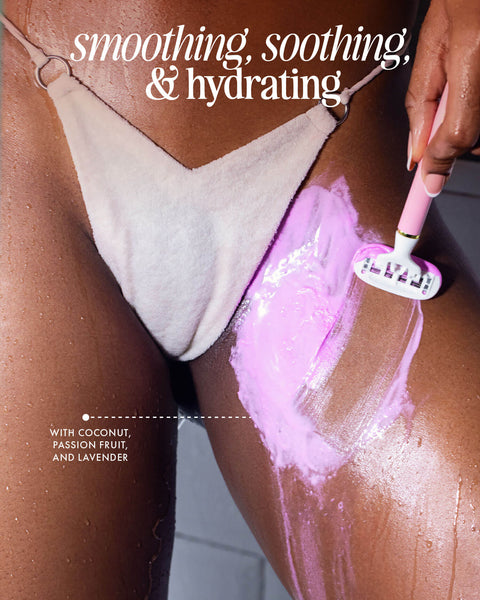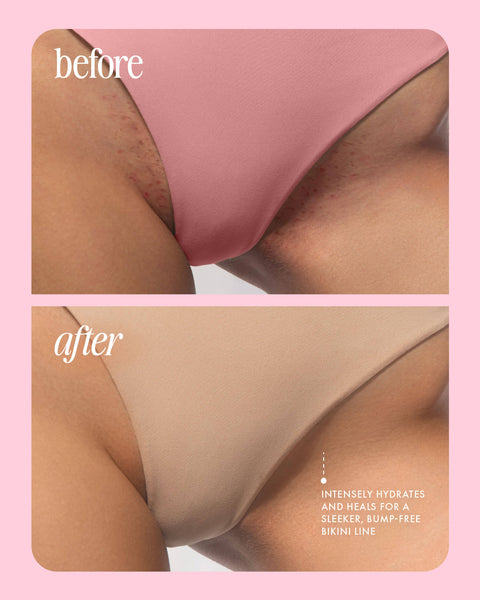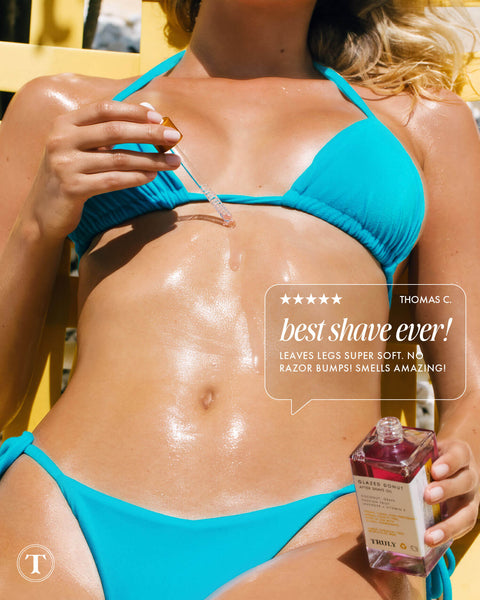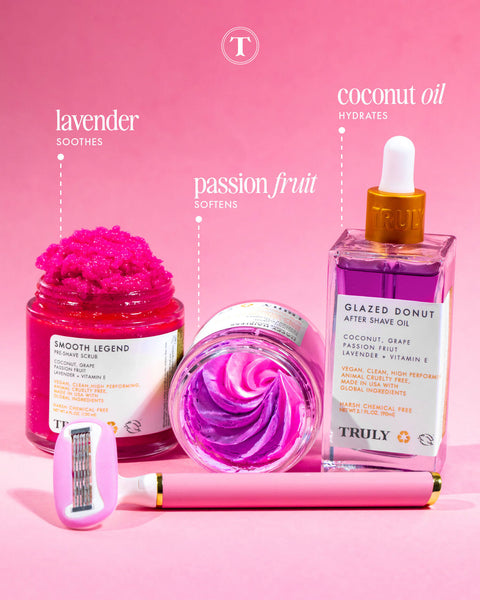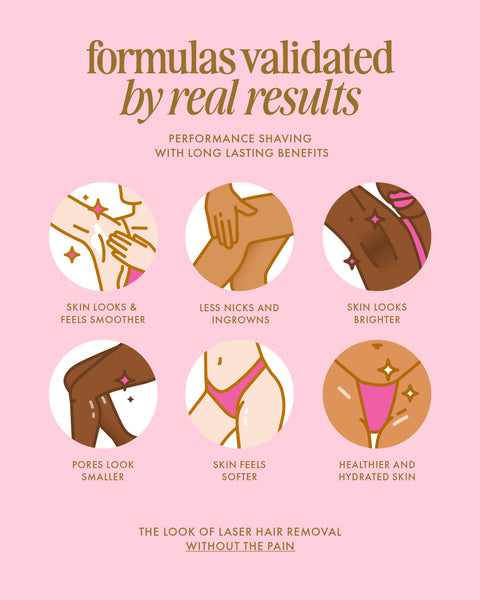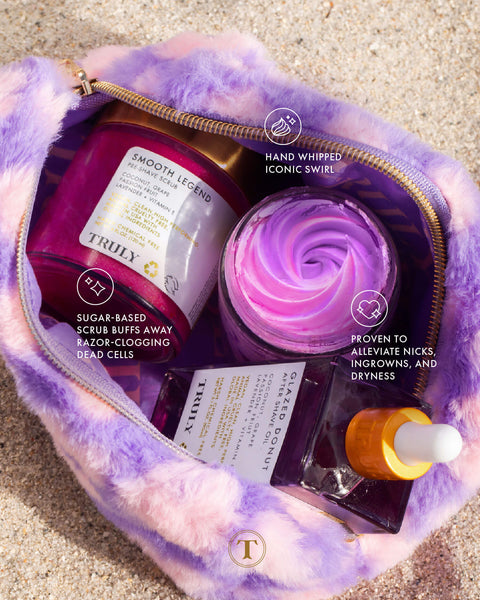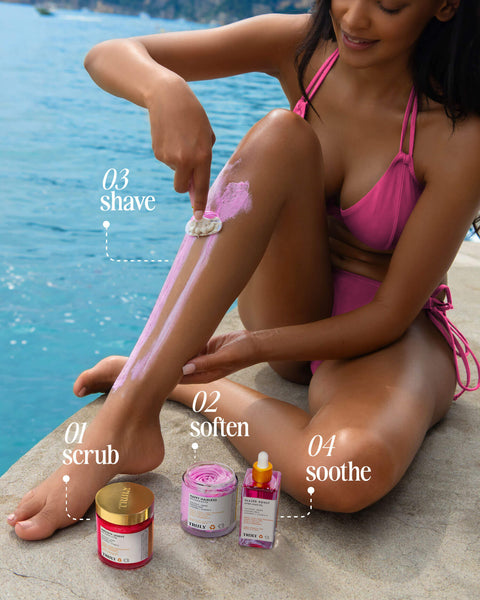 Smooth Legend Shave Routine
>Good to Know:
Exfoliating
Tightening
Moisturizing
Vegan
Cruelty-Free
Your best shave ever – in 3 simple steps.
We developed a streamlined system for helping you achieve the smoothest shave of your life (that's also model-approved). This luxe shaving kit for women features a resurfacing pre-shave scrub, super softening shave butter, and cooling after-shave oil – without any shaving aftermath like razor burn, ingrowns, and irritation!
What's Inside
💜 Happy Hairless Shave Butter 1.3 Oz / 38 Ml
💗 Smooth Legend Pre-Shave Scrub 4 Oz / 120 Ml
💜 Glazed Donut After Shave Oil 3.1 Fl Oz / 90 Ml
WHY IT'S SPECIAL
Exfoliating habitually before and after your shave in tandem with ample moisturization removes dirt and dead skin cells while allowing the active ingredients of our shave oil to truly work its magic and more deeply penetrate the dermis.
What Makes this Bundle SO Good?
The Smooth Legend Shave Kit makes hair removal an effortless, enjoyable, and luxury experience. Enriched with healing coconut, cell-restoring vitamin E, and elasticity restoring passion fruit, these all-star ingredients leave skin smooth, springy, and soft to the touch. Model + actress Amanda Cerny has already given it her seal of approval: "It's everything you need for the perfect shave."
Essential Ingredients:
Coconut 🥥
Vitamin E ✨
Passion Fruit 💧
How to Use:
Smooth Legend Shave Scrub: In the shower, mix a palmful of scrub with a little water and massage into the skin to work up a lather. Exfoliate desired areas, and rinse off.
Happy Hairless Shave Butter: Lather up using warm water, and apply a generous layer of shaving butter to desired areas prior to shaving.
Life Shaver Starter Razor: After prepping skin with shaving butter, glide the razor across the skin in the direction of hair growth. Rinse the blades after every swipe, and continue until you're smooth all over.
Glazed Donut Shave Oil: Apply shaving oil to freshly shaved skin to soothe, hydrate, and prevent ingrowns.
What it Targets:
🔥 Resurfaces
Sweeps away dead skin cells and debris for a clean and close shave.
🔥 Hydrates
Intensely hydrates and heals for soft to the touch skin.
🔥 Prevents Ingrowns + Razor Burn
Preps + provides aftercare for an irritation-free shave.
Subscribe, and Save 10%
Are you a regular shaver? Get your shaving essentials delivered straight to your door each month so you never run out again! Subscribe, and save 10% on every order!
No commitment. No hassle. Pause or cancel anytime!
Stay updated on our HOTTEST deals, captivating content, and more!