5 Ways to Clear Your Butt Acne Scars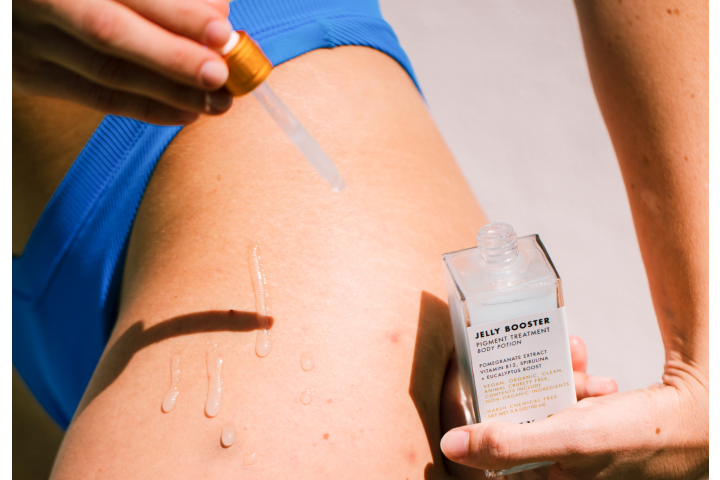 Butt acne scars are the aftermath of butt acne. They're typically caused by picking and prodding at your pimples, and sometimes they simply form during the healing process.
Butt acne itself is usually caused by wearing tight clothing, excessive sweating, and even some skin conditions such as folliculitis and keratosis pilaris. With the right acne treatments, you can definitely clear up your blemishes. However, sometimes those little red bumps leave behind scars and discoloration, which requires special treatments to gradually fade.
Luckily, there are some awesome skincare products out there that you can use to treat buttne scars. Looking to get rid of butt acne scars? Here are five ways (and products) to make that happen. 
#1: Exfoliate with Blueberry Kush Body Scrub
Out with the old skin, in with the new! Exfoliation plays an important role in the treatment of butt acne scarring. By sloughing away dead skin cells on the skin's surface, it removes pigmented cells and promotes the formation of more evenly pigmented cells, helping to fade dark spots and discoloration. In addition to smoothing out your skin, exfoliation also prevents butt pimples from forming in the first place by preventing clogged pores.
Exfoliate with Blueberry Kush CBD Body Scrub, a gentle sugar scrub chock full of anti-inflammatory, antioxidant and omega-rich ingredients such as blueberry, CBD, coconut oil, and hydroxy acids (lactic acid and salicylic acid). These ingredients work together to lightly buff away the buildup of pore-clogging cells, sebum, and grime to unveil your smoothest, clearest, and brightest booty.
How to use: In the shower, take a scoop of scrub, mix it with a few drops of water, and massage it into the affected area using circular motions. Let it sit for a minute, then rinse.
#2: Brighten with Unicorn Polish
Polishes work a lot like scrubs. The only difference is that they solely work to remove dead skin cells. Unicorn Fruit Whipped Body Polish is a fruity formula of acai, matcha, vegan collagen, and chia. Each ingredient in the formula works in harmony to brighten dull skin, smooth away bumps, and clarify blackheads. Plus, it'll leave your booty smelling fruity.
This polish utilizes the power of shea butter as a base to retain moisture and keep skin hydrated all day long. With hydration comes smoother skin, and that's exactly what this polish provides. Use it on your backside to clear hair follicles, buff away dull cells, and clear up your body acne scars. Alongside this, it helps to prep skin for the next skincare products in your routine, enabling them to penetrate deeper.
How to use: In the shower, apply a palmful of polish to your butt and massage it in using circular motions. Let it sit on the skin for a minute, then rinse and pat dry.
#3: Treat Butt Acne Scars with Jelly Booster Pigment Treatment
Scars and hyperpigmentation cannot be removed without a topical treatment designed to fade discoloration. If you're experiencing butt breakout scars, try an over-the-counter spot treatment like our Jelly Booster Pigment Treatment Potion.
This discoloration correcting serum is an innovative formula of pomegranate extract and vitamin B12, which work in tandem to stimulate collagen production, spur skin cell regeneration, and improve the appearance of butt acne scars and discoloration. Used daily, this little gem will eradicate those stubborn dark spots in no time.
How to use: Apply several drops of serum to the butt area and let it fully absorb before getting dressed.
#4: Moisturize with Blueberry Kush Body Oil
Every skincare routine should end with a moisturizer. Moisturizing not only hydrates skin and leaves you feeling smoother, it also seals all those active ingredients in — keeping them working throughout the day. When you have zits on your booty (or scars), applying a thick heavy body lotion will only clog your pores and trigger more breakouts. Opt for a nourishing oil instead like our flash-absorbing Blueberry Kush CBD Body Oil.
This skin illuminating serum can help treat acne scars on the butt thanks to its blend of antioxidant-rich blueberries and skin resurfacing AHAs and BHAs. It's a booty glow up — in a bottle!
How to use: Apply several drops to the butt area, and massage in well. Let it fully absorb before getting dressed.
#5: Patch Up Active Breakouts with Stars Prevent Scars Pimple Patches
One of the best ways to stop butt acne scars from forming altogether is to treat active breakouts as soon as they pop up. Pimple patches are one of the best products to do that, since they work by draining zits of oil and bacteria, speeding up the healing process and preventing acne aftermath like scarring and discoloration.
Our Stars Prevent Scars Pimple Patches are flecked with tea tree oil, a natural ingredient loaded with anti-inflammatory antimicrobial properties to soothe and clarify skin. They also contain glycolic acid, which penetrates deeply into the skin to buff away blemishes.
How to use: Stick a patch over active blemishes. Re-apply every seven hours, and leave on overnight for speedy healing.
HOW TO PREVENT BUTT ACNE SCARS
Here are some quick tips for preventing buttne scars in the first place.
Wash your booty daily with a clarifying

cleanser

or

antibacterial soap

. Look for a

body wash

that contains acne-fighting ingredients like

salicylic acid

or

benzoyl peroxide

, like our Cherry Jelly Body Cleanser.
Wear light, breathable clothing.
Always shower straight after working out or getting especially sweaty to prevent pores from becoming clogged.
Regularly

exfoliate

the area with a scrub,

exfoliating

cleanser

,

loofah

, or

washcloth

.
Visit a

dermatologist

if you're experiencing severe

butt acne

like

cysts

.
Butt acne scars aren't that hard to clear provided that you follow a clearing and smoothing routine like the one above. While there are plenty of home remedies you can try, nothing clears up scars better than a solid routine of high-performing skincare products. All products above are suitable for all skin types, including sensitive skin.
Speak to your derm if your scars don't improve after six weeks of following the above routine. A dermatology professional can prescribe topical or oral medication that may help. For the time being, avoid waxing or shaving the butt area which will only irritate the skin.
You can now shop Truly at Amazon, Ulta, and Sephora EU. You'll find plenty of beauty and wellness products on our site as well as on these retailers. Whether you live in LA, New York City, or outside of the states, we can deliver straight to your door.
Share
---