A Glow Up Routine for Your Feet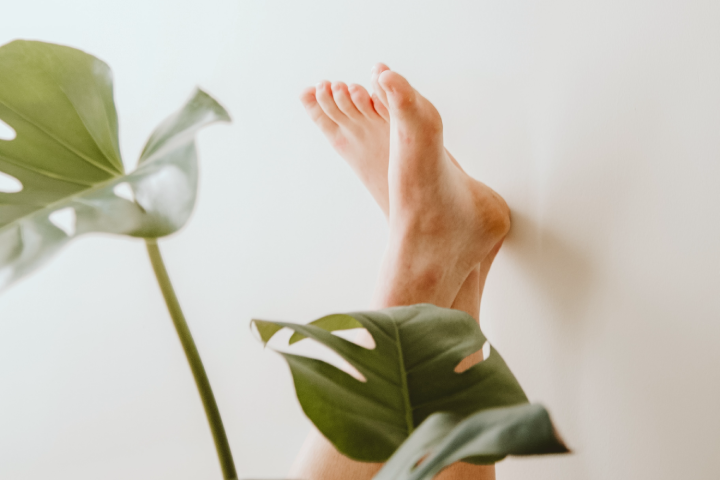 Just because you're not showing them off as much, doesn't mean your tootsies don't deserve some TLC this winter. 
Lucky for you, we created a super easy foot care routine featuring five Truly skincare products to give your feet and toenails a makeover from home.
At-home pedicures have never been more fun!
Spray them
To get started, spritz your feet and toes with our Volcanic Rosewater Mist. Made with balancing rose, soothing aloe, brightening vitamin C, and hydrating coconut water, this formula can help soothe, brighten, hydrate, and nourish feet -- ready for their pedi.
It's a great way to soften your cuticles and make it easier to push them back. Plus, it can help soften any dry skin around the feet.
Towel off the Excess
Use our Pink/White Bath Towel to pat off any excess water so that your feet are ready for their self-care session. Avoid rubbing your toes and feet, as this will remove product. You simply want to pat away excess product to make the pedicure process easier. Feel free to use this towel to sit or perch your feet on during your pedi for a more comfortable -- and less messy -- pedi sesh!
Cut them
Now for the cutting part! Grab a clean pair of clippers, cut your toenails straight across, and avoid going too short. You only want to take off a little so your nails no longer scratch you while you sleep. Cutting them too short can lead to nail infections and overall discomfort.
If you don't like clippers, you can also try cutting them with nail scissors if it makes you feel more at ease. However, we find clippers the easiest to use. 
Push Back Your Cuticles 
Use an orange stick to gently push back your cuticles. Do NOT cut them! According to dermatologists, cutting your cuticles can cause dirt and grime to enter the nail bed, leading to infections.
Unless there's dead skin that can only be removed with scissors, try to stick to using a cuticle pushing tool only for maintaining clean, tidy cuticles. The last thing you want is a nasty nail infection from your DIY pedicure. 
Buff them with a Pumice Stone
Get rid of dead skin cells, calluses, and dry skin by buffing your heels with a pumice stone. You can also an exfoliator if you don't have a pumice stone on hand. Either way, make sure you use something to get rid of the dead skin so your feet can feel their smoothest. 
Exfoliation is also a great hack for getting glowing skin on your feet. After all, this is a glow up routine for your feet. They need to be glowing by the end of it!
Shave them
Shave your furry toes with Coco Cloud Whipped Shaving Butter. Made with a nourishing blend of coconut milk, vanilla, argan oil, and vitamin E, this super-smoothing shave cream is designed to soften and soak into the skin to combat razor burn and leave you with the silkiest shave of your dreams.
Using warm water, lather up the shaving cream, and apply a thin layer over the furry parts of your feet. Glide over them with your favorite razor, and repeat the process for an ultra-close shave. Rinse well with warm water, and pat dry with our large bath towel.
Brighten them
Dispense several drops of our Jelly Booster Pigment Treatment onto each foot for super sparkling tootsies. This serum is formulated with a hydrating blend of pomegranate extract and vitamin B2 to target and lighten hyperpigmentation caused by ingrown hairs, acne scars, and trauma to the skin.
Repair them 
Complete this beauty routine for your feet by slathering on our repairing Pineapple Haze Body Balm. It's basically a foot cream, only way more soothing and hydrating. Formulated with exfoliating pineapple, moisturizing mango, and healing jojoba oil, everyone can benefit from incorporating this magical cream into their skincare routine. 
All pedicures should finish with a generous layer of lotion to soften cuticles and heels, and leave your feet looking pretty. Moisturisers also boast the ability to see in hydration for long-lasting silkiness.
Done!
Other Tips for Taking Care of Your Feet
This is a step by step routine for glowifying your feet. In the meantime, here are some other ways to keep your feet looking fresh, healthy, and glowing!
Wear sunscreen in the summer: you obviously don't need SPF on your feet during the winter months since they're consistently covered with socks. But in the summer, you should make it a priority to slather your feet in SPF to protect them from harmful UV rays that can contribute to fine lines and skin discoloration. 
Make use of oils: Coconut oil and olive oil are probably already in your kitchen cupboards. Use a tiny amount to soften your cuticles. They're great home remedies for warding off cuticle peeling and dryness. And you can also use it for your DIY manicures!
Choose a bright nail polish: Nothing gives your feet more glo than a bold and colorful nail polish. Instead of choosing dark shades that quite simply wash out your skin color, select bold and bright hues to lift your skin. Or go au natural!
Wear socks or slippers indoors: Walking around barefoot leaves feet more prone to hard skin on the heels. Keep your feet protected by wearing socks or slippers inside the home.
Our glow up routine for your feet has just arrived, and it's easier than ever. You don't need tons of fancy products to get your feet looking, feeling, and smelling great this winter. All you need are five Truly favorites -- and the commitment to take care of your tootisies.
By the time summer rolls around, your feet will be prettier than ever! 
Share
---