SEE Pics: Truly Beauty Acai Before and After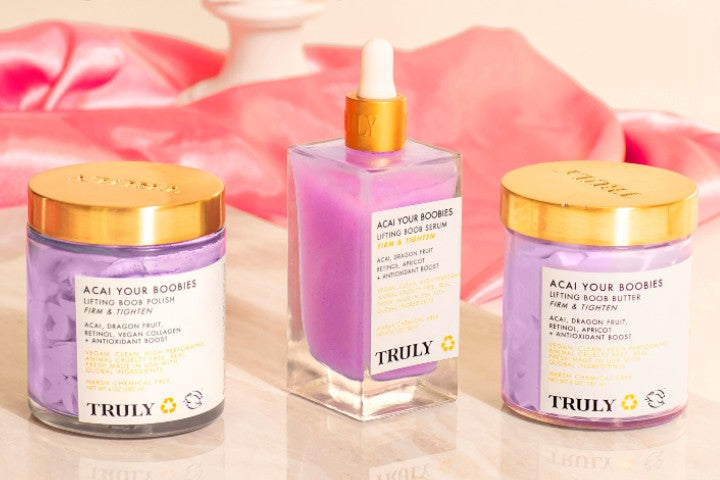 In 2020, Truly released its 3-step boobie line enriched with powerhouse skin tighteners like retinol, acai, and vegetable collagen to smooth textured skin, revitalize dullness, and firm sagging skin. Today, it's one of our bestsellers. Most probably because it Truly works.
This cruelty-free berry scented trio targets everything from boob breakouts to stretch marks, fine lines to sagging. It also intensely hydrates skin, brightens, and helps minimize the appearance of acne scars and discoloration. Plus, it's suitable for all skin types.
But just how effective are Truly's Acai products in firming and lifting your boobs? Below, we deliver all the intel on our Acai Your Boobies collection, including what's inside, clinical data, customer reviews, and those before and after pics you've been dying to see!
WHAT'S IN TRULY'S ACAI YOUR BOOBIES LINE?
Here's what's included in the Boobie Bundle. These products are also available to purchase individually, although they work best when used together.
Boob Polish
A retexturizing boob scrub to buff away dull, dead skin cells and stimulate collagen production for a smoother, brighter, perkier pair.
Retinol (vitamin A) is a gold-tier anti-aging ingredient that increases cell turnover, spurs collagen production, and restores elasticity, which helps fill in wrinkles, diminish hyperpigmentation, and provide visible lift. Acai berry nourishes the skin with antioxidants, protecting the chest from free radicals and UV-related wrinkles while tackling stretch marks.
This boob exfoliator should be the first step in your boob-focused skincare routine. If you have sensitive skin, limit polish use to 2-3 times a week, instead of daily.
Boob Serum
A silky, regenerative serum powered by .2% retinol, antioxidant-rich acai, and deeply conditioning vitamin E to moisturize and tighten your tatas. It also contains aloe, dragon fruit, and apricot extract to clarify blemishes, soothe irritation, and nourish dull, dry skin.
Think of this serum as your go-to boob firming treatment to alleviate signs of aging. Since serums are highly concentrated with active ingredients like retinol, they really are the best products for addressing skin concerns.
Boob Butter
The final step in the boob routine, Acai Your Boobies whipped butter is designed to smooth skin and nips while drenching the skin in long-lasting moisture. It also helps reduce the appearance of fine lines, discoloration, and stretch marks for an extra perky chest.
In addition to its key ingredients — retinol and acai — this body butter contains a slew of nourishing plant-based oils and butters to seal in hydration. Coconut oil, shea butter, sweet almond oil, and jojoba oil all lend their moisturizing properties to leave boobs fresh, firm, and super smooth. It's a buttery boob lotion that smells like heaven!
IT'S SCIENTIFICALLY PROVEN TO WORK
In May 2021, we completed a 4-week clinical study to evaluate the efficiency of our Buns of Glowry Tighten line + Acai Your Boobies line.
A total of 30 female subjects aged between 20 and 59 used this entire line 1-2 times each day for approximately four weeks.
Within four weeks, participants of the study noted significant improvements in their skin tone and texture, with many agreeing that their butt and breasts felt firmer, tighter, and lifted.
Data showed that there was an 8.2% reduction in uneven skin tone on the breasts and 10.6% reduction on the butt. It also revealed a 15.4% reduction in texture on the boobs and 20.0% on the butt.
Overall, the study concluded that Truly's boob and butt products were "effective" at smoothing, firming, tightening, and lifting.
HOW TO USE ACAI YOUR BOOBIES PRODUCTS
It's easy! Here's a step-by-step tutorial for using the Truly acai products.
Step #1: Exfoliate
In the shower or bath, scoop out a palmful of Acai Your Boobies Polish, mix with water to create nice lather. Massage into your chest using circular motions and rinse. 
Tip: Use product as a boob mask before your shower. Simply apply a thin layer on your chest. Let it sit for 10-15 minutes and then rinse.
Step #2: Treat
After showering or bathing, apply 4-5 drops of Acai Your Boobies Serum to chest area. Rub in until fully absorbed.
Step #3: Moisturize
Apply a scoop full of Acai Your Boobies Butter to chest and breasts after your shower (or serum!). Leave on.
For best results, use the three products together on a daily basis. It's important to stay consistent with your routine in order to see visible results.
WHAT PEOPLE ARE SAYING ABOUT TRULY BEAUTY'S ACAI YOUR BOOBIES PRODUCTS
Our Acai Your Boobies products have been trending on TikTok for months. People can't stop raving about their effectiveness at firming skin and fading stretch marks. Plus, they adore the sweet berry fragrance!
As for Truly Acai reviews, we have plenty of positive ones to share with you. Here are just a few Acai Your Boobies product reviews you might want to hear.
"I used this on my chest, stomach, and behind and it's really made a big difference for my stretch marks," says one Truly reviewer.
"My boobs are so soft and perky. I love you truly beauty," added another.
While one Truly customer describes the line as "Firming, softening, luxurious, 10/10."
See the Acai Before and After Pics
Take a look through the Truly Beauty Acai before and after pics to see the phenomenal effects of this formula.
BEFORE/AFTER
SHOP TRULY ACAI YOUR BOOBIES
The evidence is all here, but we recommend trying it for yourselves so you can witness the results first-hand. The wonderful thing about this boob firming formula is that it doesn't take long to see results. Make sure you use all three products on a daily basis for a period of at least four weeks. Once you hit the four week mark, you should be seeing a difference in tone, texture, and firmness.
You can purchase the Boobie Bundle on our official store, or pick up at your local Walmart, Target, or Ulta Beauty.
Before you checkout, grab a few more of our bestsellers like our Unicorn Fruit Body Butter and Buns of Glowry Smoothing Butt Butter.
Share
---