The Boob-Tightening Powers of Kigelia Fruit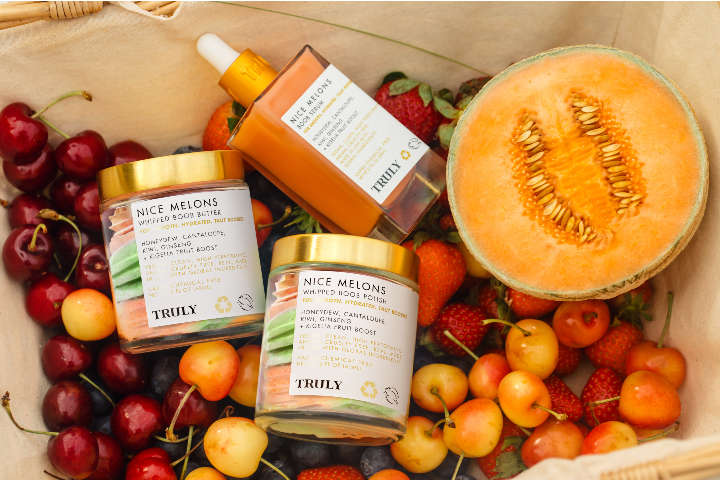 There's a tree in South Africa (from the Bignoniaceae family) known as the Kigelia africana or sausage tree which bears the kigelia fruit. A fruit that promises skin tightening and breast firming effects. Some even say it promotes breast enlargement. 
Measuring around 30 to 60cm long, the African fruits hang on stalks from the tree and resemble sausages - hence the name.
From Senegal down to South Africa, this exotic fruit has a rich history of both consumption and application as a medicinal remedy to cure a variety of complaints. The kigelia africana fruit has long been used in traditional medicine for enhancing growth and tightness of the breasts. African women use the kigelia fruit pulp to make an ointment which they rub onto their breasts as a skin firming treatment. Mothers also use this formulation on their babies to help them grow fatter. 
What's more, kigelia africana fruit extract is said to clear blemishes, treat sores and wounds, and address many different skin conditions such as eczema, skin cancer, and fungal infections. This is thanks to the fruit's antioxidant, anti-fungal, and anti-inflammatory properties.
But more about the boob firming effects...seriously, what's that all about? And does it really work? Let's find out!
HOW KIGELIA FRUIT TIGHTENS THE SKIN
Whether or not you've heard of it before, Kigelia fruit is actually an active ingredient in many breast firming and skin tightening formulations. Made up of fatty acids, iridoids, sterols, caffeic acid, vitamin c, and napthaquinones, these ingredients work simultaneously to tighten and firm the skin. 
Clinical studies prove its efficiency. According to a study in which women aged between 30 and 45 massaged kigelia fruit extract on their breasts once a day for four weeks, results indicated that patients saw a 50% increase in bust firmness improvement. 
To give you a clearer idea of how it works, kigeline is a phyto-hormone derived from the fruit of the Kigelia Africana tree. It helps prevent the relaxing of skin tissue while enhancing firmness in the chest area. Phyto-hormones are rich in bioflavonoids, which contain potent antioxidants known for increasing elasticity and tightness in the breasts.
What's more, the kigelia fruit is used to increase breast size, which is often used traditionally in Africa on young girls before puberty to promote an ample development.
Other traditional uses for this fruit include treating wounds, psoriasis, toothache, rheumatism, diarrhea, and stomach ailments. It is also often used in skincare natural products, as it can offer anti-aging benefits thanks to its high content of flavonoids which help fight free radicals and boost collagen in the skin. Kigelia fruit is also a known aphrodisiac. 
HOW KIGELIA IS USED AS A BREAST TIGHTENING TREATMENT
In Africa, women use kigelia fruit in numerous ways. Traditionally speaking, the fruit is pounded with a mortar then mixed with an alcoholic agent. It is then poured into a container, covered with a lid, and left for at least three days before it can be used as a drink or topical treatment. Some also make use of the dry kigelia fruit, burning it into ashes and collecting the powder which can be mixed into a beverage to obtain the same result.
Thanks to its compounds such as iridoids, flavonoids, fatty acids, sterols, glycosides and napthoquinones, the kigelia fruit offers antibacterial activity, hydration, and anti-inflammatory benefits too. Think of it as the ultimate moisturizer - packed with enzymes that can transform your skin.
SIDE EFFECTS OF KIGELIA FRUIT
In small doses, plant extracts and fruit extracts such as kigelia are safe. However, in some cases, some side effects may occur. Allergic reactions, blisters, and cytotoxicity are the three potential side effects of this fruit. 
However, the tonga women have been using this for decades safely and with minimal adverse reactions. 
Strong anti-inflammatory activity has been found due to the presence of COX 1 and 2 inhibitors, without showing the possible side effects often associated with this activity.
HOW ELSE TO BOOST BREAST ELASTICITY
Sagging breasts are perfectly common - and nothing to be ashamed of. Everything from aging to pregnancy, smoking to being overweight can cause breasts to sag.
Besides consuming and applying kigelia fruit, there are other ways to tighten the skin on your breasts. Some effective methods include doing more exercise, adding more nutrients into your diet, improving your posture, and wearing a bra more frequently.
Massaging them with nourishing, antioxidant-packed lotions and oils can help too. You just need to use the right formula.
MEET TRULY'S NICE MELONS KIT
Loaded with plant-based ingredients such as kigelia fruit, ginseng, and cantaloupe, this limited edition breast skincare bundle has just dropped. 
The bundle features a boob polish, serum, and butter: three simple steps to smooth, tighten, and brighten your boobs. Besides bringing you amazing results (with regular use, of course!), Nice Melons products also smell incredible. 
Once we heard about kigelia's breast-tightening superpowers, we knew we had to add it into at least one of our products. As it turned it, the super fruit ended up in three of them. 
So if you're looking for a kigelia skincare product to add to your daily routine, make it Nice Melons. This bundle features everything you need to get super-soft, perky breasts.
Never heard of kigelia fruit before? Now you have, and you know what? Lucky you! Because it's an ingredient you'll definitely want to look out for to enjoy all its benefits. As we mentioned in the article, its benefits go well beyond boob firming. It can also treat a variety of skin concerns such as eczema, psoriasis, and acne. And let us remind you of its aphrodisiac properties! 
Every woman is blessed with beautiful breasts. There's no right or wrong way for them to look. But if you want to enhance them a little and treat any sagging that's starting to appear, we urge you to give kigelia fruit a try. Whether you use it in its natural form or within a skincare formula, you can enjoy a whole lot of benefits from this South African fruit.
Share
---