This Fruit Firms Boobs. How?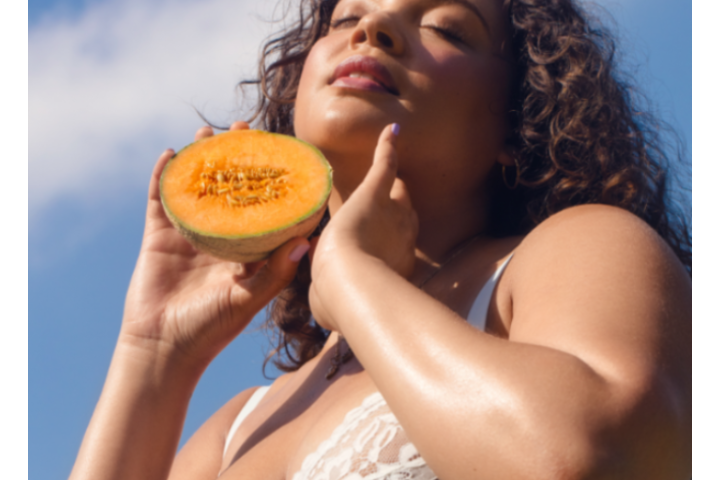 Breast sagging can occur for a number of reasons. From aging to not wearing a properly fitted bra, weight gain to gravitational pull, there are multiple reasons why your breasts may not look as perky as they once did. Even breastfeeding can lead to breast sagging. 
Thanks to an exotic South African fruit known as kigelia, all that can change.
What is Kigelia Africana?
Kigelia derives from a tree/medicinal plant in South Africa (from the Bignoniaceae family) known as the Kigelia africana or sausage tree. Malawians have been using the fruit for centuries for its breast firming and breast enlargement effects, as well as its range of skincare benefits.
Kigelia africana fruit has a rich history of both consumption and application as a medicinal remedy to treat skincare concerns and even health complaints. And there are clinical studies proving this fruit's abilities to increase elasticity and firmness in the breasts. 
In terms of its health benefits, scientific literature claims kigelia can help treat skin cancer, infertility, and breast cancer. 
Benefits of Kigelia For Skin
In skincare, kigelia fruit extract is used to brighten, clear, and firm the skin. Studies show it can also reduce blemishes, fade hyperpigmentation, and smooth out fine lines and wrinkles. It addresses a number of skin concerns in the gentlest, most effective way.
"Revered by Malawians as medicine as well as a sacred symbol of protection, Kigelia Africana has been traditionally used by African healers to treat skin-related conditions, such as fungal infections, acne, eczema, psoriasis, sunburn, and insect bites," says Jené Roestorf, the founder and chief of botanicals of LUXE Botanics.
Loaded with antioxidants, antibacterial activity, and anti-inflammatory properties, Kigelia Africana is excellent at treating skin conditions like acne, and it's perfect for sensitive skin types. It can also help fight skin-damaging free radicals that can cause pigmentation and wrinkles.
Kigelia Africana is an active ingredient found in many skincare products, including serums, moisturizers, and lotions. 
Does Kigelia Really Have Breast Firming Qualities?
Kigelia is famous for its breast firming and enlarging abilities. Made up of fatty acids, iridoids, sterols, caffeic acid, vitamin c, courmarins (including kigelin), and napthaquinones, kigelia fruit is able to simultaneously tighten, plump, and firm the skin. 
According to a study, women aged between 30 and 45 who massaged kigelia fruit extract on their breasts once a day for the period of four weeks noticed a 50% increase in bust firmness. 
Kigeline is a phyto-hormone derived from the fruit of the Kigelia Africana tree. It helps enhance elasticity and firmness in the chest area. The fruit is also said to increase bust size and is often used in Africa on young girls before puberty to promote healthy body development.
Other traditional uses for this fruit include treating wounds, toothache, psoriasis, rheumatism, diarrhea, and stomach ailments. It is also often used in anti-aging products thanks to its high content of flavonoids which help fight free radicals and stimulate collagen production. Kigelia fruit is also a well-known aphrodisiac -- at least in Africa, anyway. 
Kigelia Skincare Products You Need to Try
Here are the best kigelia-infused formulations you should try for a perkier pair.
Nice Melons Boob Polish
A summer-scented whipped cleansing polish of melon, kiwi, kigelia fruit, and ginseng to exfoliate, moisturize, and tighten the chest and neck. 
Best for combination, oily, and sensitive skin types, this boob brightening scrub is designed to resurface, condition, and brighten skin. 
Jojoba beads are a naturally brightening and eco-friendly alternative to microplastics, which can potentially tear the top layer of skin while exfoliating. Kigelia, a fruit native to tropical Africa, has been used for its breast enlarging and firming capabilities for centuries. Honeydew melon is rich in vitamin C, supporting the production of collagen and promoting skin radiance while locking in long-lasting moisture. 
How to use: In the shower or bath, scoop out a small amount of Nice Melons, mix with water to get a nice lather, and massage onto your chest in circular motions. Leave it on for 2-3 minutes, then rinse. 
Nice Melons Boob Serum
A boob brightening and tightening potion made with a nourishing blend of honeydew, cantaloupe, kiwi, kigelia, and aloe vera.
This decadently fruity, melon-scented body serum conditions, tightens, and prevents fine line formation on the chest and neck. 
Whil kigelia lends its boob firming powers, aloe vera offers anti-inflammatory, antimicrobial, antioxidant and humectant properties for smooth, soothed, super soft skin. Packed with natural vitamins and folic acid, it successfully hydrates, soothes irritation, and eliminates scars.
How to use: Massage 3-5 drops to breasts to help tighten & firm. Leave to absorb before getting dressed. For best results, use daily after showering or bathing. 
Nice Melons Boob Butter
A buttery blend of shea butter, kigelia, melon, and kiwi, this boob butter promises to condition, fade discoloration, and visibly tighten the skin on the chest and neck. 
Ginseng aids in inhibiting melanin production, combatting hyperpigmentation. Thanks to its antioxidant properties, it is useful in preventing fine line formation and UV-induced photoaging. Shea butter's high content of fatty acids boost skin barrier repair while it's emollient capabilities hydrate and soften skin, giving skin a smooth and supple appearance. 
How to use: Rub the butter in circular motions across your neck and chest until fully absorbed. For best results, use daily, both morning and night.
Fancy getting these three products altogether? Save 15% when you buy them bundled -- in our Nice Melons Edition.
Use of kigelia in traditional medicine dates back centuries. Best of all, kigelia is safe to use with next to zero side effects. You can also purchase supplements infused with this medicinal fruit.
We definitely recommend incorporating kigelia-infused skincare products into your routine for smoother, firmer, perkier boobs! Tonga women have been doing it for centuries! Lucky for you, Truly has three kigelia-loaded skincare formulas that can help smooth, firm, and hydrate your lady lumps.
Share
---