TLC For Your Tootsies: An at-Home Foot Spa Tutorial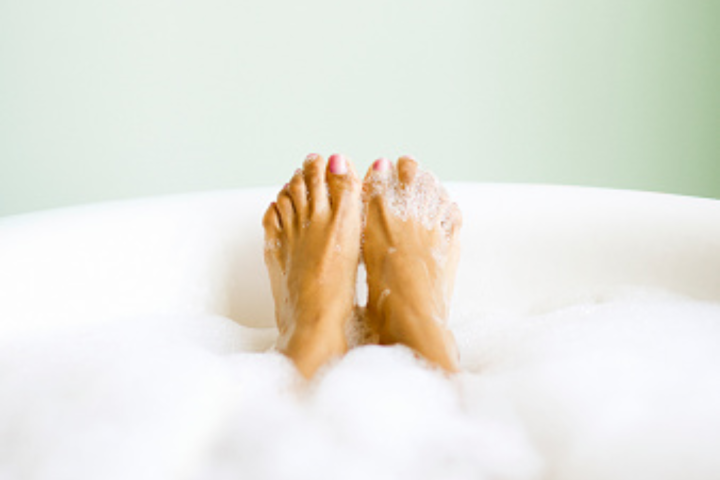 Calluses, cracked heels, and dry skin can leave your tootsies looking sad and neglected. Pamper yourself today by indulging in an at-home foot spa that you can easily do with just a few skincare essentials. 
In the winter especially, feet don't get as much TLC as they deserve. Just because you're hiding your tootsies under socks and slippers all day long, doesn't mean you should forget about them completely. 
With a good foot soak, a little buffing, and a nourishing moisturizer, you can quite literally put your best foot forward. 
Here's how to give yourself a luxurious and relaxing foot spa right from your own home.
#1: Begin with a Foot Soak
Create a little bath for your feet by filling up a wash bowl with warm water, and adding in your favorite bubble bath, a sprinkling of epsom salts and/or a few drops of essential oil. 
Alternatively, pour in a de-stressing formula like Truly's Moon Jelly Adaptogenic Body Cleanser. Infused with calming lavender, cleansing chamomile, and stress-relieving ashwagandha, this product helps cleanse your feet of dirt and grime while enriching them with a blend of soothing herbs to ease aches and pains. 
Soak your feet in the fragrant foot bath for around 5-10 minutes. Pat dry with a soft, clean towel.
#2: Trim, Tend + Shape
Foot soaks are great for softening your nails and cuticles. If you've ever had a professional pedicure, you've probably noticed how you always begin with a soak before cutting your nails and pushing back your cuticles. That's because it softens them, making them easier to work with.
Trim and clean your toenails, push back your cuticles, and shape your nails with a filer for a smooth, polished look. Avoid cutting your cuticles, which can lead to damage and infections.
Of course, you can skip this step if you recently cut your nails. There's no need to do it again if they're short enough. 
#3: Exfoliate
Reach for your favorite foot scrub, and use it to buff away dead skin and dryness. Or try Truly's Moon Rocks Sugar Scrub, which is made with a nourishing base of 100% organic coconut oil, soothing lavender, and hydrating vitamin E to buff and brighten up dull skin. 
You can also use a pumice stone to smooth the callouses and any rough areas of the skin. Or if you've got a serious case of dry skin, do both. 
Alternatively, whip up a DIY foot exfoliator using brown sugar, half a cup of coconut oil or olive oil, and a few drops of peppermint oil. Mix these ingredients together and exfoliate your feet for 3-4 minutes. 
#4: Apply a Foot Mask
An at-home foot spa just wouldn't be the same without an invigorating foot mask. Since masks stay on your skin longer than other products, they're great for addressing skin concerns like dry feet and cracked heels. 
Grab Truly's Mary Jane Glow Mask to brighten, heal, and intensely hydrate your tootsies. Formulated with hemp to reduce inflammation, caffeine to brighten skin, and glycolic acid to buff away dead skin, this exfoliating formula delivers powerful antioxidants to soothe and repair while replenishing essential hydration.
Apply a generous scoop on your feet, making sure you cover your toes, heels, and even your ankles. Let it remain on for 10-15 minutes. Then rinse with cool water. Use the free time to read a magazine, chat with a friend, or catch up on some light fiction reading. For a cool and calming treatment, refrigerate product for 30 minutes before using. You can also use it as an intensive overnight treatment to soften hardened areas and alleviate calluses.
#5: Give Yourself a Foot Massage
Massages ease and soothe muscle pain. If you've got discomfort in your feet, or you're simply looking for a way to wind down after a stressful day, try giving yourself a foot massage. It's a quick fix for pesky pain and discomfort.
To add slip and hydrate at the same time, perform your massage using a repairing foot lotion like Truly's Pineapple Haze Extreme Repair CBD Hand and Foot Cream. It's loaded with exfoliating pineapple and a blend of hydrating oils to deliver intense hydration to severely dry, calloused skin while promoting new healthy cell growth for silky soft paws.
Using your thumbs and palms, caress your feet for 5-10 minutes, or until your hands get tired. Your toosties will feel amazing afterwards!
#6: Moisturize
The last step of your foot care routine should always be moisturizer. Moisturizer seals in hydration and all the nutrients from your products before to keep skin and cuticles soft. 
Use a product formulated with an emollient such as shea butter to provide the skin with a protective layer to trap in moisture for day-long hydration. Emollients are helpful in managing dry, scaly skin conditions such as eczema and psoriasis. 
You'll find plenty of shea in Truly's Unicorn Fruit Whipped Body Butter. This deeply conditioning multi-colored body moisturizer is heavy on the skin-repairing ingredients such as acai, vegan collagen, and matcha to firm, smooth, and heal your skin. 
Apply a generous layer, massage it in thoroughly, and leave it to absorb before putting on socks or shoes. 
#7: Paint Your Nails (Optional)
If you're looking to add a pop of color to your tootsies and make them look extra pretty, finish your routine by painting on your favorite nail polish. You don't need to follow this step if you like your nails clean. 
In order to keep your feet soft for as long as possible, keep them covered in socks whenever you can.
Whether you're stressed, strapped for cash, or looking to invest more time into self-care, this at-home foot spa tutorial can help you unwind and recover while smoothing out dryness and calluses for extra pretty paws.
It's a great routine to try at the end of a hard day to help you unwind and promote a restful night of beauty sleep. Or try doing it over the weekend when you have some spare time to enjoy some much deserved me-time!
Share
---