Why I Use Retinol On My Boobs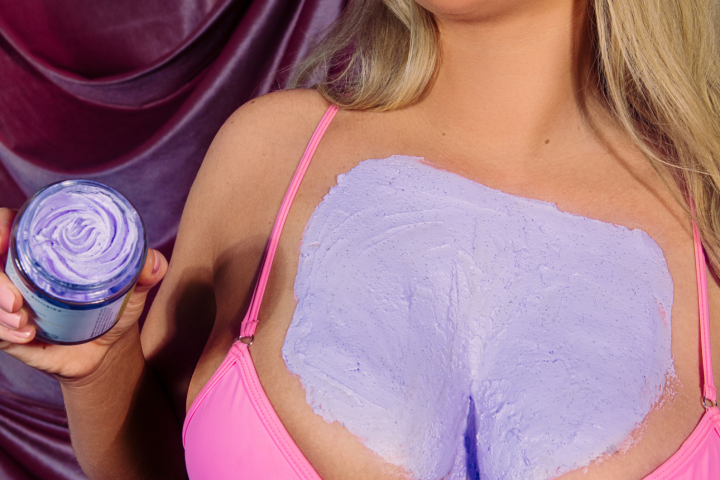 Anti-aging skincare is something we typically use on our face. But are we missing a crucial part of our body? It seems so!
Too few of us are showing our boobs any love in the skincare department. Now is the time to change that for the sake of their wellbeing -- and their future. If you want to maintain firm, perky cleavage without creases, you can rely on retinol.
Just because you're not seeing callouts for its use on preventing fine lines, acne, and sagging on the body doesn't mean there's not a need for it. There sure is!
Here's why I use retinol on my boobs -- and why you should too!
Your Boobs Need a Skincare Routine, too
There are numerous skincare solutions for wrinkles, hyperpigmentation, and blemishes just about anywhere on the body, including the eyes, lips, face, and neck. Unfortunately, an area that gets sorely missed is the décolletage. And yet, this is an area that quickly develops signs of aging. Between its general neglect and the skin there being delicate and often exposed to UV rays, the chest area sneakily develops fine lines, wrinkles, and dark spots. 
That doesn't mean fine lines, wrinkles, or discoloration are a bad thing. They're a natural side effect of growing old, I guess. That said, if you'd like to keep your chest smooth for as long as possible, it's worth paying them a little more attention.
"Volume loss and repeated folding of the skin are the two biggest causes," says dermatologist Rachel Nazarian, MD. "Over time, collagen is degraded by sunlight and free radical damage, which causes this already thin-skinned area of the body to become even more so."
She adds that just one's general movements can cause skin to fold upon itself and ultimately cause creases. 
"Those creases will grow deeper with time, much like facial expression lines on your face. And the thinner the skin is, the deeper the lines can form," she explains.
How Retinol Can Help
You've probably heard of it, but do you know what it is and what it does?
Retinol is a form of vitamin A that is commonly used to treat and prevent wrinkles. It is one of the many types of retinoids that are available both over-the-counter and with prescription, depending on the strength.
Retinol is pretty much the gold standard in skincare when it comes to anti-aging. It helps regulate skin cell turnover and promotes collagen production to improve skin texture, fade discoloration, smooth out fine lines and wrinkles, and even tackle acne. 
A study published in the Journal of Drugs in Dermatology showed that patients who used a 0.1% retinol moisturizer once daily significantly improved the appearance of fine lines, firmness, elasticity, and pigmentation in just 8 weeks. 
You'll usually find retinol in serums, oils, and face creams designed specifically for the face. But if it can work so good on your face, why wouldn't it work just as good on your cleavage? 
I gave it a try and soon realized...the results were amazing!
Within two months of daily use, my boobs felt smoother, softer, and a little firmer. I also noticed my overall skin tone improved. Shame it's not beach weather right now...I'm dying to show them off in my two-piece!
How to Use Retinol On Your Boobs
Retinol is best used at night, according to the pros. That's because your skin repairs itself as you sleep, so ingredients in your skincare products work better when you apply them before bed. Plus, retinol can cause sun sensitivity, decreasing its effectiveness and putting you at risk of sunburn. That said, lotions and creams are available now that contain both retinol and SPF to treat and protect skin at the same time. 
If it's your first time using retinol, remember to take it slow. Start by choosing a formula with a relatively low concentration of retinol, and then use it on alternating nights to allow your skin to adjust. Once it does, you can increase the frequency to nightly.
As with any skincare product, always follow the manufacturer's directions on the label for proper application and desirable results.
Why I Love the Boobie Bundle
A 3-step formula designed especially for the boob area. It features an exfoliating polish, tightening serum, and hydrating butter to sculpt, hydrate, and tighten your tatas.
All products contain a blend of retinol, acai, dragon fruit and antioxidants to stimulate collagen and elastin production and increase the skin's moisture retention to revitalize dullness and help slow skin-aging.
It can treat everything from boob breakouts to stretch marks, fine lines to sun spots. Frankly, I'm IN LOVE! And the best part? It works for all skin types! That said, dry skin and sensitive skin should use a little less frequently than other skin types. 
Warning: this product is NOT safe for pregnant or breastfeeding women.
Get the Boobie Bundle here.
Other Ways to Show Your Boobs Some Love
Besides retinol, there are several other products you should consider incorporating into your routine for smooth, perky boobs.
First up: sunscreen -- the most important of all! If you typically wear V-necks or low cut shirts, always apply SPF before leaving the house to protect your decollete area from sun damage. 
Next, try using a vitamin C serum to brighten your boobs and give them a radiance boost. It's way easier and less painful than a peel!
And finally, be sure to keep them covered in winter with a scarf or jumper to prevent dryness, flaking, and dullness.
If you are experiencing severe acne on your boobs, speak to your dermatologist. They may prescribe you retin-a, a topical retinol product used to improve the appearance of skin. Or they might prescribe you tretinoin, an oral medication used to treat acne and sun damaged skin. It's always best to get a professional opinion if you have any concerns.
Share
---