Everything You Ever Wanted to Know About Truly Beauty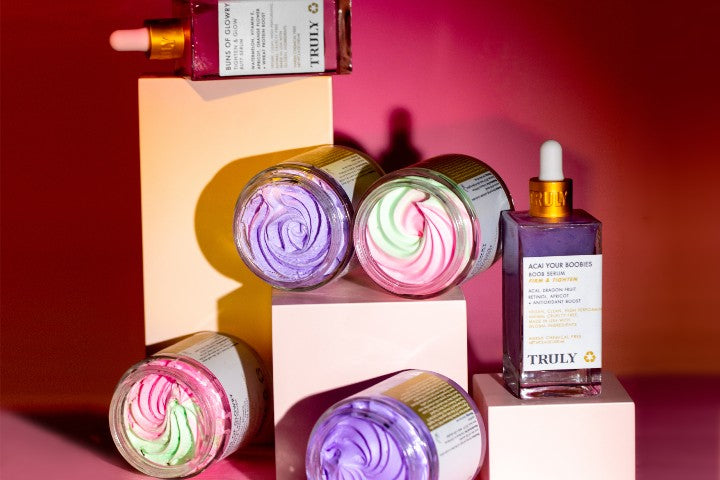 Truly is not your average clean beauty skincare brand. A combination of health, sustainability, and performance, we pride ourselves in providing you with skincare products that yield visible results — and we don't just focus on the face. We've created formulas especially designed for those often neglected areas of your bod — like your boobs, butt, and belly.
You'll also find haircare products powered by the most high performing ingredients available, and fun accessories to wear your Truly love with pride!
We believe you should never need to settle or compromise on the luxurious experience. That's why we spent years crafting vegan, clean & cruelty-free formulations that perform just as effectively as conventional products while staying clean and ethical.
Want to know more about our company and fabulous products? Here are some fun facts you might not know about Truly...until now...
Founded in 2013
We're Generation Alpha, babyyyy!
Celebrating nine years, we've only continued to grow and THRIVE over the years. And we hope you'll stay with us for the ride!
Since 2013, we've developed more and more formulas to include in your skincare routine as well as next-level shaving bundles to enhance the hair removal process — and make it waaay more fun!
Our Headquarters are in L.A.
We're headquartered in Los Angeles, but our employees span four countries.
Our small but rapidly growing team believes that luxurious, high performing ingredients can be good both for your skin and for the planet.
All our Beauty Products are Vegan + Cruelty-Free
All our skincare, haircare, and body care products are made with a combination of natural, vegan ingredients — with no animals harmed in the process.
We believe clean, plant-based products work the best for our skin, which is why you'll find a range of nourishing plant oils, juices, and butters peppering our ingredients list. The most common ones we use include coconut oil, shea butter, almond oil, aloe, and CBD.
So, you can purchase any of beauty routine bundles with peace of mind that you're not hurting animals, the environment, or your skin and health.
Featured in Elle, Allure, Vogue + Many More!
Truly's going mainstream! Over the years, our products have appeared in a range of popular online publications and magazines including Elle, Allure, Vogue, PopSugar, People, Refinery29, Seventeen, Shape, and Cosmopolitan, to name a few.
You can find all our mentions over on our Press and Media page.
We Have Almost 2 Million Followers on TikTok
We get REAL on our social media platforms. Our social babes show you how to use the Truly beauty products IRL. From hairy armpit shaving tutorials to butt acne clearing routines, we show you how to get smooth, clear, and glowing using just a handful of Truly treats.
Follow us on TikTok for up-close Truly tutorials and routines.
We Have a Weekly Game Show Going On — On Instagram
Spin to win! Wheel of Truly is our weekly game show featured exclusively on Instagram — and open for all babes worldwide! Head over to our Insta page and stay tuned for the next LIVE event!
The Acai + Buns Lines are Clinically Proven to Work in 4 Weeks
In May 2021, TKL Research completed a 4-week study to find out just how effective Truly's Acai + Buns products worked. The products evaluated included: Acai Your Boobies Polish, Acai Your Boobies Serum, Acai Your Boobies Butter, Buns of Glowry Smoothing Butt Polish, Buns of Glowry Tighten Butt Serum, and Buns of Glowry Butter.
A total of 30 female subjects aged between 20 and 59 used these two body care lines daily for a period of fours weeks. When the four weeks was up, participants in the study noted significant improvements in their skin tone, texture, and smoothness, with many agreeing that their butt and breasts felt tighter and more lifted.
Our Fave Ingredients Include Retinol, Plant Collagen + Coconut Oil
We have LOTS of favorite skincare ingredients. However, retinol, plant collagen, and coconut oil are the ones most commonly featured in our formulas.
Retinol (Vitamin A) is a powerhouse anti-aging ingredient that boosts collagen production, restores elasticity, and speeds cell turnover. It can help treat everything from fine lines and wrinkles to acne, discoloration, and even cellulite.
Plant collagen is a skin plumper and boosts the skin's glow for a youthful, radiant complexion. And coconut oil is a hydrating wonder-worker offering anti-inflammatory properties to soothe and moisturize skin.
You'll find all of these ingredients in our cleansers, serums, face masks, acne patches, and body care products.
Our Most Famous Product is Unicorn Fruit Whipped Body Butter
It's a cult-favorite loved by beauty babes everywhere.
Unicorn Fruit Body Butter is made with shea butter, matcha, rose, vegan collagen, and vitamin E to help diminish irritated, dry skin while leaving you with firm, plumped glowing skin. It's suitable for all skin types — including even the most sensitive skin.
The hype is real homies!
OTHER TRULY BEAUTY BESTSELLERS INCLUDE...
Coco Cloud Whipped Luxury Shave Butter
A coconut milk infused fluffy shaving cream for the smoothest shave of your dreams. Hand whipped to perfection, you'll have a blast slathering this sweet-scented butter all over your fuzzy parts.
Heart Your Imperfections Acne Patches
The cutest way to beat breakouts. These hydrocolloid-powered pimple patches drain zits of oil and impurities while healing active breakouts for a smooth, scar-free complexion.
Black Jelly Blemish Treatment Body Serum
A zit-zapping body serum that harnesses the antimicrobial powers of witch hazel, tea tree and black charcoal to treat active breakouts while healing acne scars and inflammation.
Smooth Legend Line
A 3-step shave kit for the smoothest shave of your life. Buff, hydrate, and treat ingrowns with our Smooth Legend Pre Shave Scrub, Happy Hairless Shave Butter, and Glazed Donut Shave Oil. All formulated with soothing superstars like coconut oil, grape, and lavender.
GLOAT Lip Kit
A 4-step lip plumping kit containing a lineup of pout-perfecting products: Sexy Soft Lip Scrub, Lip Plumping Serum, Big Juicy Lip Oil, and Luscious Lip Butter. All powered by powerhouse plumpers and hydrators such as hyaluronic acid, peppermint, and coconut oil.
Stay updated on our new products over on our New Arrivals page. And don't forget to check out the Truly Beauty reviews, which you'll find when you scroll down on every product page! They speak for themselves!
Got questions about Truly? Get in touch, and we'll be happy to answer your questions!
Share
---