Fruity Skincare Products to Add to Your Summer Routine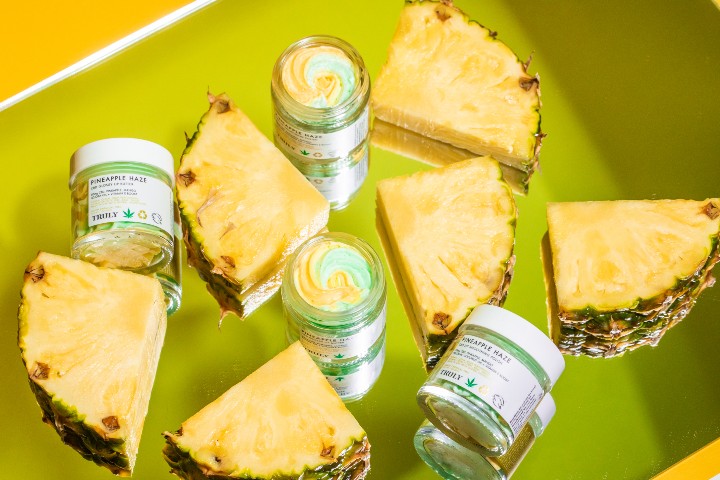 While we're all looking for skincare products that work miracles on our skin, nothing beats a fruity-scented serum or body butter on a hot summer day.
In the summer, skin's more prone to dryness and breakouts due to excessive heat (and sweating!) which causes transepidermal water loss — and congestion. Supplementing your skincare routine with a few fruity-scented, cooling products can help keep summer skin woes at bay.
Here are some fresh, fruity skincare products to serve up to your skin this summer!
Blueberry Body Oil
Blueberries are rich in antioxidants and salicylates. They can help reverse the harmful effects of sun damage while decongesting pores of dead skin cells for your freshest, juiciest skin.
Truly's Blueberry Kush Hemp Body Oil is a blueberry-scented body potion powered by AHA, BHA, and 1,000 blueberries per bottle. Together, these ingredients buff away dead skin, fight inflammation, and brighten skin. And boost collagen production for firmer-looking skin.
Research shows that blueberry seed oil functions as a natural shield again blue light — the light emitted from your digital devices that contributes to premature aging. In addition to that, it supports skin barrier function for strong, healthy skin.
Thanks to the formula's AHA/BHA combo, you can also rely on it to improve skin's moisture content and exfoliate away dark spots and hyperpigmentation.
Watermelon Booty Butter
Rich in vitamin C, amino acids and lycopene, watermelon intensely hydrates and plumps for dewy, glowing skin. A powerful antioxidant, this summer fruit is excellent at healing sun damaged skin while exfoliating dull, dry skin.
If you're looking for a fruity body lotion to include in your summer skincare routine, make it Truly's Buns of Glowry Butt Butter. Luxuriously velvety and watermelon-scented, your skin will drink this up!
Its two key ingredients — wheat protein and watermelon extract — work in tandem to hydrate, firm, and blur fine lines and cellulite. Meanwhile, nourishing shea butter and protective vitamin E improve skin tone, texture, and fend off free radicals.
Get ready to smell watermelon fresh this season!
DID YOU KNOW? It's been clinically proven to firm, lift, and improve texture in four weeks of daily use!
Pineapple Lip Treatment
Packed full of vitamins, antioxidants, and enzymes, pineapple extract is an effective exfoliant that sweeps away dead cells, brightens, and soothes. This popular tropical fruit can cool down overheated skin instantly. Plus, it contains natural antibacterial and astringent properties to keep skin irritation-free.
Truly's Pineapple Haze Hemp Glossy Lip Butter contains a healing blend of hemp, jojoba oil, vitamin E, and pineapple. Together, they hydrate and condition lips while shielding them from external aggressors. And that tropical scent? Divine!
Keep your lips smooth and juicy with this moisture-sealing daily balm that zaps away any chapness for day-long dreamy lips.
Cherry Body Cleanser
Cherries are excellent sources of skin rejuvenation, as they're rich in vitamins A, B, C, and E — and antioxidants. They can also help in evening out pigmentation, and minimizing the appearance of dark spots that often appear due to sun damage.
Love the smell of cherries? Then you'll LOVE Truly's Cherry Jelly Body Cleanser. Chock full of cherry, aloe vera, niacinamide, and mandelic acid, this body wash is your go-to summer shower essential. It'll keep your chest, back, and butt blemish-free.
In the summer, we're all more prone to sweat-related breakouts on the body. The most common areas of concern include the chest and back, but you may also experience acne on your upper arms and butt. This cleanser'll keep you clear all summer long! While leaving skin soft, sweet, and berry-scented!
Coconut Milk Serum
Coconut milk is an antioxidant-rich skincare ingredient that hydrates, soothes, and repairs skin. Its anti-inflammatory properties make it a go-to ingredient for soothing dry skin, ingrown hairs, and razor burn.
Truly's Coco Cloud After Shave Serum is a coconut-scented skin soother infused with calming coconut, hydrating argan oil, and antibacterial-packed vanilla, designed to treat post-shave irritation. Safe for all skin types, especially sensitive skin.
Antioxidant-rich white tea also lends its UV ray absorbing properties. It can help prevent lines, hyperpigmentation, and skin damage.
Avocado Cleanser
Avocado oil has quite the impressive portfolio. It promotes collagen content, absorbs free radicals, and helps skin maintain hydration. Both an emollient and an occlusive, avocado oil helps attract moisture and seal it in for hours of dewiness.
Truly's Super Matcha Facial Cleanser combines avocado oil with vitamin C and matcha. These help to alleviate oily skin and blemishes while drenching skin in long-lasting moisture. Include it in your daily beauty routine to keep your skin feeling and smelling avocado fresh!
Acai Berry Boob Polish
Acai berries are abundant in antioxidant properties, which helps them fend off free radicals and delay the signs of aging. While repairing damaged skin and replenishing lost moisture. You'll definitely still want to layer on the sunscreen when you use acai products. For best results, use them in conjunction with your daily SPF to make the duo work extra hard.
Truly's Acai Your Boobies Polish is a retexturizing boob scrub developed to perk up your pair and smooth out stretch marks and fine lines. In addition to acai, Acai Polish features anti-aging powerhouse retinol and dragon fruit for the silkiest skin.
At Truly, we sell many fruity-scented beauty products. In fact, most of our trending products are those bursting with juicy, fruity fragrance, like our Buns, Blueberry, and Acai lines.
DID YOU KNOW? It's been clinically proven to firm, lift, and improve texture in four weeks of daily use!
Make your summer skincare routine extra sweet, fruity, and fabulous by adding one or more of the above products into your daily regimen. From toners to cleansers and face masks, we believe skincare should feel great, look great...and SMELL great! Scent is, after all, a big part of the experience. That's why we devote a lot of time into making sure our products smell just right.
Our products are available on Trulybeauty.com, Ulta, Amazon, Walmart, Target, and Sephora EU.
Share
---