Get Our Limited Edition Holiday Robe While it's Still Here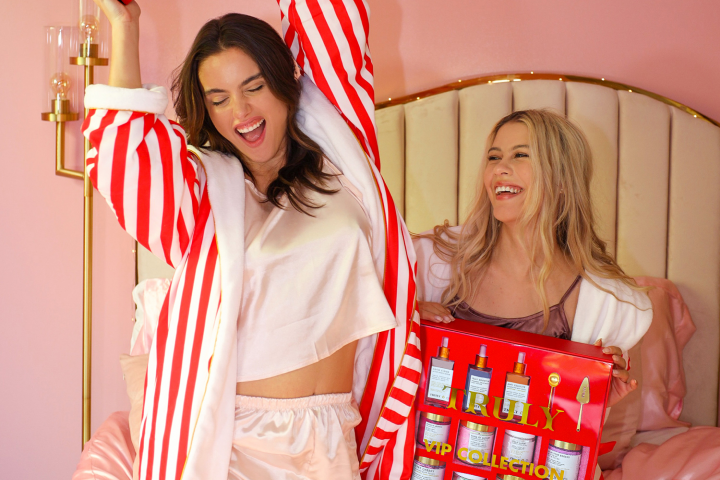 Sending you tidings of comfort and joy with our NEW limited edition Holiday Robe.
To get you in an extra festive mood this holiday season, we've released a brand new Christmas edition bathrobe — made to leave you feeling merry!
Another luxe robe to add to your collection, this gorgeous candy cane striped robe combines fun with functionality. You get the comfort and the cozy while looking festively stylish!
Here's everything you need to know about the Truly Holiday Robe — and all the ways you can use it.
Have Yourself a Merry Little Bathrobe
You can't beat that feeling of slipping into a snuggly bathrobe after a long, hard day. It's the perfect way to prep for a relaxing evening and a deep, rejuvenating slumber.
Treat yourself to Truly's Holiday Robe, a limited edition, luxury bathrobe that's only going to be around for Christmas. This red and white striped robe (with major candy cane vibes) features 100% vegan cushy teddy lining, a hood, tie waist, and pockets, and the signature Truly logo monogrammed on the sleeve. Plus, it's machine washable, so don't worry about getting any Unicorn Fruit smears on it.
The Specifics
One size fits all: 53.9 inches wide (fully opened up), 51.2 inches tall (excluding the hood), 20.9 inches arm length, 6.7 inch arm opening (at the wrist end of the sleeve). Dimensions: 53.9" x 51.1" x 20.9"
ONE ROBE, FIVE WAYS
Thought there was only one way to wear a robe? Nope! At least with Truly's robe, anyway, it's the staple accessory for selfies, special occasions, and spa days. Here are all the fun ways you can use our luxury Christmas bathrobe.
Perfect for Lounging
Chill out in this supremely cozy bathrobe, and look like the ultimate babe doing it! From binge watching your fave series to hanging out with your fave girls or family members, this super soft robe will leave you instantly calm, comfortable, and chill. Off with the work clothes, on with the dreamy robe!
It's been a tough year. You deserve to indulge in a little "me time" and what better way to do it than wearing this festive robe!?
Ideal for Selfies
Since the Holiday Robe is soooo chic, it's the perfect excuse to snap A LOT of selfies. Looking to make your Insta page a little more festive? Start wearing — and snapping — this adorable robe. Whether you're in it or using it as part of the holiday decor, there are so many ways you can use this robe to add some seasonal festivities to your page.
Wanna make your selfies really shine? Slather on some Truly skincare essentials to get your skin glowing and camera-ready! We have so many formulas that work hard and fast! For an instant glow fix, simply pat on one of our resurfacing serums, and then finish with a hydrating serum or cream for a dewy, radiant complexion.
Fab for Spay Days at Home
Colder weather calls for longer, steamier bathing sessions! Draw yourself the most indulgent bath, enjoy a long de-stressing soak, then slip in to your Truly Holiday Robe ready for some face + body TLC.
Splurge on a handful of our best-sellers, like our Vegan Collagen Facial Serum Booster, Starface Jelly Sleep Mask, + our DREAMY Dulce de Leches line. Slather these all over your skin after showering or bathing to firm, hydrate, and glow up your skin!
You can also set the tone by lighting a few scented candles, dimming the lights, and putting on your fave playlist. Even better, invite your besties for a spa day at home!
With the Holiday Robe being machine washable, you won't have to worry about Unicorn Fruit smears or Dulce drops. Just kick back, relax, and pamper yourself!
Great for Gifting
Instead of a gift card, T-shirt, or cashmere cardigan, get a little more creative with your Christmas gift. Treat your loved one to Truly's limited edition Holiday Robe for year-round merriness, comfort, and style!
Sure, it might not be on her wishlist, but it's a gift every gal can appreciate. Before you checkout, go one step further by treating her to another Truly accessory like our adorable totes and towels. Or pick up some of our bestselling beauty formulas to complete your gift.
Want other color options for this robe? If you dislike the red and white, we also offer robes in pink and blue.
The Ultimate Cold Weather Robe
Truly's Holiday Robe is full-length and features an ultra-soft sherpa lining to keep you warm, cozy, and comfortable while looking irresistibly chic — and FESTIVE! When it's icy cold outside, you can snuggle up in the comfort of this ultra cozy bathrobe while doing what you like.
It features a hood to provide you with extra warmth. And that cushy teddy lining...ooooo it feels amazing on your skin!
Shop Our Limited Edition Holiday Robe
Now more than ever before, we're taking time to check out — and in with ourselves. This limited edition Holiday Robe is the go-to accessory for chilling out and looking chic! It's high quality, won't snag, and will bring you year-round coziness.
Just a heads up: this little Xmas treasure won't be around for long! It's expected to hang around for the holiday season...after that, it'll be gone. Don't miss out on swiping this gorgeous festive bathrobe, whether for yourself or a friend!
Get it for FREE
....when you shop our NEW VIP 4.0 Holiday Collection. For a limited time only, we're giving away this Holiday Robe for free with every VIP 4.0 purchase. Just bear in mind that we only have a select number of robes we can give away, so don't hesitate to claim yours before they're all gone!
GET YOUR FREE HOLIDAY ROBE WITH VIP 4.0 PURCHASE
Share
---