5 Vegan Beauty Products to Pack in Your Suitcase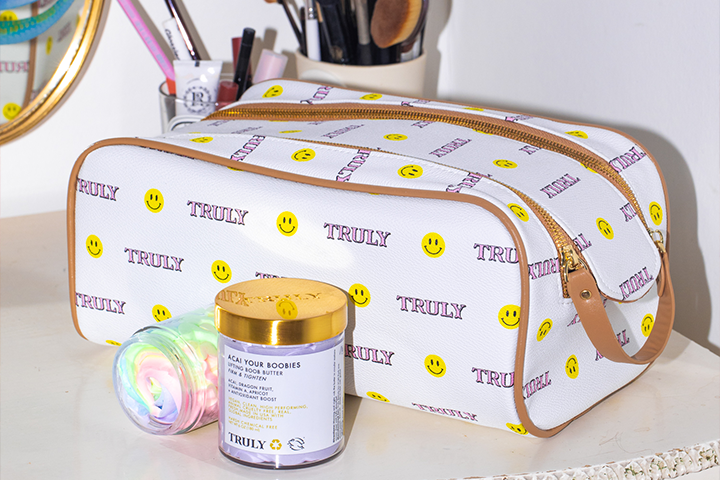 With both domestic and international travel resuming again, millennials are fast to start booking their next out-of-state adventure. While the way we travel has changed – and most likely will do for some time to come – the way we pack our suitcase hasn't. We still need to be picky on what outfits we squeeze in there and we mustn't forget the must-have beauty essentials to keep our skin healthy and glowing. 
At home, you may use up to 10 products on a daily basis, but when you travel you have to minimize all those products in favour of just a few. We've got it down to just five vegan beauty products with multifunctional benefits. Scroll down to find out what you should be packing, beauty-wise, in your suitcase. 
1. A Hydrating Shampoo and Conditioner
Traveling is known to cause dehydration – both to the skin and the hair. That's why you need to make sure it stays hydrated by packing a nourishing and moisture-rich shampoo and conditioner. Look for ingredients like coconut, argan, and jojoba – natural emollients to nourish and restore the hair. 
It's also worth packing your own shampoo and conditioner because you can't be certain that the hotel or AirBnb where you'll be staying will provide vegan bath essentials. 
Truly's Super Fruit Repair & Restore Shampoo and Conditioner is a vegan match made in heaven for your hair. Formulated with organic coconut, tea tree, argan oil, and jojoba oil, this high-performing plant-based duo coats your locks in goodness and restores their strong, silky form.
2. A Multipurpose Balm
When you're away from home and away from your cabinet full of skincare saviors, you never know what skincare concern might suddenly crop up and demand immediate attention. From sunburn to itchiness, it's great to pack a multipurpose skin soothing balm just in case. 
From dry patches to irritated skin, chapped lips to flaky cuticles, Truly's Pineapple Haze Skin Salve is an all-purpose vegan skin balm infused with pineapple, jojoba, mango and CBD to deliver head to toe moisture and relief. It can even cure your cracked heels and smooth out split ends. Whatever your beauty concern, Pineapple Haze will surely be able to fix it. 
3. A Rejuvenating Facial Cleanser
Travel places a great deal of stress on your complexion. That's why you need to use products that are hydrating and nourishing – to restore your glowing, plumped up complexion. Opt for ingredients like vitamin C to brighten up dull skin and B12 to both cleanse and nourish the skin. 
Truly's Super Matcha Facial Cleanser is an excellent product to travel with. Aloe-based with a boost of vitamin C and B12, it clarifies and rejuvenates the skin without drying it out. And even if you do find yourself with mild sunburn after spending too long in the sun, its soothing blend of matcha green tea and lavender will help reduce inflammation. It really is the plant-based facial cleanser every traveler needs. 
4. A Glow-Inducing Serum
There's no better time to catch up on your selfie sessions than when traveling. So you need your skin to look amazing! While you may not have all your beauty potions on hand, packing a nutrient-rich serum can make all the difference to your glow. 
Take Truly's Hemp Oil Facial Serum. This lightweight formula is enriched with hemp seed oil, ginseng, and vitamin A to hydrate, heal, reduce redness, and give your skin a healthy glow. Best of all, it's completely universal. You can use it as a facial serum, as an oil cleanser, or as a body moisturizer. You can even just use it as a lip gloss if you like. Remember to apply it before your sunscreen!
OTHER TIPS FOR KEEPING YOUR SKIN HAPPY WHEN TRAVELING
Besides relying on a few simple yet essential beauty products, it's also worth considering the following skincare travel tips.
Keep things similar to your normal beauty routine
While you won't be able to bring all your products along, try not to veer too far away from your ordinary skincare routine. Keeping your routine consistent really is key to maintaining healthy, happy skin. 
"A common complaint I hear from patients is having irritated skin, eczema, or acne breakouts after traveling," says Carol Cheng, M.D., director of the Acne Procedure Clinic at UCLA Medical Center. "There are a number of reasons for fluctuations in skin while traveling, but one of them may be deviating from normal skincare routine, therefore I like to try and minimize this factor by sticking to my home routine."
Remember your sunscreen!
Sunscreen is a daily essential. But it's even more fundamental when you travel because you tend to go outside more, leaving your skin vulnerable to harsh UV rays and pollution. Protect your skin by packing (and layering on!) sunscreen with at least SPF 30. If you're really fair, go with SPF 50 for ultimate protection. And remember, sunscreen should always be the last step in your skincare regimen. Apply everything else first. 
Take advantage of that dry plane ride
Flying? Plane rides – especially long ones – are notorious for drying out the skin. Use the several hours to your advantage by indulging in a personal pampering session for your skin. Massage the skin balm into your skin, under your eyes, on your lips, and even through the ends of your hair. It's the easiest and most convenient way to keep your skin and hair hydrated during and after the journey. Plus, it kills a little time. If you packed an eye mask, use it to take your in-flight spa session even further and make it even more enjoyable. Sleep always benefits the skin!
Drink up
Numerous studies, including this one, have shown how crucial hydration through water consumption is both for bodily functions and the skin. Always stay hydrated throughout your flight, sipping at water whenever you can to keep your skin nourished and replenished. Because flying draws out moisture from the skin, you need to restore that lost water by drinking plenty of fluids. 
Share
---