A Few Beauty Products to Keep At Your Desk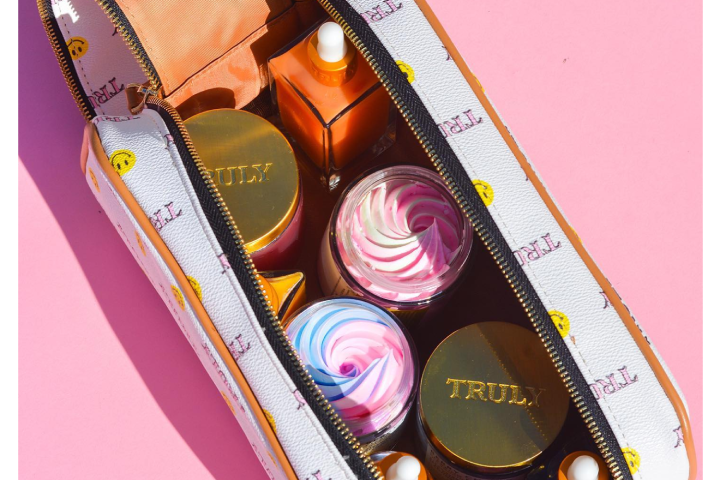 If you spend more waking hours at the office than you do at home, it's definitely worth stocking up your desk or drawer with a handful of beauty products to keep you clean, smooth, and glowing throughout the work day and beyond.
Besides the obvious benefits, skincare offers a self-care moment or two to overworked babes, helping you enjoy peace of mind and fulfilment while away from home. Work from home? You can also benefit from keeping a few skincare products at hand to instantly boost your mood. 
Here's a list of the best beauty essentials to stash at work.
Volcanic Rosewater All‐Over Hydrating Mist
Give your skin a spritz of hydration with this balancing rosewater spray. It's made with rose extract to reduce inflammation and discoloration, as well as vitamin-rich aloe to prompt a healthy skin barrier.
Keep a bottle of this in your desk drawer or right next to your laptop for those mid-day spritzes. Your skin will look instantly fresher and glowier with this refreshing face mist.
In addition to perking up tired, stressed out skin, this formula helps keep your makeup looking dewy. It even doubles up as a deodorant if you're looking to freshen up those pits.
GLOAT Lip Plumping Serum
Forget conventional lip balm, and give this hydrating lip plumper a try instead. Formulated with hyaluronic acid, coconut oil, and peppermint, this luscious lip serum offers softening, hydrating and plumping effects that will emphasize your pout. It's also convenient for those hourly touch ups if you want your lips staying plump, smooth, and minty fresh.
Dab a small amount of serum onto your lips every couple of hours to maintain smooth, hydrated lips. It also doubles up as a flyaway tamer and cuticle softener -- in case you need it!
Unicorn Fruit Eau de Parfum
It looks too good to hide in a drawer, but you can certainly keep it on full display for a quick pick-me-up throughout the day. Certain scents are proven to improve your mood and motivation, according to research. That's why it's definitely worth keeping your fave fragrance on your desk to help brighten your mood whenever you're feeling a little overwhelmed. 
This Truly signature fragrance is a glamorous bit of desk decor with fruity, feminine notes of vanilla, white floral and black currant. Besides leaving you smelling incredible, it's a great way to elevate your energy levels either at the beginning or end of the day.
Pineapple Haze Hand Cream
Keep your hands looking and feeling their best by keeping a tube of this repairing hand cream at your desk. It's made with exfoliating pineapple extract, hydrating mango, and soothing CBD to provide intense hydration and relief to severely dry skin, while improving overall softness and texture. 
This deeply nourishing lotion will keep your paws super soft and smooth all day long. And if you only recently got a manicure, this moisturizer will help prolong it and keep your hands looking their very best.
Our Stars Prevent Scars Acne Patches
Instead of covering up your breakouts with concealer, try patching it up with one of these blemish erasing star patches.
Truly's star shaped blemish patches are flecked with anti-inflammatory tea tree oil, exfoliating glycolic acid, and zit-draining hydrocolloid to fight acne, eliminate bacteria and inflammation, and prevent scarring.
Keep these patches in your desk or makeup bag for whenever a pesky pimple pops up. It's better to start treating it right away rather than angrily attack it with your fingers, which not only slows healing time, but worsens the situation and increases your risk of scarring.
Blueberry Kush Hemp Face Oil
Every beauty routine needs a brightening face oil that also offers protective benefits. Our number 1 product? Blueberry Kush CBD Face Oil. It's made with antioxidant-packed blueberry, brightening AHA/BHA, and plumping vegan collagen to fight the formation of fine lines and wrinkles, hydrate the skin, and leave you with an illuminated complexion.
Thanks to its high content of blueberries, this formula works as a natural shield against blue light -- the light emitted from your digital devices.
It's suitable for all skin types, and works wonderfully underneath sunscreen with SPF 30 or higher. Plus, it preps the skin perfectly for BB cream or foundation. 
Unicorn Fruit Whipped Body Butter
This multicolored, multipurpose body butter serves as a moisturizer, conditioner, lip balm, cuticle softener, and even a shave cream. It's so universal, you can use it for practically anything that involves boosting your hydration.
Made with a base of shea butter and infused with rose, matcha, and collagen, this smoothing body butter is here to wake up your skin, improve your mood, and keep your skin super soft and sweet scented. 
Keep it in your bag next to your makeup products like eyeliner, mascara, and eyeshadow for whenever you need a little pick-me-up.
Pack it All Up in this Skincare Travel Pouch
Keep all your beauty essentials in one place with this spacious vegan leather toiletry bag to transport your products in style. Feel free to fill it with other essentials not mentioned on this list too, such as dry shampoo, highlighter, and your favorite red lipstick. 
You could also try dedicating this bag to your workplace beauty products only. That way you don't need to empty it every evening or weekend. You can simply keep everything in there, which will save you so much time and energy.
Whether you commute to an office or work from home, everyone can benefit from keeping a few beauty essentials at their desk. You don't have to use all the products from this list, but it gives you a good idea of what's worth having nearby. 
We recommend focusing the most on hydration -- creams, lip balms, and nourishing serums can all make a huge difference to your complexion.
Share
---