How Vitamin C Revitalizes the Skin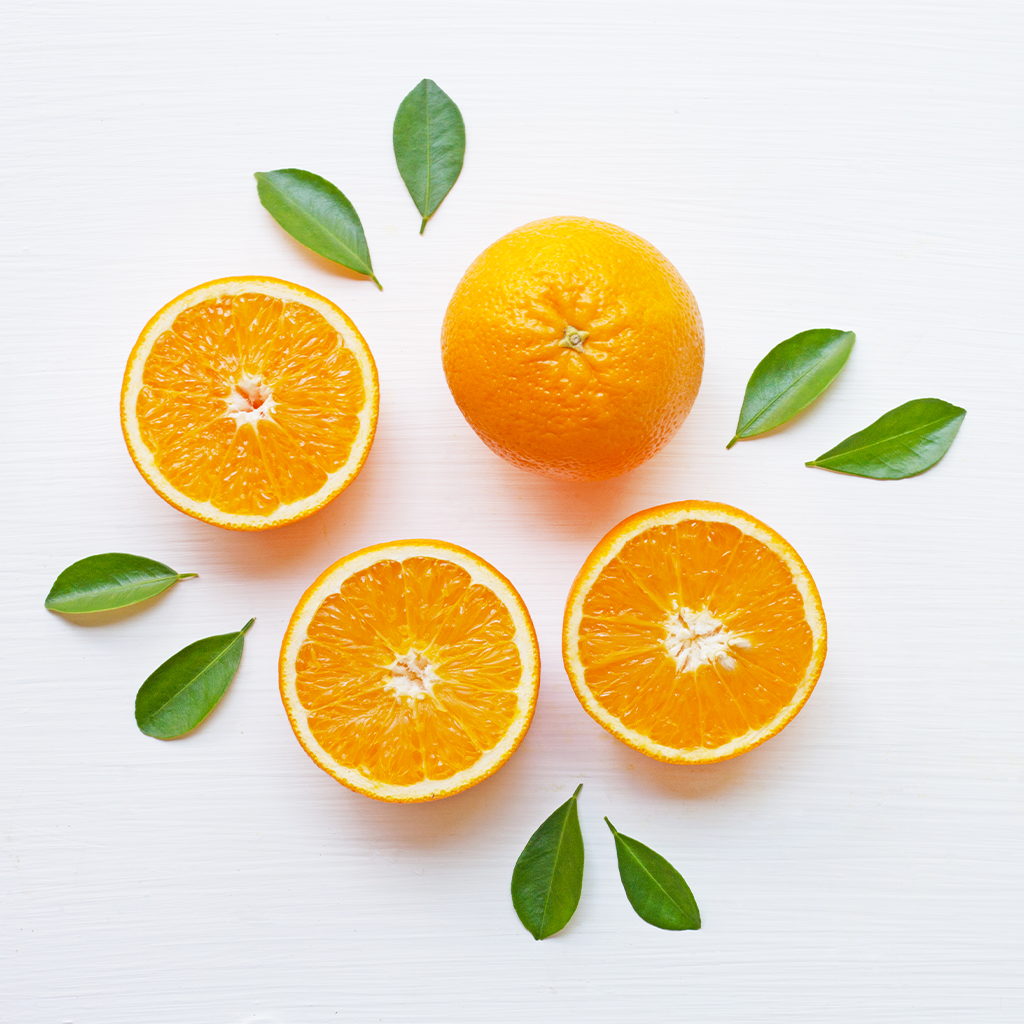 There's a reason vitamin C in skincare is so popular. It's because it works.
Of course, most people are familiar with vitamin C as a health care product, thanks to its immune system boosting properties. It offers a slew of health benefits, from preventing the common cold to accelerating wound healing, promoting healthy blood cells to enhancing absorption of iron.
Ultimately, healthy vitamin C levels are essential for your body to function as efficiently as possible.
Good sources of vitamin C include orange juice, red peppers, tomatoes, brussels sprouts, cauliflower, cantaloupe, grapefruits, kiwifruit, and other citrus fruits. Alternatively, consider vitamin C supplementation or multivitamins.
But what happens when you apply vitamin C topically? Can it offer just as many benefits externally as it can internally?
WHAT IS VITAMIN C?
First off, lets delve into what vitamin C is. According to the board-certified dermatologist Patricia Wexler, vitamin C is "a potent antioxidant that can utilize free radicals." She continues, "Because of its antioxidants properties, vitamin C aids in your body skin's natural regeneration properties, which helps your body repair damaged skin cells."
Eating vitamin C rich foods can fight off free radicals and lower risks of heart disease and other chronic diseases. But it can also improve your skin's overall appearance.
Vitamin C also neutralizes the production of free radicals, helping to keep your body and your skin cells healthy. This free-radical-fighting power isn't just crucial for preventing premature aging. Vitamin C may also protect skin from precancerous changes caused by UV exposure. Combine topical application with vitamin c supplementation for best results.
WHAT ARE THE BENEFITS OF VITAMIN C FOR SKIN?
Essentially, vitamin C is a skincare superhero. First of all, it's highly acidic. Research shows that topical application can stimulate production of collagen and elastin -- the two components that keep your skin looking young.
It also contains a property that inhibits melanin production -- responsible for causing dark spots and hyperpigmentation. Thanks to its high ascorbic acid, vitamin C helps prevent discoloration from forming altogether. Additionally, its' an excellent brightening agent that can effectively fade brown spots without damaging the skin or altering normal skin pigmentation.
Here's why you should add vitamin C to your skincare regime.
It Revitalizes the skin
Have you spent way too much time in the sun over the years? Prolonged sun exposure can cause several skin issues -- rosacea, flakiness, rough patches, discolored areas, etc. Applying vitamin C may guard your skin from this damage. 
One study from NIH found people with moderately photo-damaged skin experienced a noticeable improvement in skin appearance, including fine lines and skin tone, after using topical vitamin C for three months. Vitamin C supplementation may also help.
It Minimizes Redness
According to a clinical trial, regular use of vitamin C can even out blotchy, uneven skin, and fight against redness.
Everything from hormones to sun exposure to medical conditions can cause an uneven skin tone. Fortunately, high levels of vitamin C helps mend damaged capillaries in the skin that causes discoloration.
It Prevents Fine Lines and Wrinkles
Topical vitamin C can stimulate collagen production, the naturally occurring protein responsible for keeping skin tight and plump.
As you age, the body makes less and less collagen. Using high concentrations of vitamin C in skincare products helps slow down the aging process. Try using vitamin C supplementation alongside topical use for enhanced results.
It Eases Hyperpigmentation
Vitamin C intake and topical application can both help ease hyperpigmentation in the skin.
You see, too much melanin in the body can causes hyperpigmentation, whereas topical application of vitamin C inhibits the production of tyrosinase, an enzyme that contributes to melanin production.
What's more, vitamin C supplements may also help in combination with topical application.
It Gives You a Nice Glow
It would be best if you had high dosage of vitamin C for a healthy body and a healthy complexion. Daily application of vitamin C can also brighten your skin.
Owing to its high content of I-ascorbic acid and antioxidants, vitamin C boosts circulation, stimulates collagen production and lifts your overall complexion.
HOW TO USE VITAMIN C FOR SKIN
Start by adding more of this ascorbate vitamin into your diet. Look for foods with a high vitamin C content so that you can prevent a vitamin C deficiency and keep your skin looking healthy. If you can't get enough in your regular diet, try taking dietary supplements to ensure you are getting enough vitamin C.
Vitamin C supplementation can prevent kidney stones, eye disease, cardiovascular disease, age-related macular degeneration, and avoid scurvy. Additionally, this water-soluble vitamin can even improve iron absorption.
If you're not getting much vitamin C in your diet, you could be putting your health at risk. Other symptoms of too little vitamin C include bruising, bleeding gums, high blood pressure, common cold, cardiovascular disease, and more. Increase your vitamin C intake to prevent and get rid of these symptoms. And the best part is, there are no side effects of high-dose vitamin C. So make sure you are getting your daily recommended dietary allowance (RDA) of vitamin C. And always look out for the mg of vitamin C to ensure you are getting enough.
However, vitamin C is also a great skincare ingredient. Here are some tips for getting the most out of your vitamin C serum.
1. Apply it in the morning
Since vitamin C becomes less effective when exposed to light, apply it in the morning. This way, it can absorb into your skin before going outside.
2. Use the right vitamin C concentration
Vitamin C serum come in different strengths, ranging form 5% to 30%. Those with oily skin will probably be able to handle higher levels. Those with sensitive skin, on the other hand, should stick to lower concentrations like 5% to prevent irritation.
3. Add Vitamin E into the mix
Did you know that adding vitamin E into the mix can double vitamin c's skincare effects?
"Pure ascorbic acid has consistently been proven to be the most effective at penetrating the skin barrier," explains Wexler. "Vitamin C effectiveness increases when combined with other antioxidants, such as vitamin E, and together they can double protection against free-radical damage."
Together, these two skin superstars can eliminate oxidative stress, prevent blood vessels from appearing in the skin, and promote an overall healthy complexion.
SUPER MATCHA FACIAL CLEANSER
Clean and soothe your skin simultaneously!
Anyone with sensitive skin will know how hard it is to find an effective cleanser that doesn't leave your skin all red and blotchy. 
Rejuvenate your complexion using Truly's aloe-based cleanser boosted with vitamin C and B12 to clarify, nourish, and soothe your skin.
Formulated with a blend of matcha green tea and willow bark extract, Super Matcha Facial Cleanser will reduce inflammation and leave your face feeling squeaky clean. It really is a Matcha made in heaven.
HOW TO USE
Wet face first, then apply two pumps into wet hands and massage into your face and neck for 30 seconds. Rinse thoroughly. For best results, use daily - morning and evening.
Truly Beauty is a vegan and cruelty-free skincare supplier in the United States.
Get your Super Matcha Facial Cleanser for only  $26.00 today!
Share
---