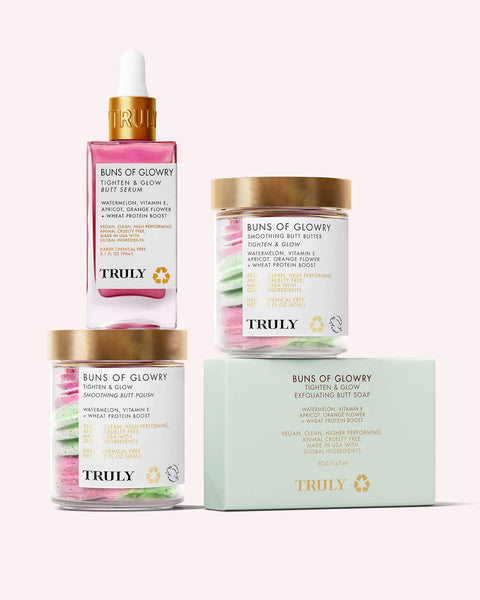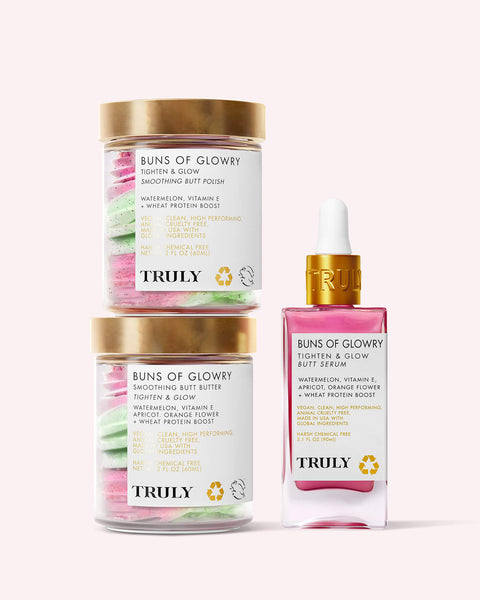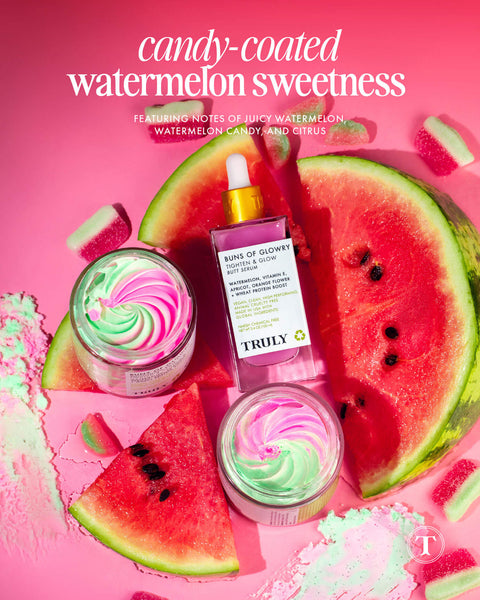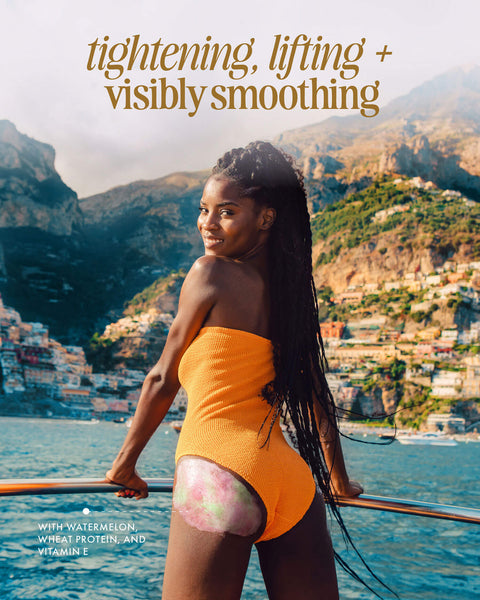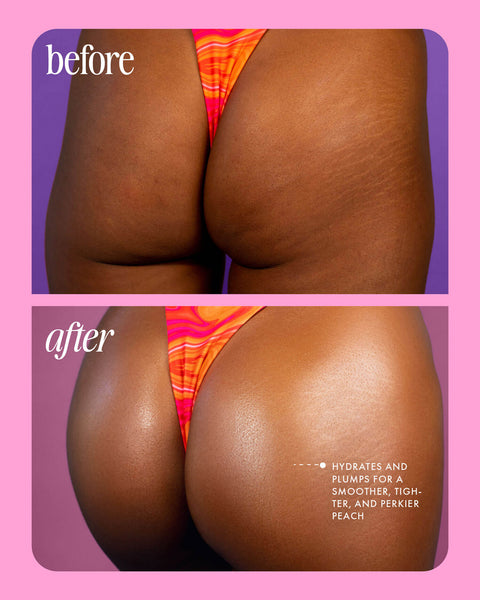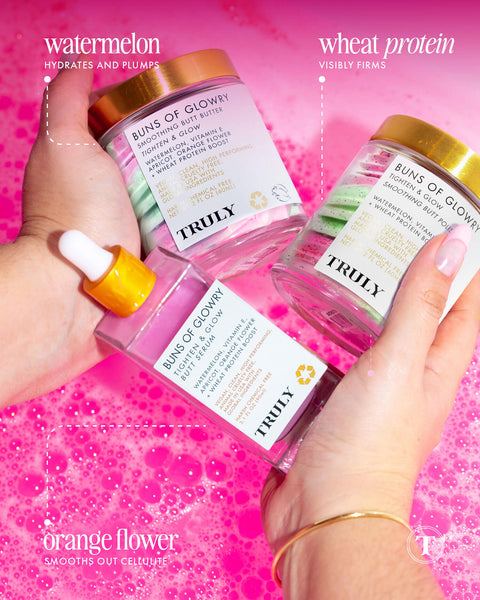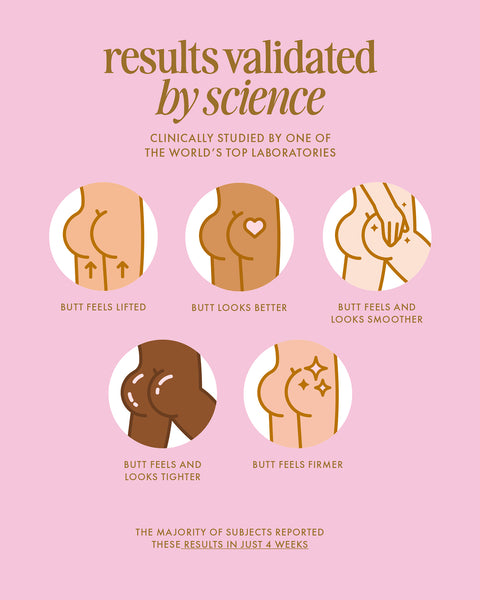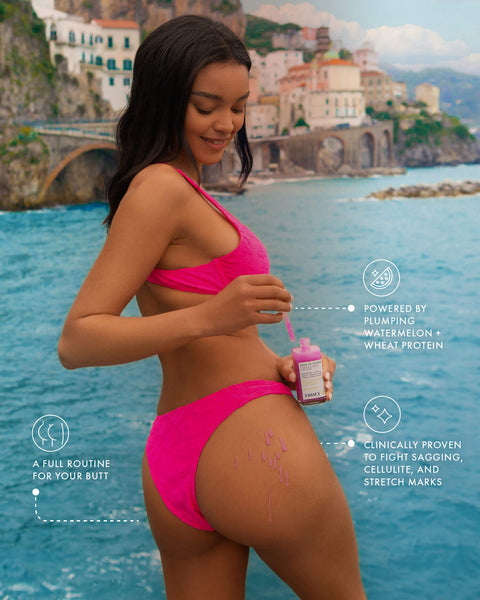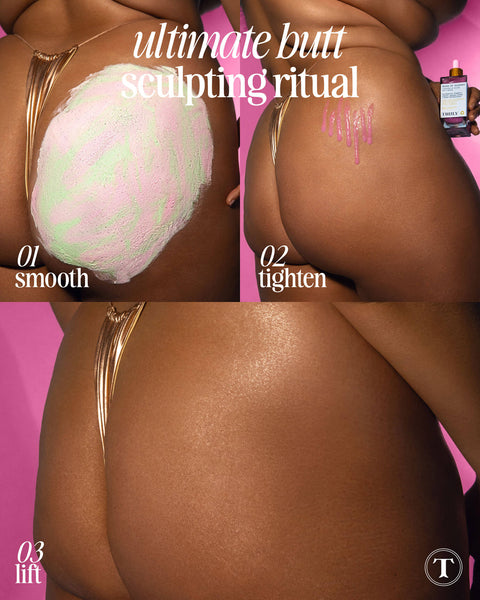 Booty Routine
>Good to Know:
Brightening
Tightening
Moisturizing
Tone your tush, the Truly way.
Our Buns of Glowry line has now achieved cult status in the realm of butt skincare. These three booty formulas are designed to firm, tone, and rejuvenate your butt skin while smoothing out stretch marks and cellulite. Each product is infused with plant-based potent ingredients like juicy watermelon, protective vitamin E, and plumping wheat protein to provide a fuller, perkier-looking peach in less than a month!
What You'll Get:
🍑 Buns of Glowry Smoothing Butt Polish 2 Oz / 60 Ml
🍑 Buns of Glowry Butt Butter 2 Oz / 60 Ml
🍑 Buns of Glowry Tighten & Glow Butt Serum 3.1 Oz / 90 Ml
What Makes Truly's Buns of Glowry Bundle SO Good?
All three formulas are clinically proven to firm, smooth, and improve skin tone after four weeks of daily use. Last year, we sent our Buns of Glowry line to the lab to evaluate each product's overall effectiveness. Results showed a 10.6% reduction in uneven skin tone and a 20% reduction in texture on the butt. Subjects also noted a visibly firmer, lifted butt at the end of the trial.
Essential Ingredients:
Watermelon 🍉
Wheat Protein ✨
How to Use:
Buns of Glowry Polish: In the shower, scoop out a palmful of polish and mix with water to get a nice lather. Massage into your booty using circular motions, and rinse.
Buns of Glowry Serum: After showering, apply 4-5 drops of serum to your booty. Rub in until fully absorbed. Leave on.
Buns of Glowry Butter: Apply a dollop of butter all over your butt. Massage in well until fully absorbed before getting dressed. Leave on.
What it Targets:
🔥 Hydrates
Seals in long-lasting hydration for super soft cakes.
🔥 Reverses Sagging
Tightens, lifts, and firms for extra chirpy cheeks.
🔥 Combats Cellulite + Stretch Marks
Improves skin texture and reduces the appearance of dimples and stretch marks.
Subscribe, and Save 10%
Your tightest tush is just one month away! Subscribe now, and we'll deliver all your Buns of Glowry essentials straight to your door each month so you can maintain a bright and bouncy booty all year-round. As a Truly subscriber, you'll receive 10% off every order – meaning HUGE savings for you and your butt!
Commitment-free. Hassle-free. Pause or cancel anytime!
Stay updated on our HOTTEST deals, captivating content, and more!