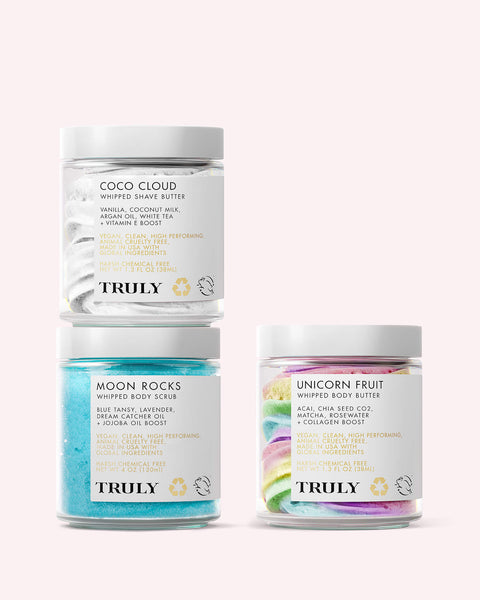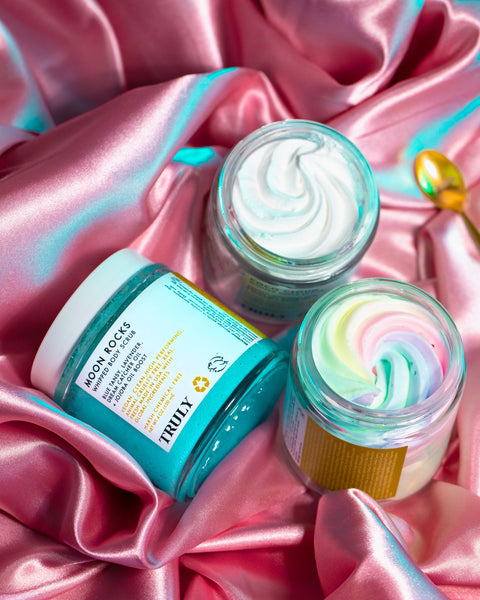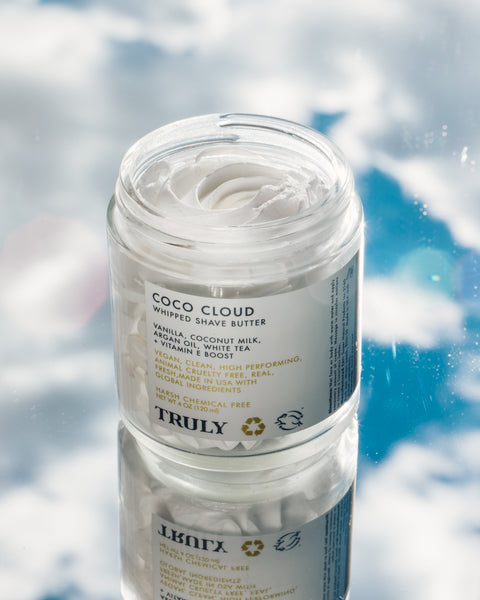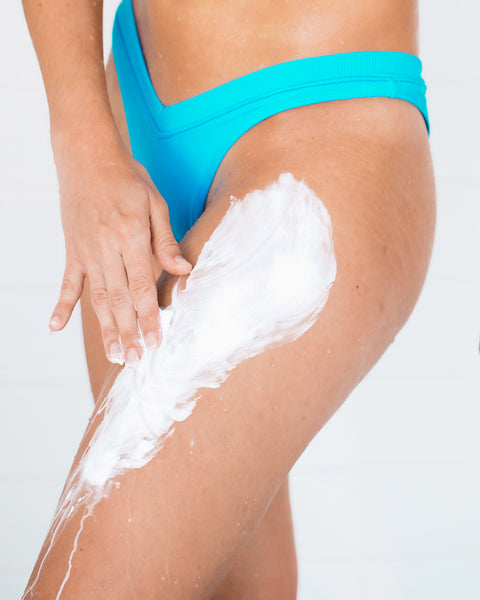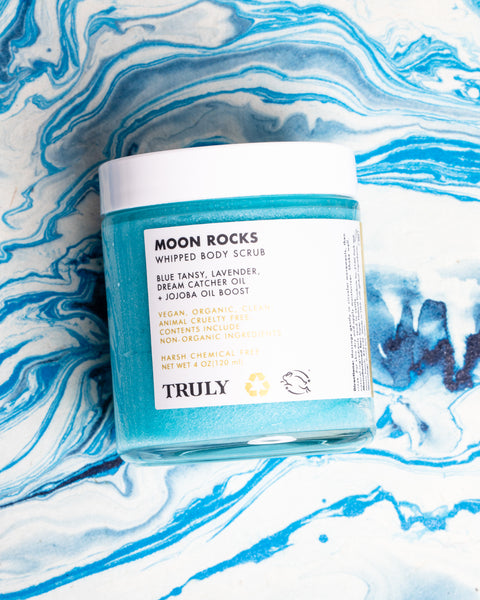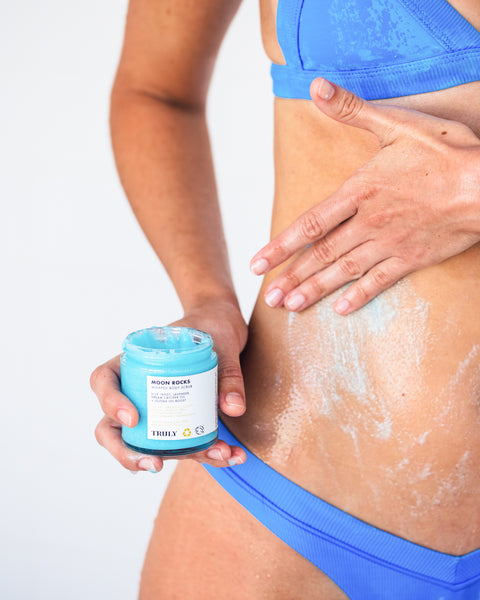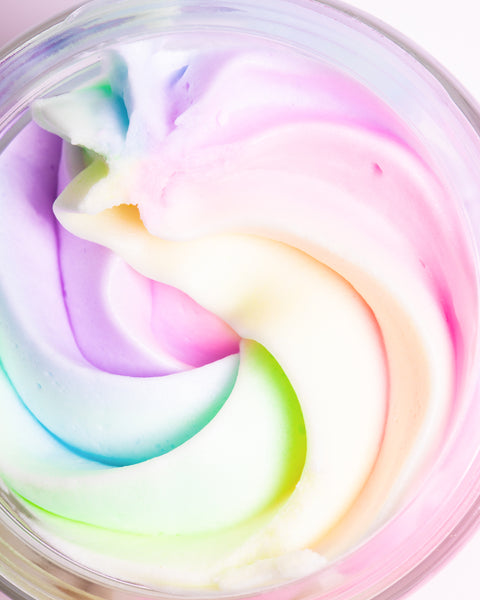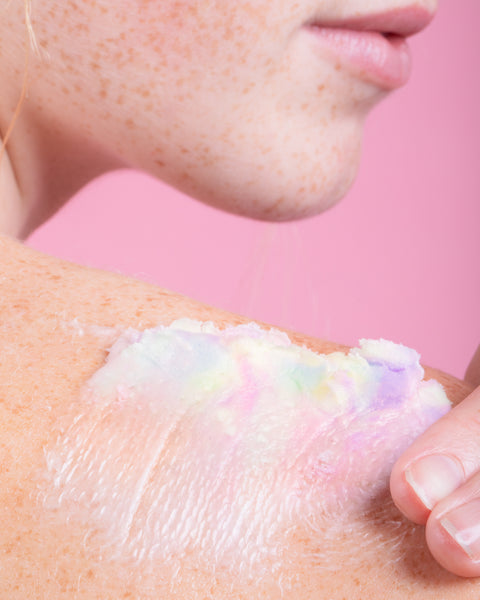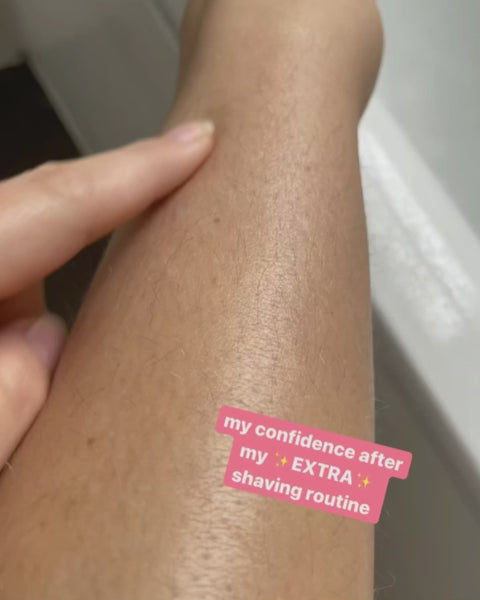 Silky Smooth Shave Routine
>Good to Know:
Moisturizing
Exfoliating
Healing
Shave days just got supremely satisfying!
Our OG shaving routine includes our bestselling Moon Rocks Scrub, softening Coco Cloud Shave Butter, and TikTok-famous Unicorn Fruit Body Butter to help you achieve an ingrown-free, silky smooth shave every single time – in only 3 steps.
With fluffy, whipped formulas and uplifting summer scents, you'll enjoy every step of this effortless (and enchanting!) shave routine.
What's Inside
🥥 Coco Cloud Whipped Shave Butter 1.3 Oz / 38 Ml
💙 Moon Rocks Whipped Body Scrub 4 Oz / 120 Ml
🦄 Unicorn Fruit Whipped Body Butter1.3 Oz / 38 Ml
WHY IT'S SPECIAL
Moon Rocks Scrub buffs away excess dirt, oil, and dead skin cell buildup pre-shave while lifting hairs away from the skin - for the smoothest razor glide ever.
Softening coconut in our Coco Cloud Shave Butter hydrates, aiding the skin in moisture retention to combat post-shave irritation.
Shea in our Unicorn Fruit Body Butter boasts soothes razor burn and forms a protective, healing barrier over the skin.
What Makes this Bundle SO Good?
Three of our bestsellers come together in this kit to nourish skin with vitamin-rich coconut, anti-inflammatory blue tansy, and antioxidant-rich acai berries for your softest, smoothest, twinkliest skin.
Essential Ingredients:
Coconut Milk 🥥💦
Blue Tansy 💠🔥
Acai Berries 💧✨
How to Use:
Moon Rocks Whipped Body Butter: In the shower, massage a palmful of shaving scrub into your skin. Let it sit for a minute or two, then rinse.
Coco Cloud Shave Butter: Using warm water, lather up your shaving cream and apply to desired areas. For best results, shave with the grain and rinse your razor after every swipe. Repeat the process for an even closer shave.
Unicorn Fruit Body Butter: Apply a dollop of moisturizer to the entire body after shaving. Leave it to fully absorb before getting dressed.
What it Targets:
Hydrates
Seals in long-lasting hydration for dewy, silky soft skin.
Brightens
Buffs away dead skin cells and dirt to reveal your glowiest skin.
Prevents Razor Burn + Ingrown Hairs
Softens hair follicles and skin for an effortless, irritation-free razor glide.
Subscribe, and Save 10%
Get your FAVE shave routine delivered straight to your door each month, and never run out again!
Subscribe now, and you'll save 10% on every order.
No stress. No commitment. Pause or cancel anytime!
WHAT ARE PEOPLE SAYING ABOUT SILKY SMOOTH SHAVE SET
Silky Smooth Shave Set
"The Silky Smooth Shave Set is a must have! The scrub exfoliates my skin and helps me get the closest shave. It leaves my skin super smooth and smells like candy! I have dry skin so the shave butter and body butter help to hydrate my skin and make it appear glowy! I love this set and definitely recommend it."

Denise Duran
TikTok:
@deniseduran05
IG:
@denise__duran
Silky Smooth Shave Set
"I am obsessed with the Silky Smooth Shave Set! This three step shaving process leaves my legs looking and feeling so smooth! This set will be my new go-to shaving routine. I am always ready for a beach day or sunset swim while using these products!"

Adi Headington
TikTok:
@adigraceeeee
IG:
@adigracee
Silky Smooth Shave Set
"I love using Truly Beauty's Silky Smooth Shave Set! The products make my skin look shiny and feel buttery soft! I'm never going back to shaving with regular soap again. You need to try this kit!"

Tori Halford
TikTok:
@torihalford
IG:
@torielizabethfit
Stay updated on our HOTTEST deals, captivating content, and more!