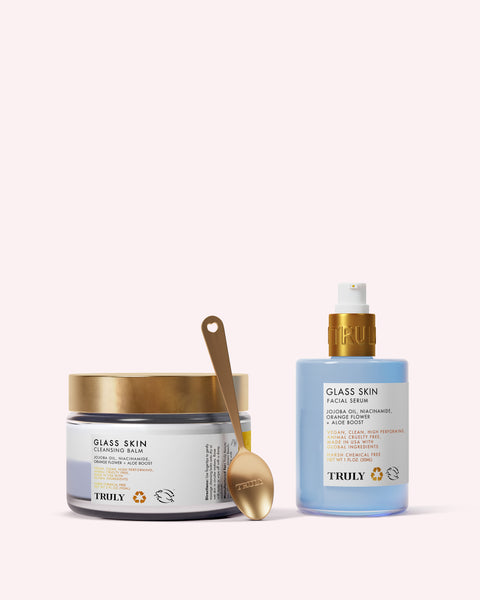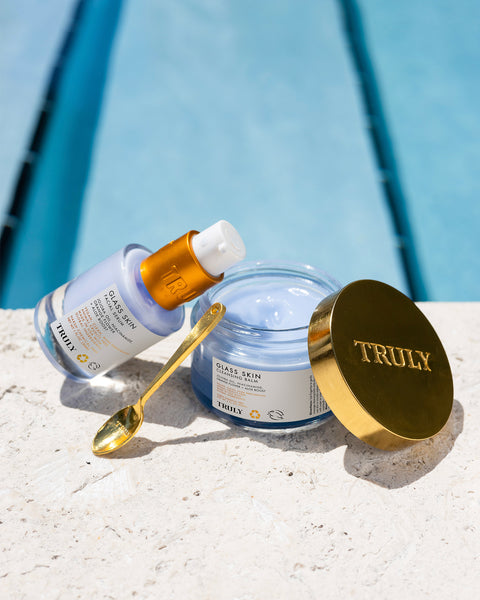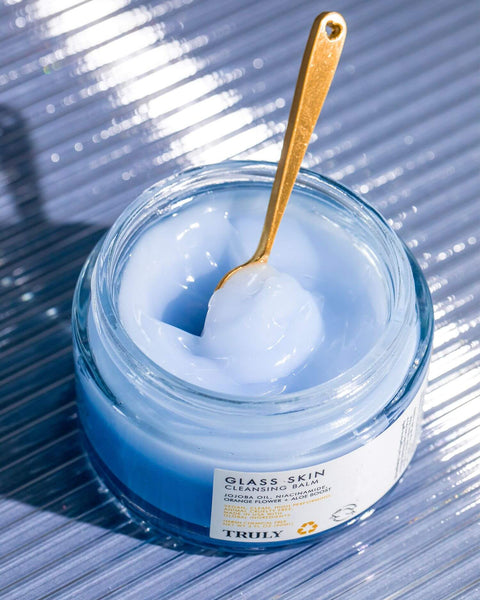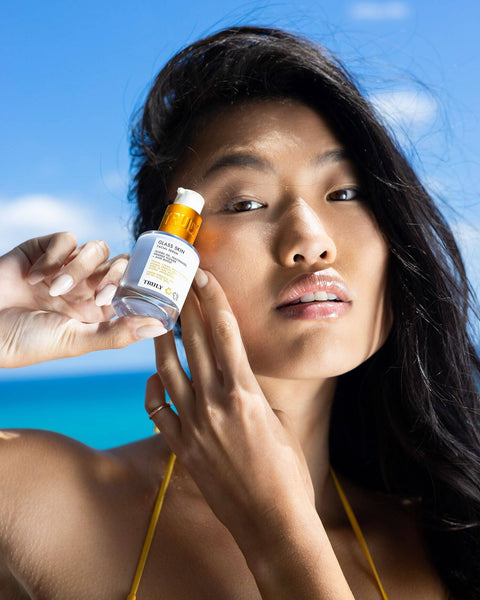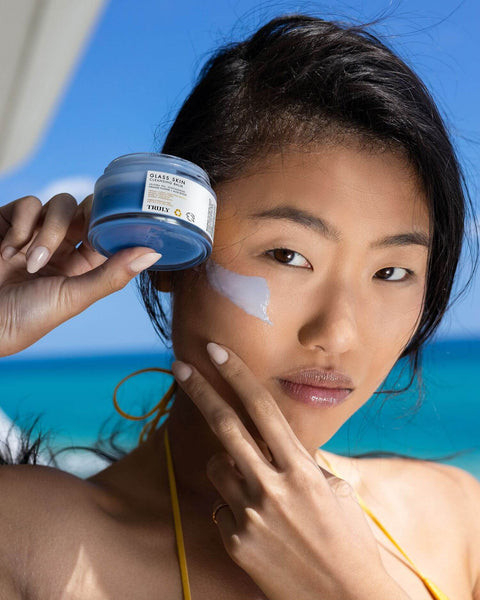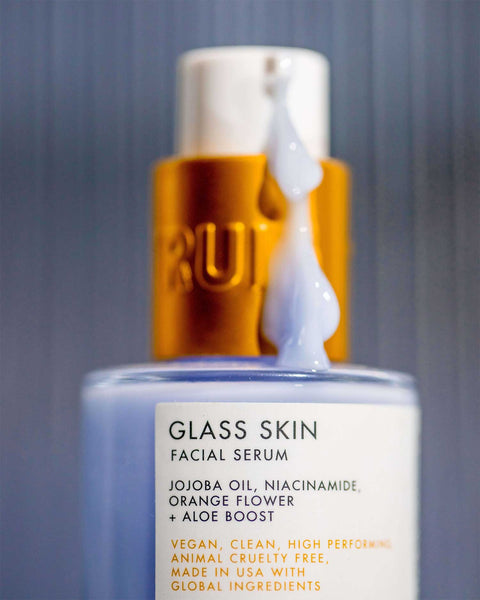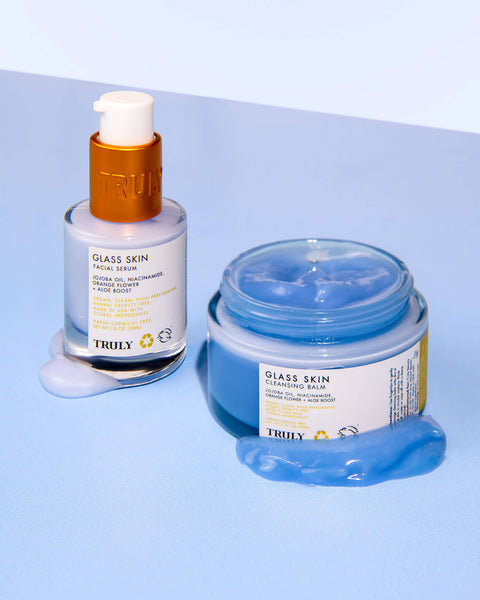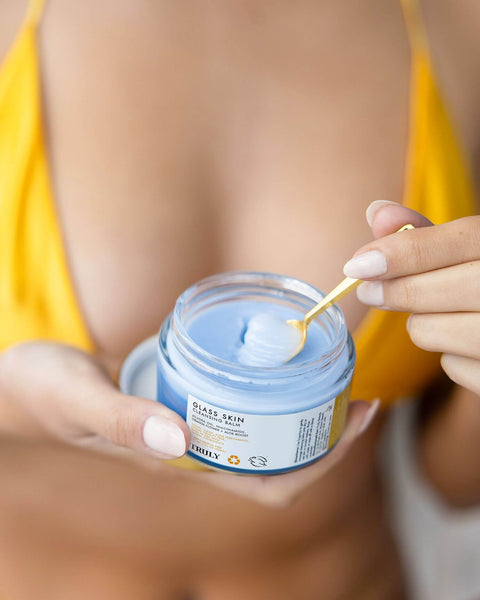 Glass Skin Set
>Good to Know:
Hydrating
Acne-Fighting
Soothing
Filter-Effect
Like your selfie filter, just better.
Inspired by the K-beauty craze, the Glass Skin Set blurs pores, clarifies blemishes, and hydrates skin while restoring your natural glow. Rich in jojoba oil, niacinamide, and probiotics to hydrate, soothe, and refine, this duo leaves skin looking poreless and radiant. In only two steps!
The Glass Skin Cleansing Balm is a 2-in-1 cleanser and makeup remover that cleans deep into the pores, lifting sebum, gunk, and makeup for a smooth, clarified complexion. The Glass Skin Facial Serum targets dullness, dryness, and large pores for a better-than-filter, glinting finish.
What You'll Get
💎 Glass Skin Cleansing Balm
💎 Glass Skin Facial Serum
🎁 FREE Gold Spoon
Why it's Special
Save yourself the 10+ steps of a traditional Korean glass skin routine with this super speedy, streamlined routine.
Better than pore strips + vacuums: our Cleansing Balm is your gentle solution for a blackhead-free existence.
Featuring Truly's first ever pump bottle serum for precise, mess-free product application.
Great for all skin types!
Fragrance-free.
Key Ingredients
Niacinamide ✨
Jojoba Oil 💧
Probiotics 🦠
Full Ingredients:
Glass Skin Cleansing Balm:
Glass Skin Serum:
How to Use:
Glass Skin Cleansing Balm: Gently massage the cleansing balm onto dry or wet skin using circular motions. Rinse off or wipe away with a clean, damp washcloth.
Glass Skin Facial Serum: Apply a couple of pumps to cleansed and toned skin. Massage into skin and allow to absorb for one to three minutes before applying moisturizer. Use both day and night.
One Set, Multiple Routines
Try these sub-routines to tackle dullness, dryness, large pores, blackheads, and meh makeup.
The Makeup-Melting Quicky: Massage Glass Skin Cleansing Balm into skin using circular motions to dissolve makeup + rinse off. Repeat for heavy makeup.
The Glow-and-Go Routine: Glass Skin Facial Serum.
The Filter-Effect Makeup Routine: Glass Skin Cleansing Balm + Glass Skin Facial Serum + your fave foundation.
The Better Foundation Formula: Mix a drop of Glass Skin Facial Serum + your fave foundation for an extra dew boost.
What it Targets:
Dry, Dull Skin
Deeply hydrates for skin that's smooth, soft, and gleaming
Enlarged Pores + Blackheads
Decongests and balances sebum production for a clear, poreless complexion
Redness + Irritation
Soothes and fortifies the skin barrier to alleviate redness, acne, and sensitivity
Free
GOLD SPOON 💙🥄
Complete your Truly collection with this adorable gold spoon. Perfect for scooping up your cream in style – without transferring germs into your container.
GET YOUR FREE GOLD SPOON
Free with Glass Skin Set
Free
GOLD SPOON 💙🥄
Subscribe & Save 10%
Start your Glass Skin transformation today! Put our Glass Skin Set on auto-ship, and we'll deliver it straight to your door each month. Subscribe now, and save 10% on every order.
No commitment. Pause or cancel anytime.
Stay updated on our HOTTEST deals, captivating content, and more!