Get Your Butt Bright, Clear, and Bikini-Ready in 3 Steps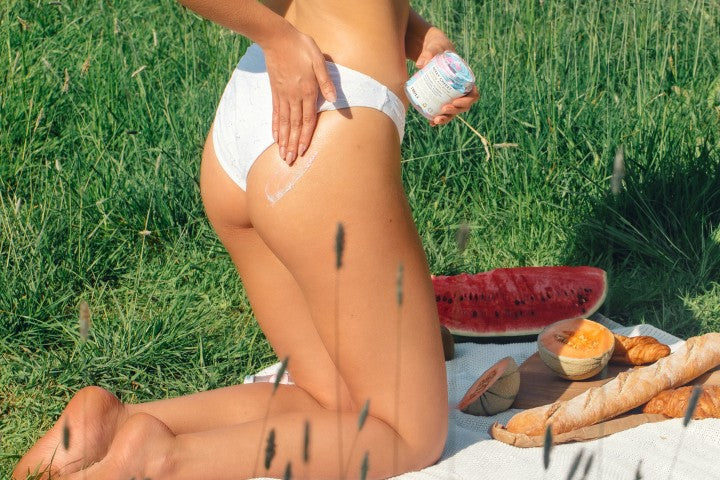 Juicy, clearing, and berry-scented...
Truly's brand new limited edition Berry Cheeky Bundle is here to light up your booty!
When it comes to skin care, you may be overlooking your butt. Here's why that needs to change: your booty is just as susceptible to skin concerns like stretch marks, cellulite, and breakouts as other parts of your body. It's also prone to dryness, sagging, and dullness - again, like the rest of your skin. To clear and brighten your booty for summer, it's time to start showing your derriere some TLC!
Our Berry Cheeky line can help you achieve booty bliss. 
But first...more about why you need a butt skincare routine in the first place. 
BUTT BEAUTY CONCERNS YOU SHOULD KNOW ABOUT
Everyone is susceptible to the following butt skincare concerns:
Acne: Also known as butt acne or buttne, dermatologists see this issue all the time. "It's created by plugged pores that create pimples and cysts that go deeper than what occurs on the face," explains Fiona Wright, M.D., of Skin MD and Beyond in Texas.
Besides dressing your tush in breathable clothing, using skincare products formulated with alpha hydroxy acids (AHAs) and beta hydroxy acids (BHAs) to remove dead skin cells can help keep blemishes away. Exfoliation is also key to keeping your booty clear. 
Dry skin: Just like the rest of your body, your butt needs hydration. And the way to do that is with nourishing, hydrating body scrubs and moisturizers. While you don't need a lotion specifically designed for the butt, it can help in keeping the area soft and smooth. And the secret to a baby-smooth butt lies in consistency. So make sure you're smothering it in lotion 1-2 times a day, every day. 
Dullness: dull skin affects your tush too! Luckily, with the right brightening beauty products, you can enjoy a brighter, glowier booty. 
Sagging: exercise obviously helps give your butt a push, but skincare products help too. Using products that contain vitamins, antioxidants, and collagen-boosting ingredients help increase elasticity in the skin for a firmer, tighter booty. Keep up those squats, by all means, but you'll maximize your workout sessions with the right skincare formulas.
...INTRODUCING BERRY CHEEKY BUNDLE!
It's Truly's latest limited edition line specifically designed to clear, smooth, and pick up your butt!
This fruit-filled line features a scrub, serum, and butter, with all three products containing the same key ingredients: 
Strawberries: loaded with AHAs and vitamin C to exfoliate and brighten the skin on your booty.
Blueberries: packed with zinc and iron, blueberries helps protect the skin and provides exfoliating abilities to soft skin too.
Allantoin: accelerates the skin's natural healing processes to fade discoloration, drive out acne, and provide firming effects.
WHAT EACH PRODUCT PROMISES
Berry Cheeky Butt Polish
Forget butt masks and trade them for this booty scrub instead. Clearing, smoothing, and evening, this scrub gets the job done - and fast! Whether you're dealing with butt breakouts or rough patches, Truly's Berry Cheeky Butt Polish sloughs away dead skin cells to reveal brighter, clearer skin. Plus, did we mention your booty will smell berrylicious!
Berry Cheeky Butt Serum
Butt serums aren't widely known in the field of dermatology, but that doesn't mean we don't need them. We do! People will cover their backsides in sheet masks to make things smoother down there, but what they really need is a nourishing, hydrating serum. Booty masks are great and all, but to really see results you need to be using products consistently. Making Berry Cheeky Butt Serum part of your daily skincare routine will give you way better results than the occasional butt sheet mask will. 
Berry Cheeky Butt Butter
Brimming with berries, this butt butter helps soften the skin while clearing acne on the bum. Thanks to its high content of antioxidants, it'll also help fade discoloration and acne scars. Wear it every day to keep your booty in check.
How to Use:
Step 1: Polish: in the bath or shower, apply a small amount of polish on wet skin. Massage it well into the skin to get the circulation pumping. Leave it on for 3-5 minutes then rinse.
Step 2: Serum: after bathing or showering, apply 1-4 droppers of serum on clean, dry skin.
Step 3: Butter: apply a thin layer of butter to the targeted area. 
For best results, make these products part of your daily routine. 
HOW DOES IT COMPARE TO OUR OTHER BOOTY PRODUCTS?
Wondering how Berry Cheeky weighs up against Truly's iconic butt skincare products like our aloe and watermelon-infused Buns of Glowry products?
They're practically the same in regards to their effectiveness. However, the differences lie chiefly in their product make up and scent. Glowry is watermelon-scented, while Berry Cheeks smells like...you guessed it, berries! Either way, they're both a wellness treat for your butt.
To level up your bikini-ready skincare, give our acai and coconut oil-formulated boob products a try too. Then you're all set for the beach - or balcony?
GET IN LINE FOR TRULY'S BERRY CHEEKY LINE
"Butt is the new face. It is an act of ultimate self-care. You do it for yourself, not for anyone else," says Sylwia Wiesenberg, the founder of Bawdy Beauty.  
Want to show your booty some love?
Truly's Berry Cheeky Bundle is the way to go! Featuring three butt-clearing products, this kit is exactly what you need to get your butt looking hot and sculpted this summer! Obviously, it's hot as it is, but just to heighten the hotness...make this 3-step kit a part of your daily butt skincare routine.
You don't need a butt skincare routine, but it's definitely a great way to make more time for yourself and indulge in some self-care. Plus, you'll get a few butt-blissful side effects: think tighter, brighter, clearer, and smoother!
Share
---