My $60 Boob Lift: All Perks, No Pain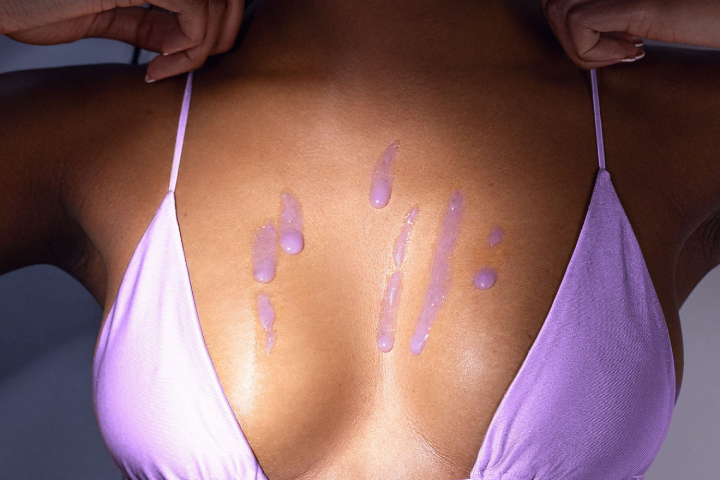 I'm going to let you into a verrrry juicy secret.
I just got a $60 boob lift — without going under the knife.
Two bust firming products was all it took to see a visible improvement in the appearance of my boobs. In just over four weeks of daily use, these two skincare products left my tatas noticeably smoother, firmer, and lifted.
I know, I know...breast firming creams and serums sound a lot like a fad. Seriously, how can a skincare products make much of an impact on your breasts? Turns out: A GREAT DEAL.
Ahead, I share my personal experience using two of the finest boob firming products around.
For Your Boobs Routine
This 2-step boob lifting and firming routine features a boob polish + serum clinically proven to improve skin tone, texture, and tightness. Powered by antioxidant-rich acai berries and elasticity-restoring retinol, this duo works to give your breasts a more lifted and defined appearance.
It's kind of like an 'invisible bra'. You get all the lift and definition that you'd get from your daily bra, without even wearing one.
Whether you're dealing with sagging breasts, fine lines, stretch marks, or boobne, this boob routine's got you covered.
Why it Works
The secret to a perkier pair lies in boosting skin elasticity (the skin's ability to snap back to its original shape). This routine's superpower is retinol, a vitamin A derivative known for boosting collagen production and giving skin elasticity. It's by far one of the best active ingredients out there for tightening the chest area and giving your boobies subtle lift.
Acai berries also deserve some of the credit. These tiny but mighty berries are packed with antioxidants and amino acids that help protect skin against environmental aggressors while preventing collagen loss and fine line formation. Together, retinol and acai are the dream team for smoothing, plumping, and lifting your bust.
Alongside this, nourishing and hydrating jojoba oil, shea butter, aloe vera, glycerin, and vitamin E help with replenishing lost moisture for visibly softer, smoother breast skin.
Results Validated by Science
Don't just take my word for it! Truly's acai formulas have been clinically proven to improve the feel and look of your boobs.
Subjects reported these results in just four weeks:
✔ Noticeable lift
✔ Improved tightness
✔ A perkier appearance
✔ Improved skin tone and texture
The Products
Acai Your Boobies Polish
A retexturizing boob scrub supercharged with retinol, acai, and dragon fruit, designed to sculpt loose skin while also targeting the appearance of stretch marks and fine lines.
Why I love it:
That swirl, for starters! Dipping into this tub of lavender, berry-specked swirl makes the routine so indulgent and satisfying.

My boobs felt instantly smoother. After lathering up with this polish, I could feel the improvement in texture immediately.

My boobs feel and look tighter. Three weeks into using this polish, I could see and feel the difference in my boobs. They feel noticeably firmer, tighter and smoother. And they look visibly perkier.

My boobs look brighter. Thanks to retinol's resurfacing properties, my melons looked luminous after just a couple of shower dates with this tub full of berry heaven.

That scent! Sweet, fruity, and sensuous...it's truly delicious!

It's cruelty-free! Like all of Truly's products, this serum is clean, vegan, and cruelty-free.
Acai Your Boobies Serum
A silky, berry-scented serum formulated with a balance of .2% retinol and antioxidant-rich acai extract to deeply moisturize and visibly lift your boobs.
Why I love it:
It melts into skin. I don't know about you, but I'm not a fan of those products that leave you sticky, icky, and looking greasy. This breast serum melts into your skin without leaving behind a greasy residue.

My boobs are firmer, perkier, and smoother. It must be all those powerhouse active ingredients! After committing to applying this serum every day for four weeks, my breasts now feel and look smoother, tauter, and more lifted. It's like I'm wearing a push up bra — without the bra.

Less visible stretch marks. Before using this serum, I had a couple of faint stretch marks etched onto my breasts. After slathering on this serum religiously for four weeks, those stretch marks have almost gone. They look much less noticeable now.

It's cruelty-free! Like all of Truly's products, this serum is paraben-free, vegan, and cruelty-free.
How to Use
Step 1. Acai Your Boobies Polish: In the shower or bath, take a scoop of polish and mix with a little water to create a nice lather. Massage into your chest, boobs, and décolleté area using circular motions, then rinse.
Tip: I like to use this polish as a mask sometimes for extra tightening power. Simply apply it as normal, leave it on for 10-15 minutes, and rinse off.
Step 2. Acai Your Boobies Serum: After showering, pat skin dry and apply a few drops of serum to your breasts. Massage in until fully absorbed before getting dressed. Use it like you would a massage cream to stimulate circulation and blood flow and target breast tissue.
My Verdict
When it comes to breast enhancement creams, breast masks, and serums, it can all seem like a fad. Is it really possible for a bust cream or lotion to actually lift and firm your breasts? Maybe not with all products, but Truly's For Your Boobs Routine delivers on its claims to tighten your tatas.
I've used it for just five weeks now, and I'm really impressed with the results. My boobs feel and look firmer, smoother, and perkier since I've been using these two products. For that reason, I'll definitely be sticking to this routine. It's the best breast lifting formula I've ever tried.
It's suitable for all skin types. However, due to the retinol content, it isn't suitable for pregnant or breastfeeding women.
Fyi, this is not a breast enlargement routine. It simply harnesses the power of collagen and elastin-boosting ingredients like retinol and acai to give your boobs subtle lift and increased firmness.
Turns out, you don't need surgery or expensive supplements to give your pair an extra push. As much as I've been sceptical about boob tightening creams and serums, Truly's For Your Boobs Routine has changed the way I see boob skincare as a whole. I recommend it for anyone looking for a quick, affordable, and pain-free boob lift!
Share
---