Marilyn Monroe's Beauty Secrets, Uncovered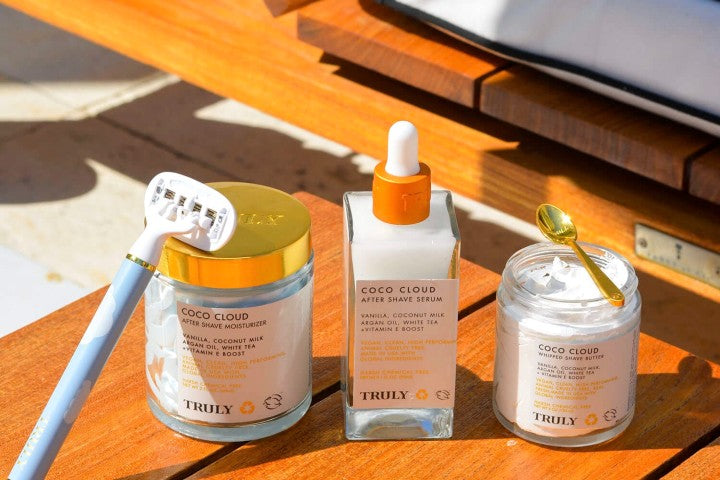 From her plump red lips to her perfect arches and trademark platinum curls, Marilyn Monroe was the ultimate bombshell and beauty icon. Even today, dozens of celebrities including Kim Kardashian, Ana de Armas, and Michelle Williams take inspiration from the blonde bombshell.
Over the years, fans have uncovered photos of the makeup and beauty products she used and stories from her makeup artist Allan "Whitey" Snyder, giving us insight into the actress's beauty routine.
Using all the intel we've gathered, here are Marilyn Monroe's beauty secrets that you can easily try at home for that Old Hollywood bombshell aesthetic.
She Skipped the Sun
While the bronzed look was very much in Vogue in California in the '50s and '60s, Marilyn Monroe wasn't a fan.
"Despite its great vogue in California, I don't think suntanned skin is any more attractive . . . or any healthier, for that matter," explained Monroe of why she stayed out the sun. "I'm personally opposed to a deep tan because I like to feel blond all over."
Any dermatologist would agree that staying out of the sun is a great way to keep your skin healthy, young, and glowing. When you do expose skin to the sun, always make sure you apply a broad-spectrum sunscreen with an SPF of at least 30 for maximum protection.
She Used Baby Powder to Conceal Greasy Roots
Marilyn Monroe was clearly ahead of her time in so many ways — but especially when it came to beauty. While nowadays, most of us rely on a bottle of dry shampoo to keep hair fresh and bouncy, Monroe swore by Johnson's Baby Powder to refresh her blonde locks, and avoid overwashing her hair.
No dry shampoo on hand? Try Monroe's beauty tip, and massage a dusting of baby powder into your roots. It can also lighten roots ever so slightly if you're bleached like Marilyn.
She Followed a Rigorous Skincare Routine
Monroe was a regular client of Hungarian dermatologist, Erno Lazlo (who also worked with actresses such as Audrey Hepburn, Ava Gardner, and Grace Kelly). Since Marilyn Monroe had dry skin, Lazlo prescribed her a rigorous skincare regimen, which began with an oil cleanse using the Erno Laszlo Active Phelityl Oil, followed by Active Phelityl Cream. After rinsing, she finished her routine with the Controlling Lotion. FYI: these skincare products are still available today.
Oil cleansing is still a popular method of facial cleansing today. And it's especially good for people suffering with dryness — like Monroe. Rumor has it that Marilyn washed her face five times a day to prevent breakouts. This is one beauty tip we advise against, since over cleansing your skin can lead to dryness, irritation, and breakouts.
Looking for a skincare routine designed for dry skin? Try Truly's Dry Skin Kit, which features a hydrating mist, moisturizer, lip balm, and serum to boost skin's overall dewiness.
She Had a Clever Lip Plumping Technique
To give the illusion of fuller lips, Monroe's makeup artist would apply five different shades of red lipstick in order to create dimension and plumpness. Darker hues went on the outer corners and lighter hues were applied on the inside. This pout plumping technique is still used today by many makeup artists.
You can also achieve plumper lips by using Truly's GLOAT: Greatest Lips of All Time Kit, a 4-step lip plumping kit infused with nourishing, volumizing ingredients like hyaluronic acid, coconut oil, and peppermint.
She Slathered Her Entire Body in Vaseline
Marilyn Monroe was a big fan of the drugstore product, claiming it kept her skin dewy and bright.
"Marilyn Monroe had the most luminous skin I ever saw," Monroe's former acting-school classmate Renée Taylor once said.
"She came into class with Lee Strasberg one day and I just had to ask what she did" said Taylor. "Marilyn told me, 'I rub my entire body down with Vaseline and then get into a three-hour hot bath every morning. It gives my skin a shiny glow.'"
She also applied thick layers of petroleum jelly or Nivea Creme under her makeup to achieve her signature on-camera glow.
She Used Blush to Contour Her Nose
One of Marilyn's favorite hacks was using blush to shape her nose, which created the illusion of a shorter, more defined nose. She also used blush to contour her cheeks to make them appear more prominent.
Nowadays, we use a range of different products like contouring kits and highlighters to sculpt our faces. Back then, all that stuff wasn't available, but that didn't stop Monroe from making it work.
She Wore Chanel No. 5 to Bed
Monroe liked to fall asleep smelling her best — which is why she applied several drops of Chanel No. 5 before hitting the sheets.
"You know, they ask me questions," she said in an interview. "Just an example: What do I wear to bed? So I said 'Chanel No. 5' because it's the truth!"
She Had an Incredibly Sophisticated Eye Makeup Routine
Monroe's makeup artist began her eye makeup routine by blending white eyeshadow on the lids all the way up to the brow bone to add more depth. He'd then applied eyeliner to her upper lips and waterlines, extending the lines with wings to create her signature cat eye. To finish, he'd sketch out a small white triangle on the outer corner of the eye to make her eyes appear instantly wider.
She Shaved Her Face
To remove the peach fuzz on her face, Monroe shaved her face. Besides leaving skin smoother, shaving boasts the added benefit of exfoliation, keeping skin soft and allowing skincare products like your cleansers, serums, and creams to penetrate deeper into the skin.
If you're going to try it yourself, we recommend using Truly's Ultimate Coco Cloud Shave Kit, a spa-like shaving routine featuring a shave cream, razor, moisturizer, and serum.
Marilyn Monroe's beauty secrets are easy, affordable, and clearly effective. Even today, we're still implementing them into our own beauty routines. That's how influential she was — and still is!
Share
---