The Glass Skin Trend: The Truly Way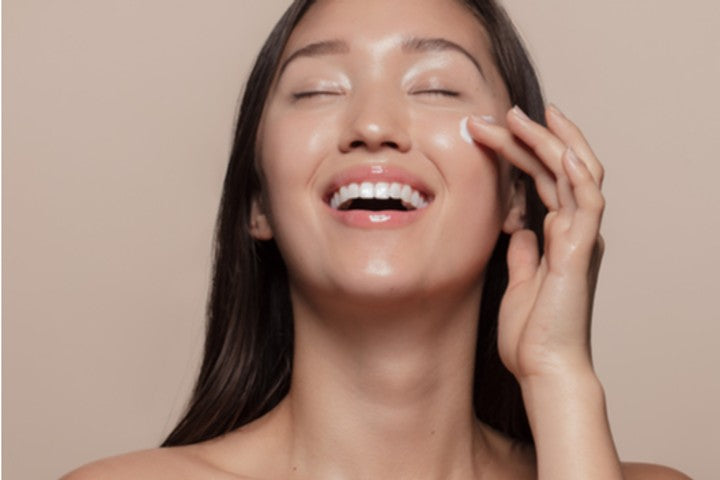 Thanks to K-beauty, there's a skincare trend that promises poreless, reflective, glossy skin. It's called glass skin. 
While the glass skin beauty trend initially originated in Korea, it first rose to popularity in the United States. Now, everybody's crazy for a luminous, almost transparent complexion.
Here's how to achieve it, the Truly way.
WHAT IS THE GLASS SKIN TREND?
As Alicia Yoon, founder of Peach & Lily, explains it, "Glass skin is when your skin is at its very healthiest." She says that in order for skin to appear dewy, poreless, and ultimately glass-like, many things have to happen. 
"You can't just be hydrated and look that way," she says. "Your skin really needs to be its healthiest in all aspects."
Toners, exfoliators, serums, and sheet masks play a starring role in this skincare routine. It's usually a regimen comprised of over several steps to cleanse, slough away dead skin cells, treat, repair, and hydrate. 
Achieving this Korean skincare glass skin look requires dedication to a skin care regimen as well as a healthy and balanced lifestyle. It's also important to be consistent with this regimen in order to see results, as it cannot be achieved overnight.
HOW TO GET GLASS SKIN, THE TRULY WAY
At Truly, we ADORE this K-beauty trend. That's why we've created a Korean glass skin routine especially for you using only Truly skincare products. 
What You'll Need:
Super Matcha Facial

Cleanser

Matcha Face Scrub
CBD Jelly Toning Solution

Glass Skin

Facial Serum
Cream Skin Face

Moisturizer

Eye Candy Anti-Puff

Eye Cream

Sunscreen

(any with

SPF

30)
Vegan Collagen

Face Mask
Cleanse
A clean canvas is crucial for achieving the glass skin look. While this Korean beauty trend typically calls for a double cleanse (starting with an oil cleanser and then using a foaming cleanser), the Truly routine only requires one: our Super Matcha Facial Cleanser.
Enriched with coconut oil, jojoba oil, and neem seed oil, this cleanser removes dirt, oil, and makeup without stripping the skin. It's also made with matcha to clear breakouts, vitamin B12 to spur cell turnover and collagen production, and vitamin C to brighten. 
Hydrating, clearing, and soothing, it's the perfect way to prep your skin for what's to come next in the glass skin routine.
Exfoliate
Exfoliation helps to remove dead skin cells, dirt, and blackheads on the skin for a smooth, clarified complexion. 
You can't get ultra-smooth skin without exfoliating regularly. Besides improving skin tone and texture, exfoliation enables other skincare products to penetrate more effectively, so you can maximize their results! 
Whether you use a physical exfoliator or a chemical one, dermatologists recommend exfoliating two or three times a week. If you have sensitive skin, keep the exfoliating to only once a week to avoid irritation. 
Our Super Matcha Face Scrub offers the benefits of both physical and chemical exfoliation thanks to its base of natural sugar and Dead Sea salt, and blend of resurfacing retinol and exfoliating glycolic acid. 
Apply Toner
Balance and resurface your skin with Truly's CBD Jelly Toning Solution. 
Besides removing dirt, dead skin, and oil, this formula boosts cell renewal, balances oil production, and calms inflammation for an overall clear and smooth complexion.
Use a Serum that Targets Your Skin Concerns
Serums play a fundamental role in the glass skin routine. That's because they're highly concentrated with active ingredients that nourish the skin and target specific skin issues. Ingredients you'll want to look out for include hyaluronic acid, retinol, AHAs, and BHAs.
Hyaluronic acid is best for delivering moisture to dry skin, while retinol prevents and reverses signs of aging. AHAs, or alpha hydroxy acids improve skin texture and brightness. BHAs, or beta hydroxy acids, help banish blemishes.
Try our Glass Skin Facial Serum. This hydrating serum uses willow bark extract to clear pores, and sea kelp to reduce inflammation and retain moisture.
Moisturize
For the glass skin look, opt for a lightweight moisturizer to give you an instant burst of hydration. Prioritize antioxidants, humectants, and botanical extracts that nourish your skin and seal in moisture. This will secure dreamy, dewy skin.
Our Cream Skin Face Cream relies on hyaluronic acid to attract moisture and sea kelp to retain it for hours of plump, rejuvenated skin. And the best part? It's suitable for all skin types.
Pamper Your Peepers
Treat dry skin and under eye puffiness with our hydrating eye cream: Eye Candy Anti-Puff Eye Cream.
This beauty product contains a perfectly formulated blend of ingredients to diminish dryness, reduce the appearance of dark circles and puffiness, and revive tired eyes.
Protect with SPF
Unfortunately, you can't achieve glowing skin when you have damaged skin. Prevent this from happening by applying sunscreen every single day, including on dull days. It should always be the last step in your skincare routine.
You can choose any broad-spectrum sunscreen you like provided that it's formulated with an SPF of at least 30. Go higher if you have fair skin.
Use the Right Face Mask
Just like cleansers, serums, and creams, different face masks offer different benefits. In order to get the most out of your mask, make sure you choose one suited to your skin type and that addresses your skin concerns. Those with oily skin or acne-prone skin, for instance, will see the most visible improvement by using clay or charcoal face masks. 
Typically, the glass skin trend involves using sheet masks to hydrate and give skin a natural glow. Don't feel obliged to use one if you prefer regular cream masks. 
If you're looking for a hydrating, anti-aging face mask, try Truly's Vegan Collagen Face Mask. It's made with vegan collagen, retinol, vitamin C, and coconut oil to promote skin brightening, hydration, and resurfacing while bringing a youthful appearance.
In addition to committing to this glass skin care routine, try making healthier lifestyle choices, too. Diet, exercise, and lifestyle all play a role in how your skin looks every day. So, make the best possible choices to see the best possible results. 
Share
---