5 Benefits of Being a Truly Beauty Ambassador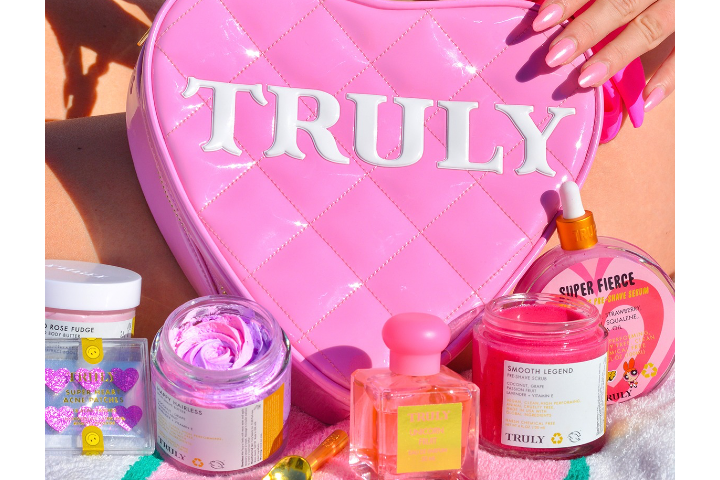 If you heart Truly just as much as we do, consider becoming a Truly Beauty ambassador. Our brand ambassador program welcomes you into an elite group of the world's top trendsetters and beauty experts. Through word-of-mouth marketing and discount code sharing on various social media platforms, you can voice the Truly message to the masses — while enjoying a TON of perks!
Here are five benefits of being a Truly Beauty ambassador — and how to apply to our exclusive brand partnership program.
#1: Desirable Discounts
As an exclusive brand ambassador for Truly, you'll receive soooo many perks, including 40% OFF all Truly products. As long as you keep up with your sales goal, you can enjoy a 40% discount, up to $200 per month. In other words, you can stock up on your Truly favorites — and save big!
Vegan, cruelty-free, and high-quality...take your pick from our well-loved products and enjoy a huge saving every time!
#2: Commission on Every Referral
Earning money couldn't be more fun! As one of our brand ambassadors, you will receive a base 15% commission on every sale you refer. You'll be given your own personal discount link and code to share with your friends, family, and followers. Spend all day on Instagram, TikTok, or Facebook? Sounds like you'll be piling up the $$$ in no time!
And it only gets juicier...if you land yourself in the top sales per month, we'll create a personal page created on your behalf on TrulyBeauty.com, where new and loyal customers can shop your fave Truly products at a discount.
You'll obviously have to put in a little hard work, and you'll need to be creative to influence potential customers. We believe in you!
Once purchases are made through your link or code, your commission will be automatically added to your account.
#3: Free Products
Once you join our ambassadorship program, you will have the opportunity to test new products in development and give your feedback. Yup, you'll be amongst the first few to try out the newest Truly arrivals. And remember, these are the products that make their way onto retail shelves all over the world with Ulta and Sephora Europe.
From attracting new customers to getting repeat sales from loyal customers, we want your help in pleasing our target audience and giving them exactly what they want.
#4: Access to Our *Secret* FB Group
You may not know this, but we have a secret ambassador Facebook group where our amazing ambassadors talk all things beauty related! You'll be able to join our ambassador community, meet friends, and even help each other out when it comes to marketing strategies and incentives.
#5: An Even Better Resume
As a Truly Beauty ambassador, you'll be able to build up your resume with some impressive skills and experience. Especially if you're looking to work in the beauty industry, influencer marketing, or brand ambassador marketing, our name on your resume can go a long way! Plus, you'll receive a letter of recommendation detailing your positive impacts made as a Truly ambassador. It'll be a great endorsement to help you land future roles.
In addition to a dazzling resume, you'll learn so much from your role as an ambassador. From content creation to raising brand awareness and building long-term relationships, you'll definitely leave this role with a set of new exciting skills that you can take with you throughout your career journey.
HOW TO BECOME A TRULY AMBASSADOR
To be considered as a Truly Beauty ambassador, you will need to fill out our application form first. Whether you're a college student, influencer, or new mom, this opportunity is open to everyone — but particularly those with an intense love for our products and brand.
If you're picked, we'll notify you straight away. Then you'll be able to head over to your Refersion Dashboard where you can access your link and code, and start spreading the Truly love! This is also where you'll be able to keep up with your financials. Ka-ching!!!
WANNA BE THE BEST BRAND AMBASSADOR? TRY THESE TIPS
Increase your influence, earn more, and make your mark on the beauty world. Here's how to nail your new brand ambassador role at Truly.
Engage With Your Audience
Whether via Facebook or Instagram, communicate with your audience in a creative yet authentic way in order to build brand awareness. Post a video of your fave Truly shaving products or write a genuine review of something new. And don't forget to like and comment on other posts too! Above all, give customers a reason to try our products — and do it authentically.
Stay Authentic
...Which leads us to the second point: authenticity. Got breakouts? Stubborn belly hair? Or strawberry legs? Post about it, explain the frustrations, and get real about your beauty woes. Then offer a solution: your go-to products for alleviating these issues. Followers will respect your honesty, and they'll wanna come back for more of it!
Post Quality Content
From a video to a photo to text, always post informative, educational, and entertaining content that'll inspire people to click. You'll need to invest some time into creating content, but the better it is...the higher the conversions.
Keep it Up
Never ghost your followers! Keep them hooked by posting regularly. To make things easier, try using a content planner or using social media tools that schedule posts so you don't forget.
Don't Forget Offline Marketing
It might sound old-fashioned but there's still such a thing as word-of-mouth advertising. Got an aunt or cousin looking for a better moisturizer, smoother shave, or a complete anti-aging routine? Bring over a stash of Truly treats, and let the products speak for themselves. Alternatively, explain the products to them and why you think they'd like them. Do a little research on our go-to ingredients such as retinol, hyaluronic acid, shea butter, etc. before you go so you can back up your statements with science!
Come join our Truly ambassador program today...we can't wait for you to be part of the Truly team!
Share
---