A Pregnancy-Safe Skincare Routine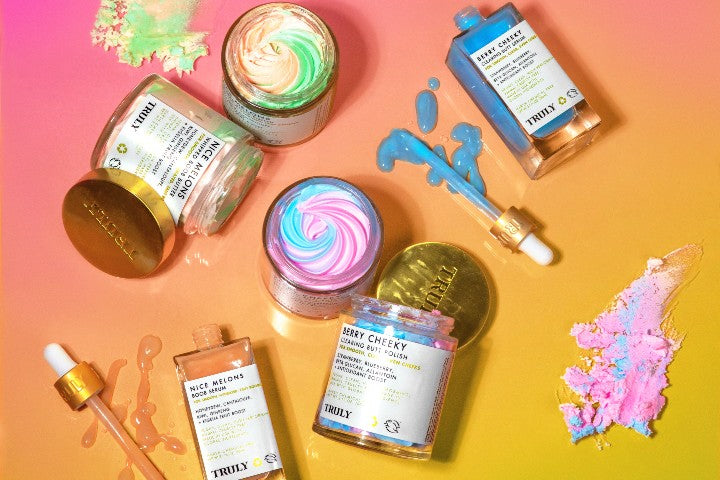 If you're breastfeeding or newly pregnant, you may be wondering what products you can and can't use in your skincare routine. 
New moms and mamas-to-be need to be especially careful when using certain skincare ingredients and products. Retinol, salicylic acid, benzoyl peroxide, hydroquinone, and chemical sunscreens are a no-no, as they are known to cause birth defects. 
For the sake of you and your baby's health, we've created a pregnancy-safe skincare routine both for your face and body to keep your skin glowing without any dangerous side effects.
FOR THE FACE
Cleanser: Truly's Super Matcha Facial Cleanser
Every good skincare routine starts with a cleanser. Its primary purpose is to "cleanse" the skin of dirt, oil, and product buildup to decongest the pores, prevent breakouts, and enable other skincare products to absorb better.
Our Super Matcha Facial Cleanser is a gentle, aloe-based formula boosted with vitamin C and B12 to cleanse, clear, and nourish your skin. It's also formulated with matcha, which helps to soothe agitation and bring down redness. Besides its skin-clearing and calming effects, this face wash provides hydration to the skin. 
It's suitable for all skin types including sensitive skin, and perfectly safe for pregnant women. 
Moisturizer: Truly's Cream Skin Face Cream
With all the hormone fluctuations, it's not unusual to experience dry skin while pregnant. You can fix it by slathering your skin in a hydrating face cream.
Truly's Cream Skin Face Moisturizer is a hydrating, brightening, rejuvenating formula made with hyaluronic acid and sea kelp. While hyaluronic acid lends its moisturizing and collagen boosting abilities, sea kelp helps reduce inflammation, plumps out fine lines, and allows your skin to retain moisture for long-lasting hydration.
Not all women are lucky enough to get the "pregnancy glow." If you're one of them, you can boost your radiance with daily application of our pregnancy-safe face cream.
Spot Treatment: Heart Your Imperfections Blemish Patches
Dealing with pregnancy breakouts? 
Dermatologists give hydrocolloid patches the okay for breastfeeding and pregnant moms. Just watch out for the ingredients, as some may contain the BHA salicylic acid and other ingredients that may be harmful to moms-to-be.
Truly's Heart Your Imperfections Acne Patches are the coolest beauty products out there for treating blemishes. These pink heart-shaped patches are a fun and effective way to drive out zits. With the power of hydrocolloid, a fluid absorbing agent that draws out gunk from your zit, this patch can quickly treat and heal active pimples without drying out your skin. 
Mineral Sunscreen
Some experts insist that chemical sunscreens may be risky during pregnancy. For that reason, we recommend using a broad-spectrum mineral sunscreen only. Choose one formulated with zinc oxide if you can.
SPF is essential, especially since estrogen levels are at their highest while pregnant, putting you at risk of hyperpigmentation like dark spots, and other pigment issues like melasma. 
Apply it to the face and body, daily, and re-apply throughout the day if you spend long periods of time in the sun. Even on cloudy days, it's important to wear sunscreen to shield your skin from skin-damaging UV rays and pollution. 
FOR THE BODY
Butt Routine: Berry Cheeky Edition
From stretch marks to acne, dullness to dryness, your butt faces a lot of skin concerns. That's why you really do need to give your booty a skincare routine of its own. Thankfully, we found just what you're looking for. Heck, we created it!
Truly's Berry Cheeky Edition is a 3-step butt skincare routine featuring a butt polish, butt butter, and butt serum, all designed to hydrate, brighten, clarify, and perk up your booty.
The formula for all goes like this: strawberry, blueberry, beta glucan, allantoin, and antioxidants all wrapped into one high-performing topical treatment.
Beta glucan is a humectant moisturizer that's excellent in quelling redness, preventing moisture loss and warding off fine lines. As for allantoin and the berries, they work to neutralize free radicals, spur the skin's healing process, and protect against dark spots and blotchy skin. 
The theory is that the exfoliator, lotion, and serum will each play their part in sloughing away dead, dull skin cells, hydrating parched skin, and locking everything in for hours of soft, smooth, protected skin.
Boob Routine: Nice Melons
Your boobs don't have it much easier. 
Truly's Nice Melons Edition is an anti-aging boob trio featuring a polish, butter, and serum made with your boobs in mind. Translated: it's three steps for firm, hydrated, youthful melons.
This routine is formulated with a blend of kiwi, ginseng, kigelia, and honeydew -- all natural, effective ingredients for smoothing and moisturizing your lady lumps. 
Kigelia is a fruit native to tropical Africa, believed to possess breast firming capabilities. The skin-sculpting and elasticity-restoring capacity of the extract has even been proven in clinical trials. Honeydew melon is loaded with vitamin C, supporting the production of collagen and enhancing skin radiance.
Featuring pregnancy safe skincare products only, this 3-step boob routine is perfectly safe for pregnant women looking for a little boob boost.
WHAT ELSE CAN YOU ADD TO YOUR PREGNANCY-SAFE SKINCARE ROUTINE?
Whether you're pregnant or breastfeeding, all mamas need to be aware of what they're putting on their skin. Steer clear of retinoids, salicylic acid, and chemical sunscreens. You can enjoy the same benefits from pregnancy-friendly ingredients like alpha hydroxy acids (lactic acid, glycolic acid), shea butter, and vitamin C, to name a few. Always check with your healthcare provider if you're unsure about any of the products you are currently using.
You can also use sugar and salt-based exfoliants to get that pregnancy glow you crave, and HA-formulated eye creams to wipe away those under eye circles from all those sleepless nights. When using products like toner, always check the ingredients label to weed out those pregnancy no-no ingredients.
If you've got a skin condition like eczema or rosacea, visit your dermatologist for product recommendations. 
There are plenty of pregnancy-safe skincare products out there. You just need to scan ingredients labels. Over at Truly, we have plenty for you to choose from. 
Share
---