How to Make Your Skin Glow Naturally at Home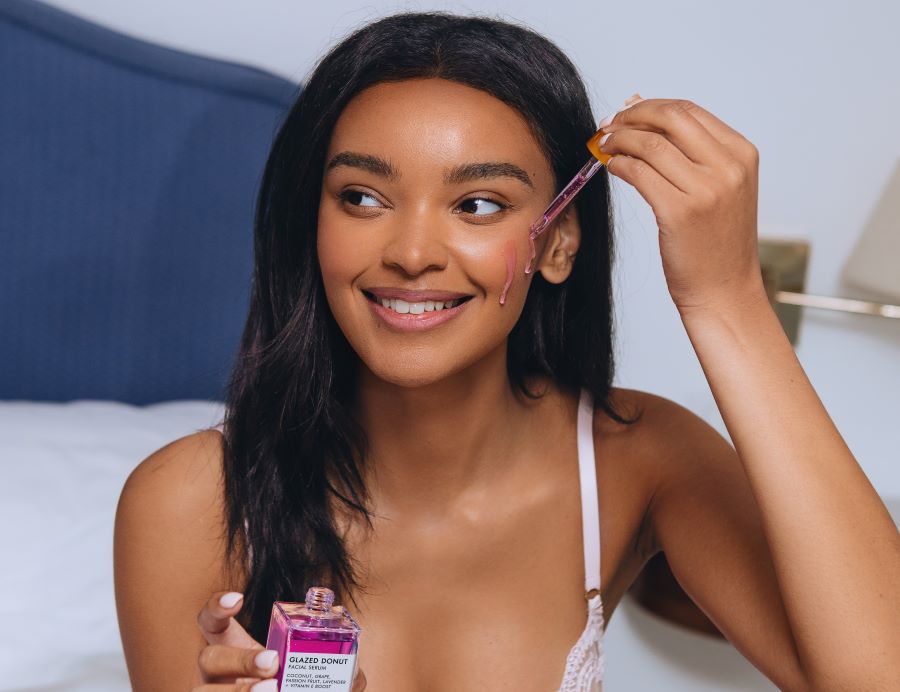 If you're experiencing dull, lackluster skin, you might be wondering how to make your skin glow naturally at home. Fortunately, you don't need to splurge on expensive in-office treatments to unlock your natural glow. With just a few simple skincare products, you can easily achieve gorgeously glowing skin. 
Here's how to make your skin glow naturally at home in just three simple steps and the best products for glowing skin.
Unlock Your Natural Glow in 3 Steps
Want to know the secret to getting glowing skin without makeup or expensive treatments? There are three ways you can make your skin glow naturally at home. Here's how–and the best products to use to reveal fresh, glistening skin.
Step 1: Exfoliate
How can I make my face glow naturally you ask? The best way to get an instant glow is with exfoliation. Exfoliation removes dead skin cells on the skin's surface, providing an instant brightening effect. 
You can either use a physical exfoliant (scrub) or chemical exfoliant (AHA, BHA) to buff away the buildup of dead cells and impurities on the skin. Chemical exfoliants are gentler on the face, and generally better for sensitive skin types as they don't manually remove dead skin cells. In other words, they won't irritate your skin as much.
Try Truly's 24K Gold Black Soap Cleanser which offers the perfect mix of physical and chemical exfoliation. A base of sugar blended with 24K gold, African black soap, and salicylic acid to lift dirt and dead cells while absorbing excess oil for a clear and glowing complexion. 
Step 2: Apply a Vitamin C Serum
Vitamin C is an excellent skin brightener and renowned for its ability to promote healthy, glowing skin. It stimulates collagen production, a protein crucial for skin's firmness and elasticity, helping to reduce fine lines and maintain a youthful appearance. Vitamin C is also a potent antioxidant, protecting the skin from free radicals that cause premature aging, dullness, and hyperpigmentation.
What's more, vitamin C has the unique ability to inhibit melanin production, helping to fade hyperpigmentation and improve the skin tone. While it can't replace sunscreen, vitamin C provides some protection against UV-induced damage. 
For your daily dose of vitamin C, grab a bottle of Truly's Vegan Collagen Booster Facial Serum. It's packed with retinol, plant collagen booster, and vitamin C to gently resurface and support natural collagen production for firm, supple, and radiant skin.
Step 3: Hydrate 
The final step in how to make your skin glow naturally at home: moisturize. After exfoliation and topical application of vitamin C, a nourishing moisturizer will help to lock in moisture and plump the skin. The more hydrated the skin is, the better it reflects light–making it appear instantly brighter.
The best moisturizer for glowing skin will depend on your skin type. If you have oily or acne-prone skin, you might want to choose a lightweight face cream or serum. Those with dry skin would be better off with a richer moisturizer. Either way, hydrating ingredients that can benefit everyone include hyaluronic acid, shea butter, vitamin E, and plant oils.
Take your skin from dull to luminous with Truly's Glazed Donut Facial Glow Cream. With a blend of coconut, passion fruit, and vitamin E to drench skin in long-lasting moisture while injecting antioxidants into the skin for an instant glow boost. Despite its richness, it won't leave skin greasy or shiny–just glistening!
Get Glowing Skin With these Brightening Bundles
Dull skin? Make it glow with these brightening bundles complete with exfoliating and hydrating formulas to unlock radiant skin. 
Glazed Donut Skin Set
A shortcut to glossy, glimmering skin. Glazed Donut Skin Set features a facial serum and cream developed with a roster of antioxidant-rich ingredients to lock in moisture, soften fine lines, and leave skin luminous. Coconut oil, grapeseed oil, and vitamin E work in tandem to hydrate, soothe, and deeply nourish the skin. 
The Glazed Donut products are clean, vegan, and fragrance-free so they won't irritate your skin. Plus, each formula is deliciously lightweight so they won't leave skin looking or feeling greasy. 
Unicorn Blast Bundle
Get a fairytale-ready glow from head to toe. Unicorn Blast Bundle features three iconic swirls and an exfoliating bath bar to get skin plump and radiant all over. Formulated with acai, matcha, and vegan collagen booster. The polish brightens and smooths, the lip balm softens and plumps, and the body butter secures a long lasting glow.
Indulge in three cotton candy-scented swirls and a luxury, lathery bath bar that will instantly restore your skin's natural radiance. Every step in this routine feels incredibly luxe and lavish. 
Vegan Collagen Booster Set
Glow up with the Vegan Collagen Booster Set. Three powerhouse active ingredients–vitamin C, retinol, and plant collagen booster–come together to resurface, boost collagen, and restore elasticity for instantly fresher, firmer, and brighter skin. 
The set comes with a facial cleanser, serum, and mask, plus a body polish and butter. You'll get a complementary St. Tropez Luxury Travel Trunk worth $250 when you shop this set.
How to Get Glowing Skin Overnight
Now you know how to make your skin glow naturally at home, let's take a look at how you can unlock your glow in your sleep. 
Start off by cleansing the skin with an exfoliating formula to buff away dead cells. Besides giving skin an instant glow, exfoliation enables other skincare products to absorb deeper into the skin. Next, apply a resurfacing or antioxidant-rich mask and let it sit on the skin for 10-15 minutes before washing off. You can also get overnight face masks for boosting skin's glow. Finally, finish with a facial oil and moisturizer to hydrate the skin for smooth, dewy skin the next morning.
Other ways to get glowing skin naturally include getting plenty of sleep (7-8+ hours), eating a diet rich in vitamins, drinking lots of water, and massaging your face to improve circulation which will give you a nice healthy glow.

Watch our How to Make Your Skin Glow Naturally at Home tutorial:


Share
---