How to Use Lip Scrubs the Right Way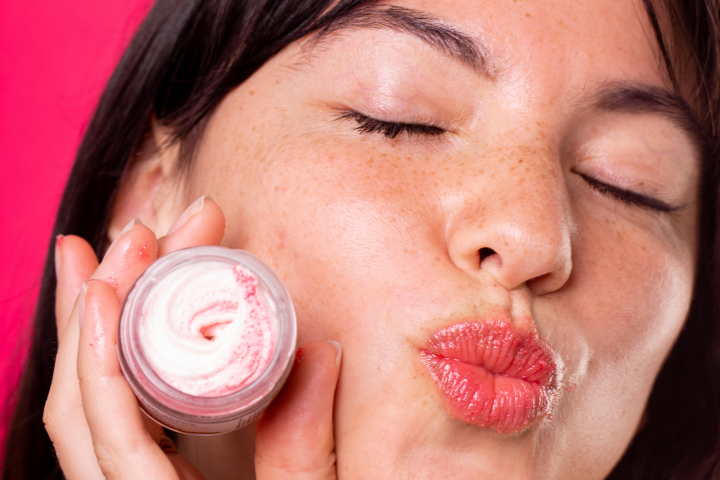 Dry, chapped lips are a common skin complaint. While you may assume reaching for the nearest lip balm can offer instant relief, it won't actually alleviate dry lips completely. Like the skin on your face and body, your lips need exfoliation too. A lip exfoliator can help remove dead skin cell buildup for extra smooth lips — and seamless lipstick application.
Before you reach for your toothbrush in a bid to scrub away the dryness, hear us out. There's a reason lip scrubs exist. Not only are they gentler on the pout than toothbrushes and DIY lip scrubs, they're also formulated with nourishing ingredients to soothe and hydrate dry, cracked lips. That said, you still need to use them properly in order to enjoy the benefits — and prevent irritating your pout!
Here's why you need a lip scrub in your life, and how to use one the right way. If you scroll down right to the bottom, you'll also find our fave lip care formulas for achieving super smooth kissers!
WHY YOU NEED TO EXFOLIATE YOUR LIPS 
In order to alleviate dry lips, it's worth familiarizing yourself which what's actually causing the dryness. According to dermatologists, our lips don't contain sebum-releasing oils glands that keep skin moisturized. Our face does, which is why it's rarer to experience flaking there than it is on your lips. As far as our lips are concerned, even the presence of cold, hot, or dry weather can cause the pout to become cracked.
Lip exfoliation buffs away the dry skin and flakiness that accompanies harsh weather, revealing fresh, smooth skin. Exfoliating the lips also makes your lipstick glide in more evenly. Plus, it provides a temporary plumping effect by increasing blood flow to the lips, which makes them look instantly more voluminous. And let's not forget that regular lip exfoliation can help improve discoloration and dark spots on and around the lips.
While your lip balms and butters can hydrate your lips, they can't remove dead skin cell buildup that's often responsible for dry, chapped lips. This can only be achieved with a nourishing lip scrub.
HOW OFTEN SHOULD YOU USE A LIP SCRUB?
Exfoliation should never be overdone. When you over-exfoliate, you can end up irritating your skin and making them even drier. Start by exfoliating lips once to twice a week. If you feel like you need it more often, increase your exfoliating sessions to three to four times a week. You should not, however, be exfoliating your lips every day.
CAN YOU USE A BODY SCRUB ON YOUR LIPS?
While it's normally okay to use your lip scrub on the rest of your body, it's not so beneficial to do it the other way around. Lip scrubs are designed to suit the delicate skin on your pout. Body scrubs, on the other hand, are a little more hardcore, made for thick, oily skin. As a result, they may be too harsh for the delicate skin on your lips. It's always best to use an exfoliator especially made for your lips to prevent sensitivity and irritation.
HOW TO USE LIP SCRUBS 
Here's an easy guide to using lip scrubs in your skincare routine.
#1: Start with a Clean Canvas
Before exfoliating, ensure that your lips are clean and dry. Remove any traces of lipstick, lip gloss, or lip balm, and then pat your lips dry.
#2: Exfoliate
Using circular motions, massage in your favorite lip scrub. For best results, apply the scrub to damp lips to avoid painful friction and enhance product absorption. Always choose a gentle scrub that's formulated with nourishing oils like coconut oil, jojoba oil, almond oil, and olive oil, which help to hydrate, soothe, and heal lips. Avoid scrubbing the skin! You should be using gentle circular motions to buff away those dead skin cells and dry patches. 
#3: Apply a Lip Mask (Optional)
If your lips are super dry, give them some extra TLC with a hydrating lip mask. Choose a formula enriched with emollients like shea butter and antioxidants like vitamin E, which help to nurture dry, cracked lips.
#4: Moisturize
Follow up with a thin layer of your favorite lip balm or Vaseline to promote smooth, hydrated lips. Let it absorb for a minute or two before swiping on your lipstick. If you're going out, try to choose a balm formulated with SPF to protect lips from harmful UV rays.
SHOP NOW: Best Lip Scrubs
Here are our favorite lip scrubs for keeping your pout smooth, soft, and fabulous!
GLOAT Sexy Soft Lip Scrub
A minty sugar lip scrub designed to smooth, prep, and plump your pout! This hydrating lip scrub gently exfoliates dry, chapped lips to instantly smooth away flakiness, help your lip balm absorb better, and ensure flawless lipstick application. Nourishing coconut oil and hyaluronic acid sink deeply into your lips to deeply hydrate and protect lips from cracking and chapping. Peppermint stimulates blood circulation in your lips to provide a temporary swelling effect. The result? A juicy, luscious pair of kissers.
Pineapple Haze CBD Lip Smoothing Polish
A hydrating, pineapple-scented lip scrub featuring exfoliating sugar crystals, protective vitamin E and nourishing natural oils to help smooth lip lines, buff away flakiness, and maintain a juicy pout! Alongside sugar's exfoliating properties, pineapple is rich in an exfoliating enzyme called bromelain to help sweep away dead cells. You can also double it up as a body scrub while traveling or if you have nothing else on hand!
If you regularly suffer from dry, flaky lips, a lip scrub may be your answer to a smoother, juicier pout. Or perhaps your lipstick never seems to look the way you want it to...that could be because your lips need to be buffed. Just like the rest of your body, your lips accumulate dead skin cells which need to be removed to keep skin smooth and healthy. With the right formula and proper technique, you can enjoy a luscious pair of lips after only one exfoliating session.
Share
---