Truly House of Beauty Episode 20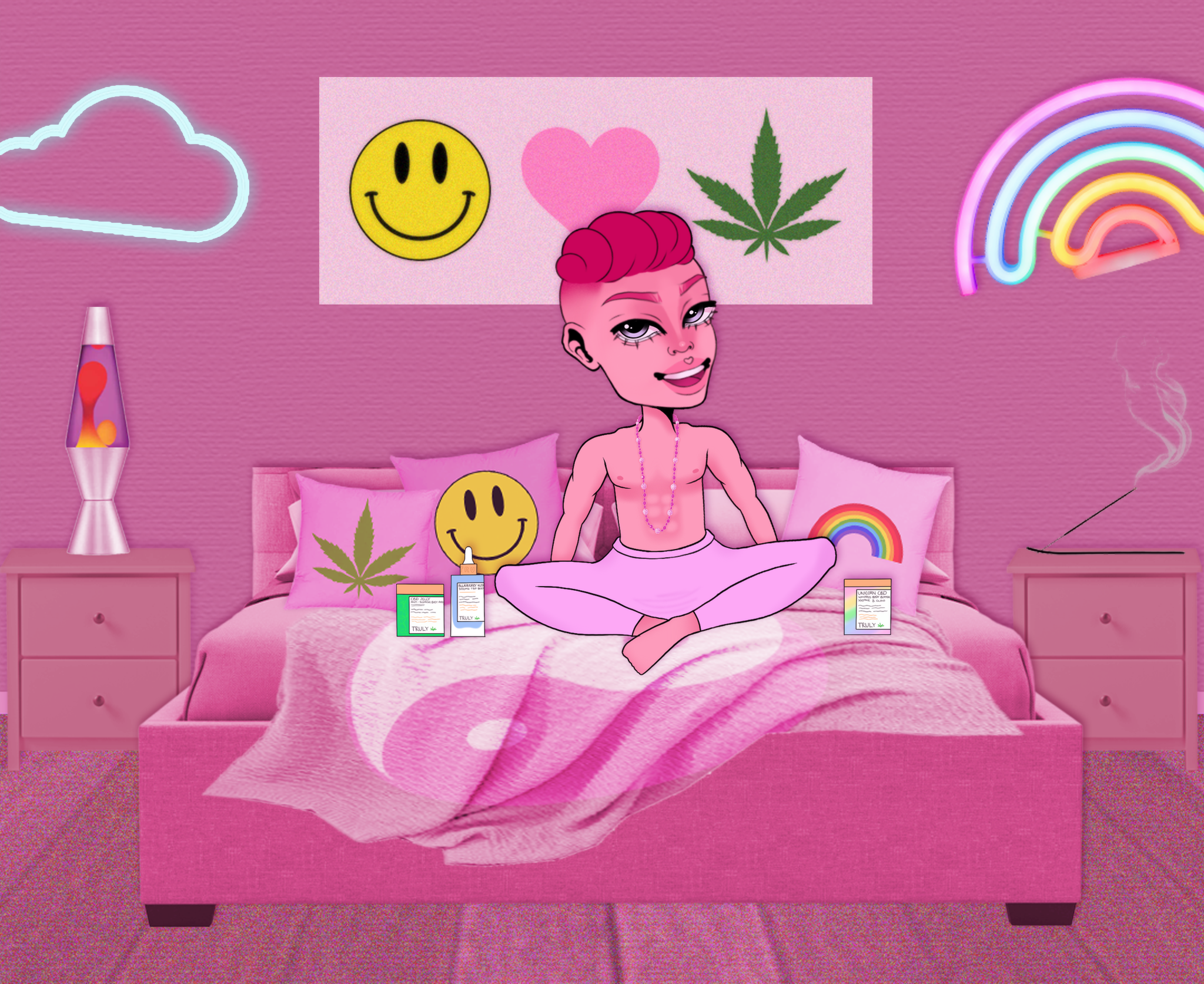 Psst…do you know what day it is?! Drop the vegan nachos, it's the next episode of the Truly House of Beauty. It's also 4/20 aka the day for all you stoners, midnight smokers, or CBD lovers! The residents of the Truly House of Beauty are OBSESSED with cannabis, particularly CBD. This s why Truly has so many CBD products available. In this week's story, we are delivering you the CBD Diaries of the Truly House of Beauty. Come stroll through the Truly house as we do a mini-exposè on how each of the Truly Babes spent their 4/20.  
Chloe is really keeping up with her pool-boy affair. If you don't recall, one hot day Truly Babes spent an afternoon shaving their hairy, hairy pool-boy. After seeing his smooth, hairless bod–Chloe was immediately hooked. Their love affair started simple–sneaking kisses under the moonlight, trading heated glances across the pool, and tiptoeing to each other's rooms after midnight. It wasn't until recently that they went public with their love affair. Now that the world knows about their steamy romance, they are flaunting it everywhere! For 4/20, the two lovebirds decided to soak it up and take a bubble bath, using Truly's brand new Mary Jane CBD Bubble Bath for a soothing, relaxing bath as they did sudsey butterfly kisses. They also applied the Mary Jane CBD Glow Mask all over each other's backs, letting their skin glow like a super cool disco ball. 
Downstairs in the salon, you have Zara and her friend Angela relaxing like it's their job. These two girlies had theirselves a wild night beforehand, hitting the clubs of Hollywood like they just turned 21. Getting on the VIP list here, a top-notch table there, a free bottle at another place–these two girlies woke up on 4/20 with a champagne-induced hangover, crunchy hair, and newly formed pimples. Zara knew the solution: tons of H2O for the hangover, Super Flower Shampoo + Conditioner to get rid of the crunchy split ends, and Super Hemp Patches to zap away the party zits. The two friends sat in the salon, relaxed with the soothing power of CBD, and drifted off to sleep in the salon chairs.
Tyler was truly zen-ing out for 4/20. He was in his room, his sanctuary, his happy place. After a stressful week of creating content, making dozens of "happy" brownies in the Truly Lab, and overworking himself at the Truly Studio–Tyler knew he needed some self-induced TLC. Now rolling up a fat one, Tyler decided to meditate and do some happy yoga poses. As he was watching his downward dog in the mirror, he noticed his back was covered in pimples! "Must have been the stress!" he thought. He grabbed his CBD Jelly Anti-Blemish Body Mask and applied it to each pimple, knowing the CBD would soothe them down. He also knew his stressed out skin is super duper dry, so he added a dose of Blueberry Kush Body Oil + Unicorn Soothe & Glow Body Butter to his routine. The triple effect of CBD calmed his spirit while reducing his pimples. 
Last but not least, we have another adventure of Anna. On this 4/20, Anna decided to eat not just one, but FOUR of Tyler's "happy brownies". Fresh off of a music festival, Anna spent the last week partying it up at polo fields in Southern California at an extremely well-known event. She saw some of her favorite bands, DJs, and singers as she danced the night away. If you remember from the last episode, Anna is really into baking. So one thing she missed while she was at the festival was her oven! Eating two of Tyler's happy brownies gave her the inspiration to make a bunch of pineapple desserts. But twirling her wrist in a mixing bowl is much more difficult after a week of fist pumping to techno music– so she used the Pineapple Haze CBD Extreme Hand & Foot Repair Cream to soothe her soreness and reduce the desert-caused dryness. She knew the CBD and the pineapple extract would nourish her dehydrated skin, so she went ahead and used the entire Pineapple Haze Bundle while she satisfied her munchies. 
Well, did you enjoy the puff-puff-pass around the Truly House for 4/20?! We are giving out a green gift–check out our website for the 4/20 gift we are giving!
Share
---