Best Gift of the Year Goes to a…Shave Kit? A Good Friend Makes Sure Their Besties Stay Smooth Legends
It may sound surprising, but it's true - this cult-favorite has earned the #1 spot on wish lists for good reason.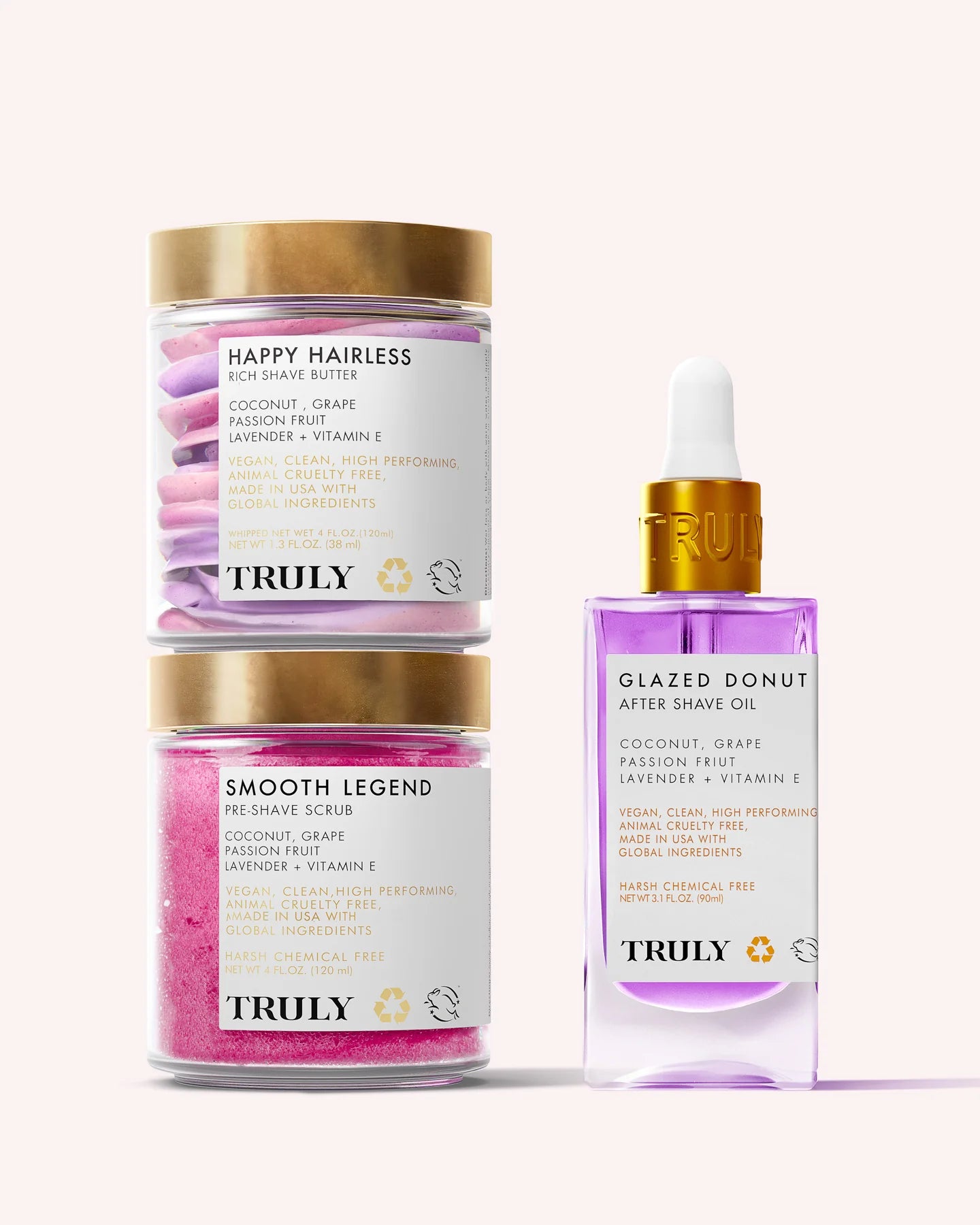 817k Followers

153k Likes
193k Followers

2.3m Followers
62.1m Likes
Move aside, air wraps and influencer-favorite makeup palettes, because a surprising self-care set has arrived to claim its rightful spot at the top of wishlists everywhere.
In a world obsessed with beauty innovations, where flawless hair and filter-perfect makeup reign supreme, a new contender has emerged as the gift giver's holy grail.
As beauty enthusiasts trawl TikTok for the latest trends and covetable products, they're now turning their attention to the transformative power of a surprising experience…shaving.
Gift ideas - especially for friends with their fingers on the pulse of up-and-coming trends - are never easy.
In fact, the whole process can be a rocky road. But it just got smoother…ultimate smooth.
In the age of social media, you'd think coming up with gift ideas would have become easier…
But somehow it's only gotten harder. We're flooded with gifting possibilities, sure, but we're also flooded with effective marketing, paid influencer promotions, and products of questionable origin…and even more questionable quality.
We might consider ourselves trend-savvy, but our friends are just as up-and-up as we are. By the time we find a product they'll like, they've probably already Afterpayed it.
That makes the ideal product one that's luxurious, trendy (but not so blown up everyone owns one), and effective.
It should be a product that's elite enough to brag about on Insta stories, but not one that's all flash and no effect. A good beauty-centric gift needs to be one that becomes a lasting staple in their self-care routine…
That way they can think about what a killer friend you are every time they use it. (Let's be real, we all want that just a little.)
With the Ultimate Smooth Legend Shave Set, gift giving has never gone smoother.
The Ultimate Smooth Legend Shave Set has become a conversation-starter on social media. It's gained traction among trendsetters from Gen Z to boomers who demand nothing less than perfection in their self-care routines.
That's because it's not just another product that'll gather dust in their beauty cabinet - it's a journey towards flawlessly smooth skin, a testament to the art of shaving done right.
Truly Beauty are some smooth operators, slipping their way onto the beauty scene and garnering the attention of influencers and celebs alike. (Barbie - yes, the Barbie - herself is a Truly girl, with a new line created in collab with her new movie.)
They've swiftly established themselves as the leading authority in luxury shaving, earning a glowing rep backed by 2,918+ rave reviews.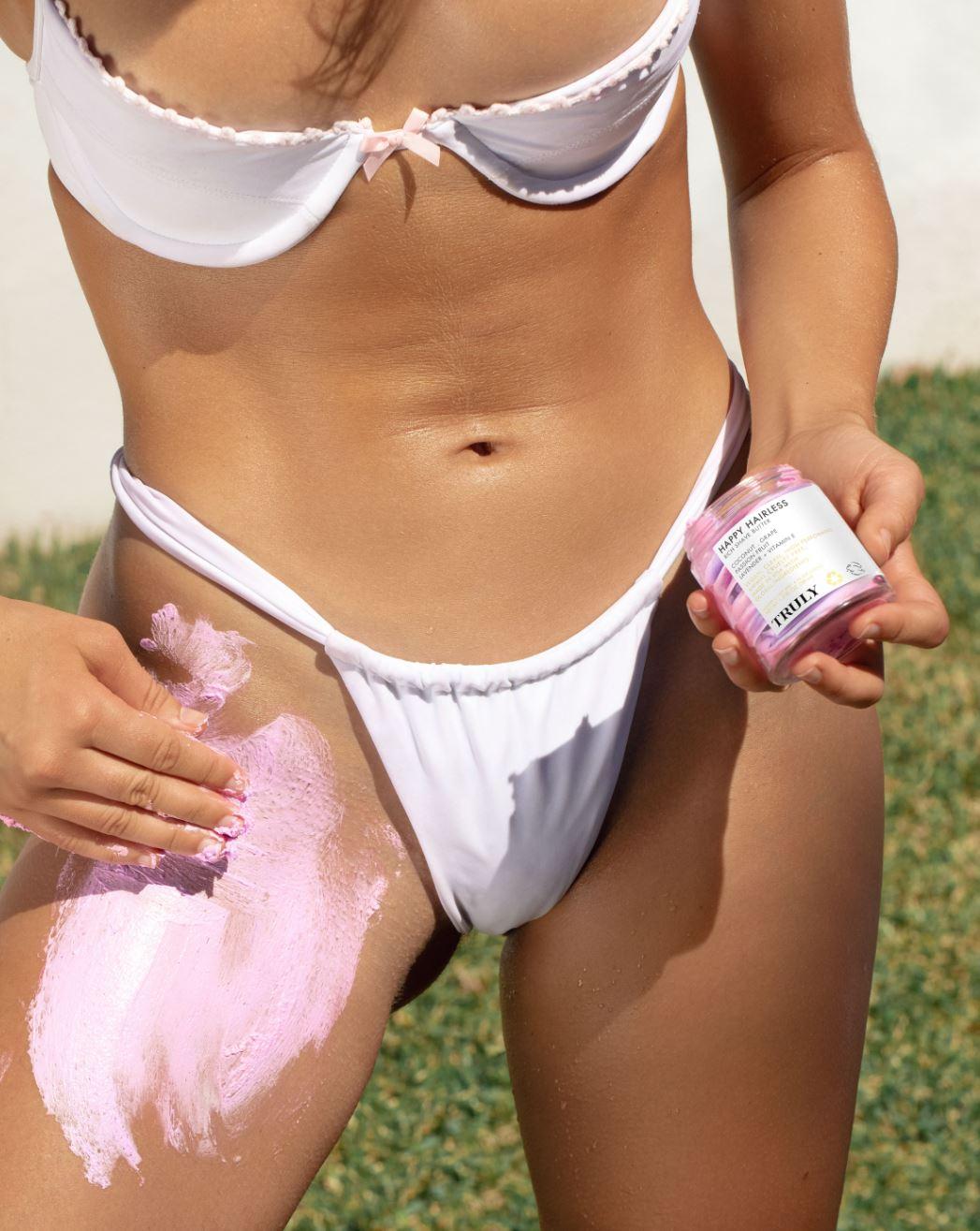 And the hype is real - the Ultimate Smooth Legend Shave Set gets you the smooth, minus the burns or bumps.
"Gift someone a shave set? I might as well give them razor burn and an inflamed bikini line."
If you went with old-school shave sets, yeah, maybe. (Plus, gifting them your grandpa's favorite shave set might leave them smelling like an 80-year-old man. Not glam.)
The Ultimate Smooth Legend Shave Set gives you the smoothest skin of your life, without any of the razor burn, irritation, ingrown hairs, or dryness that usually come with shaving.
It's no wonder Barbie partnered with Truly Beauty, since the Ultimate Smooth Legend Shave Set will have you as smooth and flawless as our favorite plastic icon.
So, how does it work its magic?
This set goes beyond relying on the razor to do the heavy lifting.
While the razor itself is a mover and a shaker - literally, since it comes with a detachable magnetic top & replaceable extra heads for a sustainable shave - it's the supporting cast of products in the set that keep you silky smooth.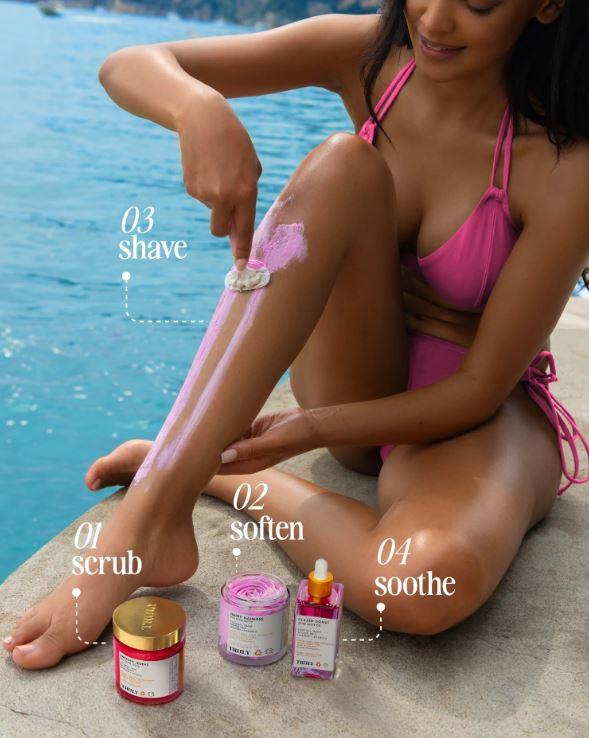 It's easy to see why everyone wants the gift of becoming an ultimate smooth legend.
The Ultimate Smooth Legend Shave Set is exclusively available on the Truly Beauty website. Plus, for a limited time, they're offering 10% off subscriptions!
Free kit bag ($10 value) + Razor ($20 value)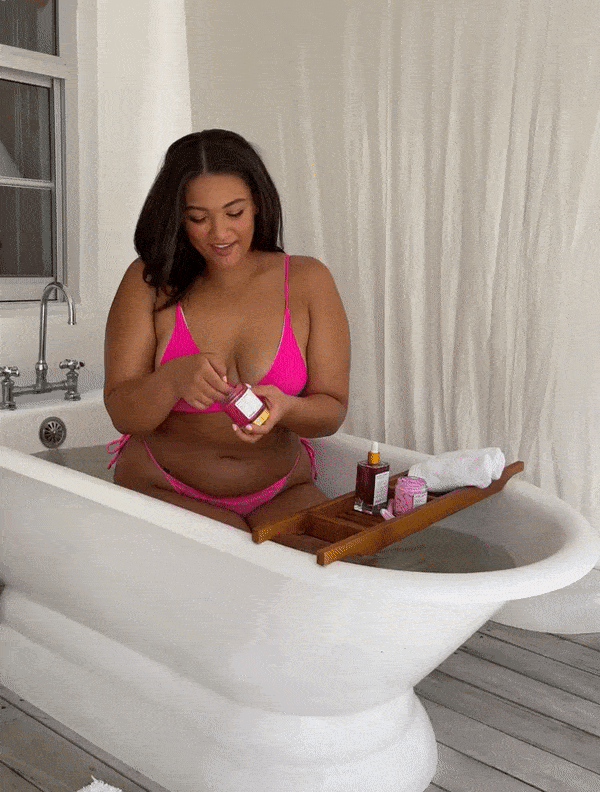 Becoming a smoother operator than Sade is as easy as:
Step 1: Prime your skin for perfection with the Smooth Legend Pre-Shave Scrub.
Gently loosens hair follicles and eliminates dead skin cells, creating the ideal canvas for a seamless razor glide…and the buttery softness that follows.
Step 2: Nourish & hydrate your skin with the Happy Hairless Shave Butter.
Enriched with coconut oil and vitamin E, this hydration hero cocoons your skin, ensuring each stroke of the razor is met with the utmost comfort and a touch of divine indulgence.
Step 3: Banish irritation with the Glazed Donut Shave Oil.
This oil goes the extra mile in safeguarding your skin with its antimicrobial and anti-inflammatory properties. It soothes and heals, offering a blissful post-shave experience free from irritation and unsightly ingrown hairs.
Step 4:
Store it all in the complimentary pink fuzzy cosmetics bag for safekeeping.
Step 5:
Shine!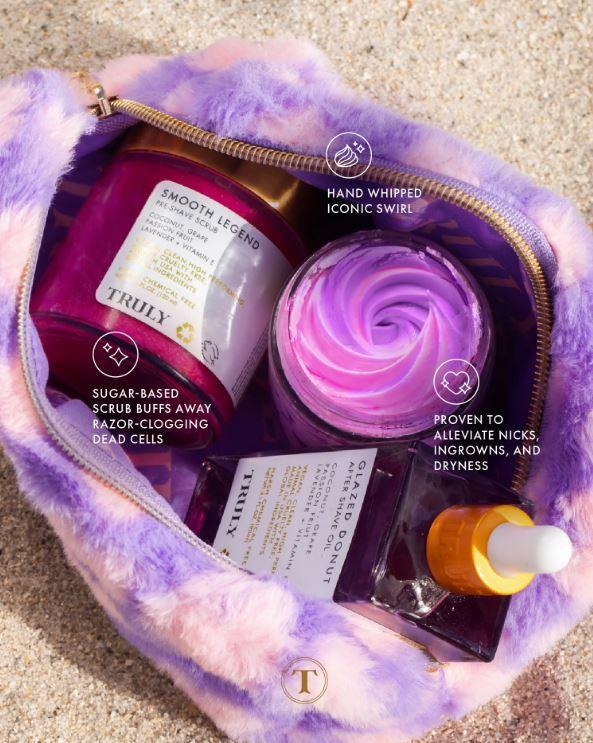 Good for your skin, good for ANIMALS' skin.
Searching for a gift for the vegan in your life? Look no further.
The Ultimate Smooth Legend Shave Set is 100% vegan & cruelty-free, making it a great guilt-free gift option for anyone on the list: vegan, vegetarian, or just anyone with a heart.
Because no amount of being a smooth legend is worth gaining it at the expense of a furry legend.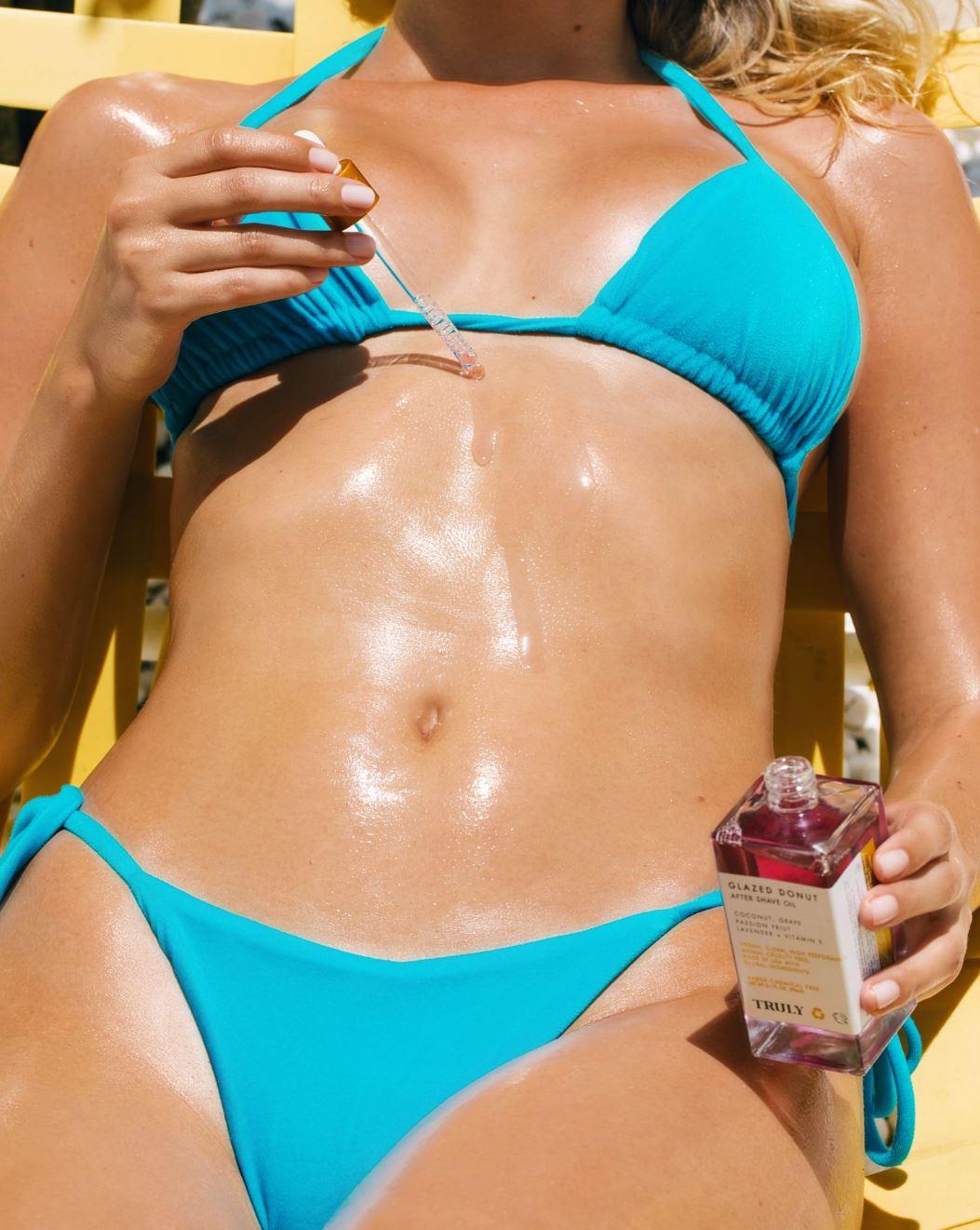 Great as a one-time gift…better as a subscription.
Because you know they'll be addicted after their first batch runs out, Truly Beauty offers 10% off gift subscriptions.
They'll deliver it to your recipient's door once every month, two months, or three months.
There's no commitment, either - so if your bestie posts an unflattering photo of you to Insta, you can cancel their subscription in retaliation. (Nothing says "payback" like furry legs.)
Any subscriber will also enjoy access to Truly Beauty's Priority Customer Experience Team.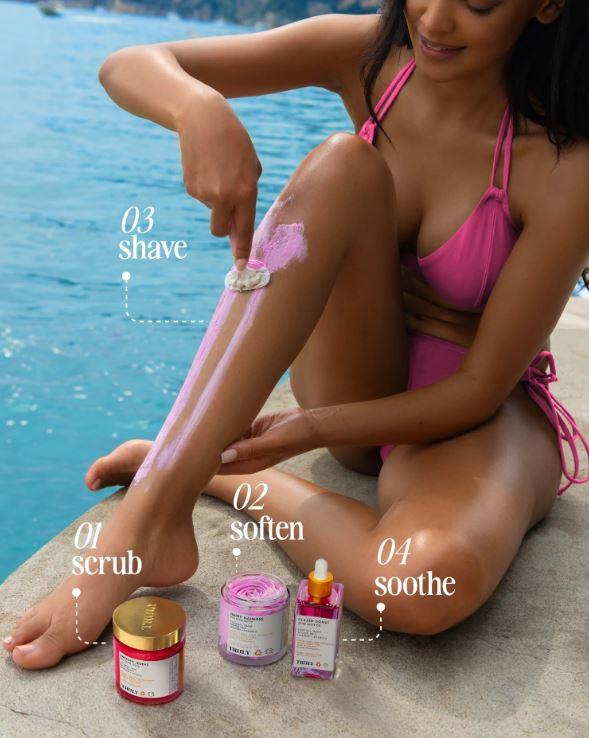 It's easy to see why everyone wants the gift of becoming an ultimate smooth legend.
The Ultimate Smooth Legend Shave Set is exclusively available on the Truly Beauty website. Plus, for a limited time, they're offering 10% off subscriptions!
Free kit bag ($10 value) + Razor ($20 value)
From TikTok to Insta to Barbie's dream house, everyone loves being the ultimate smooth legend…

I love this set! Everything in it is perfect. The scents are great, not too strong. Smooth Legend Pre-Shave Scrub, nails it! Happy Hairless Shave Butter is perfect for anyone. Glazed Donut Shave Oil is an absolute hero at leaving the skin hydrated after a shave. I love the weight of the Pink Razor. Doesn't feel like a child's toy, like many other razors do. And the Fuzzy Cosmetics Bag is super fun, and perfect for so many things!
Yes, I recommend this product

All of the shave sets are amazing but smooth legend is my top fav. It's such a good exfoliator and the shave butter smells so good. It's very fruity but pretty. The razor just glides so easy on the skin and gets every little hair. Leaving you super soft and moisturized. I highly recommend. This bag is so cute and don't forget the glazed donut oil. OMG !!!
Yes, I recommend this product

This is the best shave kit I've ever gotten. It included the smooth legend scrub, the best razor I have ever had in my life, (my skin is so smooth!!) a cute happy hairless shave butter, glazed donut (my personal fav) and a cute fluffy bag!
Yes, I recommend this product

This is an absolute MUST in my shaving routine. This preshave scrub literally removes EVERYTHING. Old lotion, dead skin, deodorant, anything on your skin that you don't want in the way of your razor. After using it, my skin feels clean, and smooth, ready for my Happy Hairless Shave Butter. I won't shave without it. So, I always make sure I have PLENTY.
Make sure you get yours and start a new obsession from the ever amazing TRULY beauty line.
Yes, I recommend this product

I ordered the Ultimate Smooth Legend Shave Kit and I honestly didn't have high hopes for it, and if I'm being completely honest, I ordered it because I loved the smell. I 1,000% recommend this kit! Since I've started using it I have no razor burn, no ingrown hairs, my shave is so buttery smooth and my skin is so soft and hydrated! I'm blown away at how well this actually works.. I'll definitely be a repeat buyer because I can't live with out this kit now. So worth the money, after trying endless amounts of products and nothing working like it says it would, THESE PRODUCTS WORK!
Yes, I recommend this product

This is a fantastic place to start if you are new to Truly products or don't know what to buy. I absolutely love this shave kit. Not only is the bag the perfect size, the products inside are A1. Happy Hairless smells glorious and provides ultimate protection against razor burn and cuts, and Glazed Donut is one of the best smelling products that Truly offers. I highly recommend this for yourself or as a gift!
Yes, I recommend this product