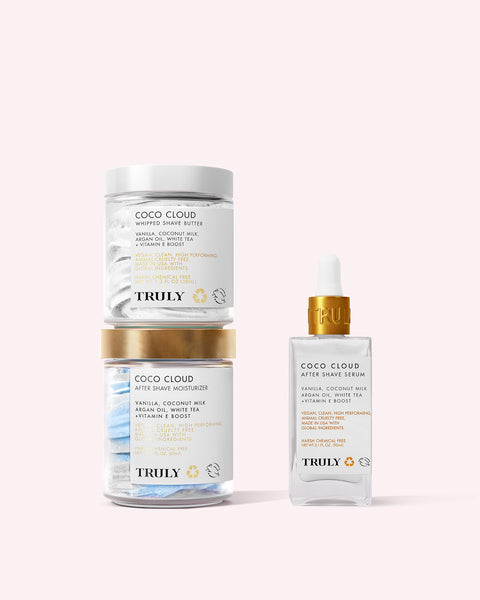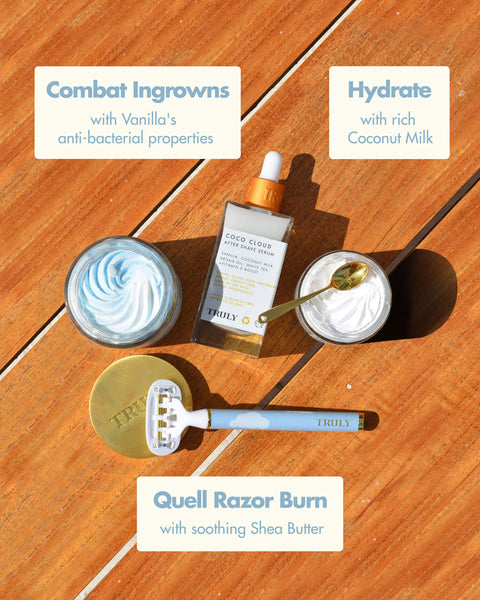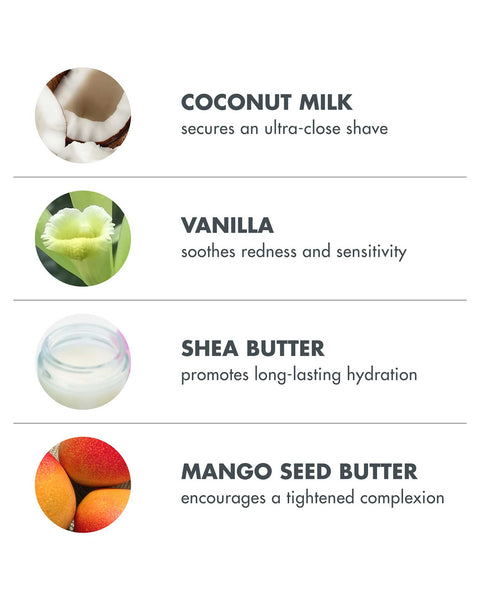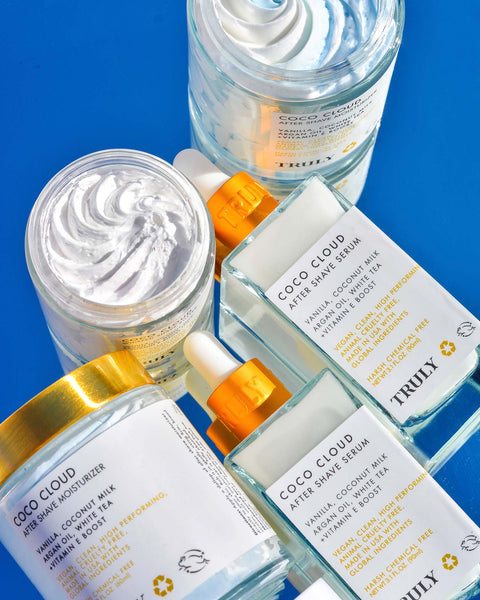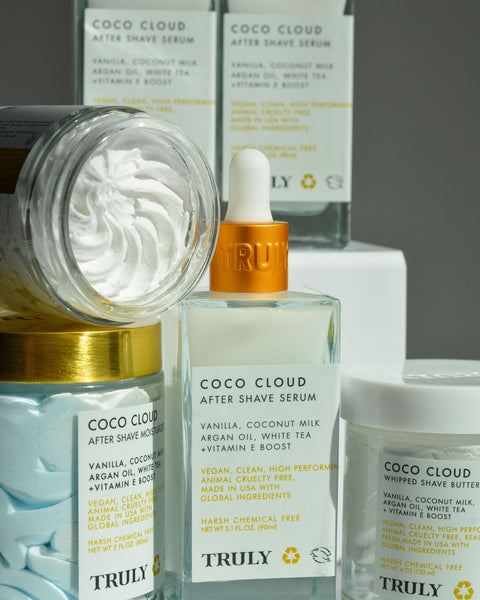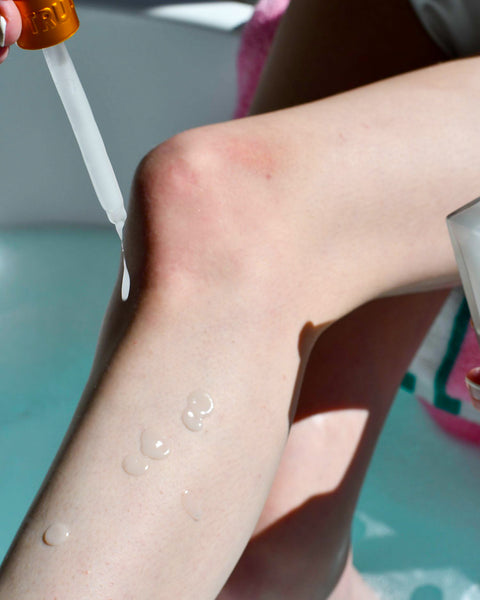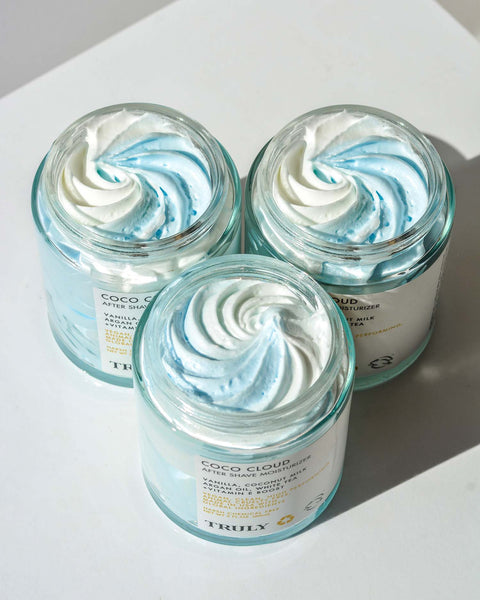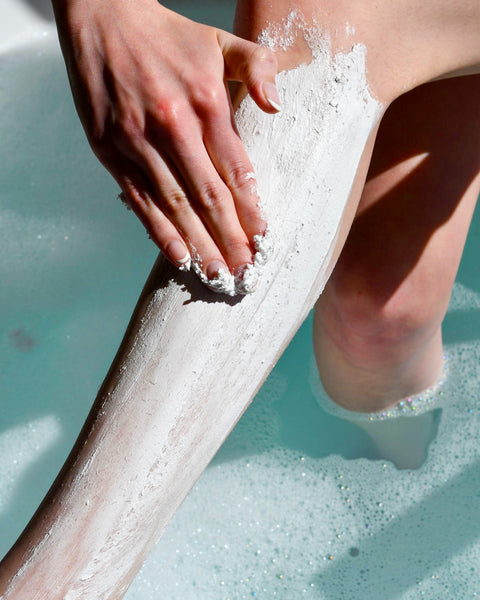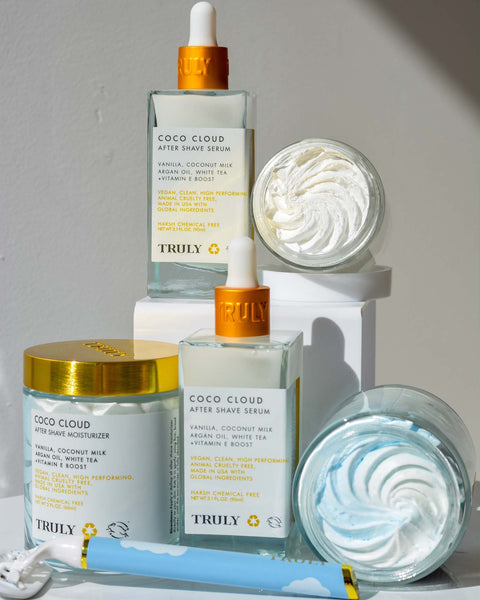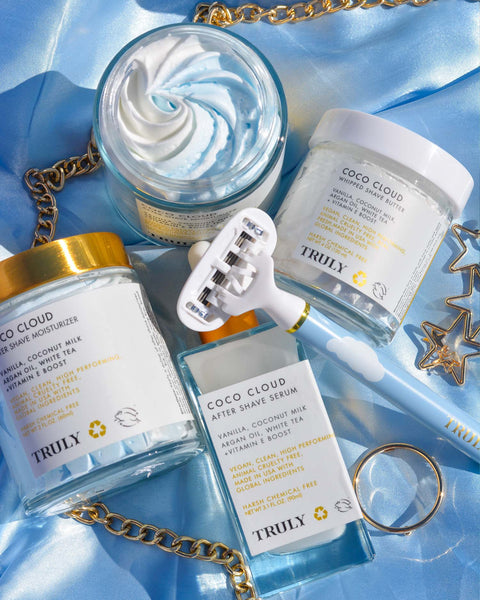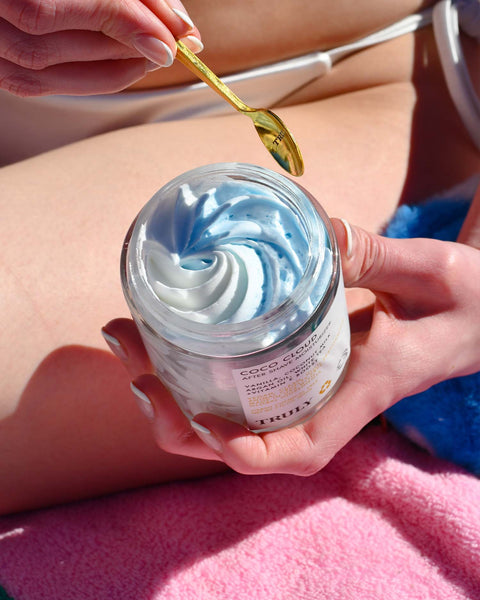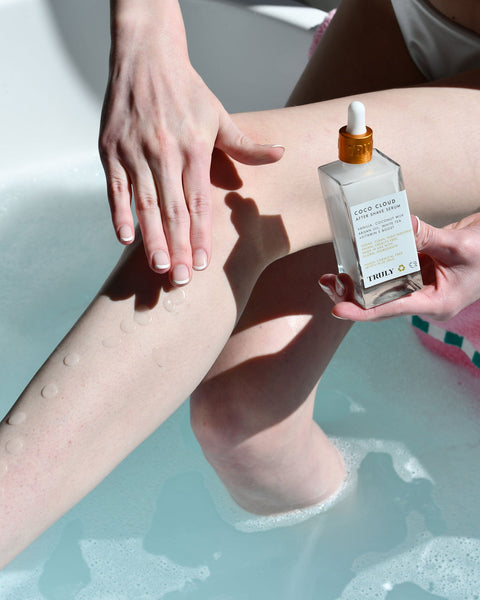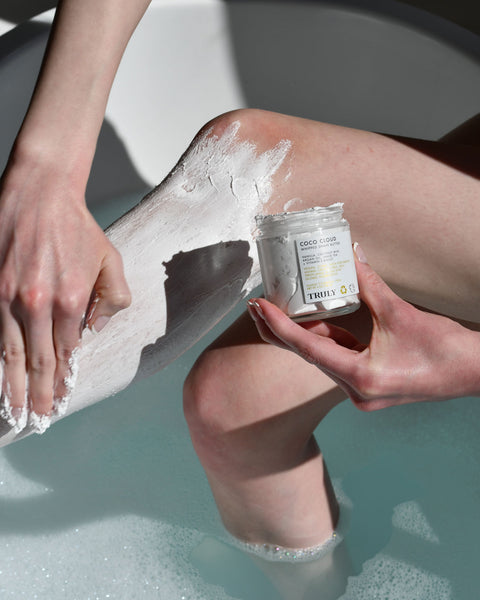 Coco Cloud Shave Routine
>Good to Know:
Smoothing
Hydrating
Healing
Vegan + Cruelty-Free
Everything you need for a dreamy smooth shave.
Inspired by our O.G. best-selling Coco Cloud Shaving Butter, the set features our long-loved Shave Cream + After-Shave Serum and Moisturizer for your smoothest self sans razor burn and ingrowns.
Coco Cloud Shave Kit = EXTRA moisture. EXTRA healing power. EXTRA long results!
What You'll Get:
☁️ Coco Cloud Whipped Luxury Shave Butter
☁️ Coco Cloud After Shave Serum
☁️ Coco Cloud After Shave Moisturizer
WHY IT'S SPECIAL
Coconut milk in our Coco Cloud Shave Butter hydrates skin and softens hair follicles giving you an ultra-close shave.
Coco Cloud After Shave Serum soothes redness + sensitivity while combating ingrowns thanks to vanilla's antibacterial properties.
Shea butter in Coco Cloud After Shave Butter quells razor burn, softens skin + promotes long-lasting hydration.
What Makes this Bundle SO Good?
Prep, hydrate + soften – this 3-step shave kit elevates the shaving experience while leaving you coconut-scented and irritation-free. A blend of coconut milk, vanilla, and shea butter come together in these formulas to soften hair follicles, hydrate skin, and quell inflammation for the smooth, close, and long-lasting shave of your dreams.
Essential Ingredients:
Coconut Milk 🥥
Argan Oil ✨
Vanilla 🍦
Bundle Full Ingredients:
Coco Cloud Whipped Shave Butter
Coco Cloud After Shave Serum
Coco Cloud After Shave Moisturizer
How to Use
Coco Cloud Whipped Shave Butter: In the shower or tub, mix a scoop of shave butter with a little water to create a luxurious lather, and spread over skin.
Coco Cloud After Shave Serum: Apply a few drops on clean, dry skin post-shave using a saturated cotton pad or apply to palms and pat into skin directly.
Coco Cloud After Shave Moisturizer: Apply a dollop of after shave moisturizer directly to your skin, and massage it in until the product is fully absorbed.
What it Targets
Softens Skin + Hair
Preps skin for an easy razor glide.
Treats Active Inflammation
Speeds up healing of ingrowns, razor burns, and nicks.
Delivers a Long-Lasting Shave
Leaves you feeling smoother, for longer.
Subscribe & Save 10%
Never be without these creamy, dreamy shaving essentials. Subscribe now, and we'll deliver this bundle straight to your door each month – so you never run out again!
No commitment. Save 10% on every order. Pause or cancel anytime!
Stay updated on our HOTTEST deals, captivating content, and more!